————————————————————————————————–
6th BRICS Summit – Fotaleza Declaratio​n and Action Plan
Dear Friends and Colleagues,
 All the best,
Pam Puntenney and Bremlley Lyngdoh
UN SD Education Caucus Co-Chairs
Co-Coordinatoros Climate Change
—————————————————————————————————
No Sustainabl​e Developmen​t Goals without Sustainabl​e Developmen​t Budgets [New GPF Report]
Dear colleagues,
Global Policy Forum is pleased to share our new report, No Sustainable Development Goals without Sustainable Development Budgets. 
As the Open Working Group on Sustainable Development Goals finishes its last session this week as a key input into the post-2015 sustainable development agenda, this report examines the primary responsibility of governments ​in implementing the new agenda, including through fiscal policies and the allocation of public resources. Governments will have to formulate Sustainable Development Budgets in order to implement Sustainable Development Goals, facing the challenge of interdependencies between environmental and social policy goals. A consistent integration of different perspectives in budget policy and analysis will be needed to implement SDGs and avoid unwanted side-effects. The new GPF publication describes possible entry points for shaping fiscal policy in accordance with sustainability criteria and shows how to use them in order to achieve environmental-social budgets. It uses the budget cycle as a tool in identifying such entry points, from the drafting of the budget to policy implementation and monitoring of the results. Download the guide here
Thank you for reading. To sign up for the Global Policy Forum listserv, please click here.  Best regards,Kathryn (Katie) Tobin kathryntobin@globalpolicy.org www.globalpolicy.org @globalpolicy @uncharteredKT
—————————————————————————————————
Announceme​nt:  The Thousand Names of Gaia colloquium – September
Dear Community of Educators,
I believe many of you will be interested in this: Eduardo Viveiros de Castro and others are putting together a colloquium on The Thousand Names of Gaia, to take place in Rio de Janeiro in September. A short video interview with Clive Hamilton has just been uploaded to the website of the event: https://thethousandnamesofgaia.wordpress.com/. The colloquium has as confirmed participants Bruno Latour, Dipesh Chakrabarty, Donna Haraway, Isabelle Stengers, Marisol de la Cadena, Vinciane Despret, Elizabeth Povinelli, and Eduardo himself, among others.
Best,
Renzo Taddei
Center for Research on Environmental Decisions, Columbia University
Graduate Program in Social Sciences, Federal University of Sao Paulo
——————————————————————————————–
News letter  climate-l digest: July 01, 2014
Subject: UN-REDD Programme July 2014 Newsletter is out
Dear Colleagues,
In the July 2014 issue of the UN-REDD Programme Newsletter, we share highlights of the Programme's participation in the inaugural, United Nations Environmental Assembly (UNEA), and the celebrations to launch Community-Based REDD+. Also read more on the Programme's work in Forest Monitoring, Gender and Safeguards and as well as REDD+ updates from Panama, Papua New Guinea, Sri Lanka and Zambia.
For regular news and information updates from the UN-REDD Programme, follow us on Twitter, read opinion articles from leading REDD+ experts on our blog, and connect with us on our Facebook page
—————————-
Subject: FW: New CARE case study synthesis paper!- Community Based Adaptation in Practice 
Dear climate-l readers,  
We have just launched a new CARE practitioner paper: 
"Community-Based Adaptation in Practice" – A global overview of CARE's practice of Community-Based Adaptation (CBA) to climate change; including 16 different case study examples from Africa, Asia, and Latin America and the Caribbean. 
This paper is available now on the CARE climate change website- http://www.careclimatechange.org/files/CBA_in_Practice.pdf and the CARE International UK 'Programme Insights' website- http://insights.careinternational.org.uk/publications/community-based-adaptation-in-practice-global-overview.
Please feel free to share it and if you are interested in finding out more, please get in touch with the coordinating author Sally King, sking@careclimatechange.org
Best regards
Sven Harmeling
——————————-
Subject: WORLD OCEAN RADIO: A monthly summary
————————————————————————————–
 Wyo. state education board halts work on new science standards
Web Version   NASBE State Ed SmartBrief
http://www2.smartbrief.com/servlet/encodeServlet?issueid=D1AFB9C6-595E-4CFD-92F6-7243A954F0D3&sid=46001adc-4290-4fa3-9e2c-7f77ea0d3
————————————————————————————–
AIPP Weekly Updates on Indigenous Peoples' Issues in Asia ( 21-30 June 2014)
"An Organization of Indigenous Peoples' Movement in Asia"    View this email in your browser
Asia Indigenous Peoples Pact (AIPP)
Research and Communication Development Programme
www.aippnet.org, www.ccmin.aippnet.org, www.iphrdefenders.net, www.iva.aippnet.org
Our mailing address is:
Asia Indigenous Peoples Pact
108, Moo 5, T. Sanpranate, A. Sansai,
Chiang Mai, 50210
—————————————————————————————
Check out this video to learn more about the Center for Research on Environmental Decisions, who the researchers are, and the fascinating issues they study.
—————————————-
GlacierHub – New Climate Change Website
My new website www.glacierhub.org includes posts about the science and policy of glacier retreat, the actions of communities living near glaciers, and the works of artists that express the beauty and the fragility of glaciers. The website serves as a nexus to link people who are concerned about glaciers, so that they can communicate with each other and develop responses to the changes in glaciers.
————————————————————————————————–
"Silver Buckshot": Alternativ​e Paths to Cut GHG Emissions
Dear Friends and Colleagues,
There are many debates and dialogues about the complexity of 21st century environmental challenges, especially climate change-global warming.  Here is an interesting framework:
All the best,
Pam Puntenney and Bremley Lyngdoh
UN SD Education Caucus Co-Chairs
—————————————————————————————
Madam/Sir,
Please find attached a press release on the above-indicated subject for your information and wider distribution.
Thank you and kind regards.
World Trade Center
413 St. Jacques Str. Office 800
Montreal, QC H2Y 1N9
Canada
Hours to save elephants
Dear friends,
Poachers just shot one of the world's largest elephants, Satao, then
hacked his 100 pound tusks out of his face with a machete. At the current rate of killing, elephants may be extinct in 15 years, but this week if we act now we have an amazing chance to crack down on the illegal trade that fuels the slaughter.
Each day, 50 regal elephants are butchered just to make dinky ivory trinkets! The main culprit for this carnage is Thailand — the fastest growing market for unregulated ivory. And tomorrow the international body created to protect endangered species has a chance to sanction Thailand until it cracks down on the elephant killers. Experts fear Thai leaders are mounting a propaganda campaign to dodge penalties, but it just takes Europe and the US to ignore their noise and spearhead action to end the slaughter.
Let's give key European delegates, and the US, the global call they need to tune out Thailand and bravely lead the world to save the elephants. A final decision could be made tomorrow, so we have no time to lose — sign the petition, then send a message to the EU Environment Commissioner:
https://secure.avaaz.org/en/hours_to_save_elephants/?bSPCVgb&v=41982
20,000 African elephants are killed every year, and the number of ivory products on sale in Bangkok trebled in the last twelve months. Government representatives to the Convention on International Trade in Endangered Species (CITES) have the responsibility to keep the world's rarest plants and animals alive, and when sanctions were applied to Thailand twenty years ago, it forced the country to pass critical wildlife protection laws.
Thailand says it's hard to distinguish legal ivory from Thai elephants from smuggled African ivory, and that it has adopted an action plan to stop the ivory trade. But 20 years of delays and a recent military coup tell a different story. If we reach out to the ministers who set the position, we can get the votes needed to prevent Thailand exporting items like aquarium fish and exotic flowers.
Right now CITES representatives are considering whether to sanction Thailand for its failure to stem the ivory trade. Let's make a call directly to key delegates and the EU Environment Commissioner now to ensure they make the right decision. Add your voice, then share widely:
https://secure.avaaz.org/en/hours_to_save_elephants/?bSPCVgb&v=41982
Last year, the Avaaz community helped force Thailand to agree to ban the domestic ivory trade. But Thailand's new military government has done little to show it will fulfil this promise or restrict this bloody business. Let's show the strength of our community by issuing an enormous call to protect the lives of one of the world's most precious species.
With hope,
Alex, Danny, Alice, Nick, Lisa, Emma and the rest of the Avaaz team
MORE INFORMATION:
World famous elephant 'Satao' killed by poachers in Kenya (Forbes)
http://www.forbes.com/sites/mfonobongnsehe/2014/06/15/world-famous-elephant-satao-killed-by-poachers-in-kenya/
The ivory highway (Men's Journal)
http://www.mensjournal.com/magazine/print-view/the-ivory-highway-20140213
Legal reform must shut down Thailand's ivory trade (WWF)
http://wwf.panda.org/?209665/Legal-reform-must-shut-down-Thailands-ivory-trade
Elephant population too small to supply huge local ivory market (Bangkok Post)
http://www.bangkokpost.com/news/local/418534/thai-elephant-population-too-small-to-supply-huge-local-ivory-market
Major increase in Thai ivory market shows need for action at wildlife trade meeting (World Wildlife Fund)
http://wwf.panda.org/wwf_news/?224690/Major-increase-in-Thai-ivory-market-shows-need-for-action-at-wildlife-trade-meeting

African elephants could go extinct by 2030, but in days, a body in charge of protecting endangered species could slap sanctions on Thailand, the key blood ivory market. Let's race to put key representatives on the spot to save the elephants — add your voice now: 
—————————————————————————————
Victory for Victims of corporate human rights violations despite EU and US opposition​. 20 to 14
Victory for Victims of corporate human rights violations despite EU and US opposition. 20 to 14. #bindingstandardspic.twitter.com/Sam9GMCGDK
Twitter / TreatyAlliance: Victory for Victims of corporate …
Twitter / TreatyAlliance: Victory for Victims of corpora…
Victory for Victims of corporate human rights violations despite EU and US opposition. 20 to 14. #bindingstandardspic.twitter.com/Sam9GMCGDK
Norma Maldonado
Asociacion Raxch' och' Oxlaju Aj (Tierra Verde 13 Aj) AROAJ
Guatemala
VENTANA SOBRE LOS CICLOS
La gente, hecha de maiz, hace el maiz. La gente, creada de la carne y los colores del maiz, cava una cuna para el maiz y lo cubre de buena tierra y lo limpia de malas hierbas y lo riega y le habla palabras que lo quieren.  Y cuando el maiz esta crecido, la gente de maiz lo muele sobre la piedra y lo alza y lo aplaude y lo acuesta al amor del fuego y se lo come, para que en la gente de maiz siga el maiz caminando sin morir sobre la tierra.   Eduardo Galeano
————————————————————————————–
Dear All,
Stephenson, Wen, 2014 (June3), "Welcome to West Port Arthur, Texas, Ground Zero in the Fight for Climate Justice," The Nation 298 (26):16, 19-20, 22-25.
If you live in a toxic environment like this, surrounded by refineries, you're probably not thinking about some future apocalypse. You're living in one.
This article appeared in the June 23-30, 2014 edition of The Nation.
http://www.thenation.com/article/180113/welcome-west-port-arthur-texas-ground-zero-fight-climate-justice#
 Best regards,
Les
————————————————————————————–
Subject: [BHRH] Breaking news from UN Human Rights Council: Treaty Process Approved on Business and Human Rights 
————————————————————————————–
Subject: TWN Info Service on UN Sust Dev.: Experts debate globalisation and inequality 
TWN Info Service on UN Sustainable Development (Jun14/03) 26 June 2014 Third World Network www.twn.my 
Experts debate globalisation and inequality Published in SUNS #7831 dated 26 June 2014 
Geneva, 25 Jun (Kanaga Raja) — Political will and political power and sustainable policies at national level as well as national policy space and fair international trade, money and finance systems are essential to tackle poverty and inequality, according to experts at an eminent panel discussion at the UN Conference on Trade and Development (UNCTAD) last week.
The experts on the panel were discussing best policy practices for tackling poverty and inequality on the road to achieving sustainable development.
The discussion took place in a round-table session on 19 June, during UNCTAD's two-day Public Symposium (18-19 June), which this year coincided with UNCTAD's own fiftieth anniversary celebrations.
Among the discussants were Mr Rubens Ricupero, a former UNCTAD Secretary-General; Mr Martin Khor, the Executive Director of the South Centre; Ms Deborah James, Director of International Programmes at the Center for Economic and Policy Research (CEPR); Mr Roberto Bissio, Global Coordinator of the Social Watch Network; and Mr Zhongxiu Zhao, Vice-President of the University of International Business and Economics.
The session was moderated by Mr Shawn Donnan, World Trade Editor of the Financial Times, who began by saying that what is being dealt with is a really fundamental and huge subject, which is globalisation and inequality.
What is being talked about is a huge problem at an important moment, he reiterated, pointing for instance to what he called 'the fragile middle' — about 2.8 billion people in the world living on between $2 and $10 a day, who are technically above the poverty line but who are still struggling in the world today.
Referring to the issue of inequality and poverty reduction, Rubens Ricupero was of the view that everybody agrees that Latin America, in general, and Brazil in particular have been moving in the right direction, and in the opposite direction of many countries including developing countries that have seen inequality worsening and poverty coming back again, sometimes in force.
He underlined the fact that in order to fight poverty and reduce inequality, the first condition is political power and political will. Western societies only got rid of the most extreme forms of poverty when they decided that it was their utmost priority to do so, he said.
"And that is what we have been seeing in inequality in the current debate … We all know that in the US, for instance, it is politics; it was the political choices made by the group that captured power" that explained this unfortunate evolution.
They decided to make the country safer for the very rich and tougher for the very poor, said Ricupero, noting that this is a political problem that has to be settled at the political level.
In Latin America, and particularly in Brazil, he said, "perhaps we have too much of political power, too much of political will. Is it possible to say that we could have too much of a good thing? Indeed it is. In our case (in Brazil), there was, after the military withdrew, a sort of new social compact to finally address a centuries-old history of slavery, of inequality, [and] of extreme poverty."
And Brazil did it in a very short time, he said, and in about 20 years, more than 50 million people were lifted up from the most abject forms of poverty.
While inequality is still a problem, Brazil is moving in a determined way to reduce it, Ricupero underlined, noting that Brazil is one of the few countries in the world where inequality is actually falling.
But as always, the problem now is "to ask ourselves whether it will be sustainable in the middle and long term", he remarked, stressing that his main message is that in order to make the fight against poverty and inequality sustainable, "we have to balance political will with a good mix of sound policies."
In Brazil's case, for instance, he said there was 'some exaggeration' in terms of cash transfers, in terms of direct cash payments to families. In the last twelve years, it is estimated that a staggering 84% of the increase in public cost and expenditure went into cash transfers, he added.
The consequence of this is that "we have very little money left for infrastructure. There has been an enormous boom in consumption and credit – those are good things, but there has been a clear sacrifice in savings and investment, with the economy coming to a halt," he said, adding that this means that in the long-term it will no longer be sustainable in terms of the progress that has been achieved so far.
According to Ricupero, in the very long-term, what (Nobel laureate) Paul Krugman has said and is often quoted, is true — 'productivity may not be the only thing, but it's almost the only thing' and that at some point 'we have to invest in human capital, on education and on the capacity to make people more productive with less cash transfers by governments.'
Ricupero emphasised that one of the useful points of this discussion would be to try to come up with ideas that would make the fight against poverty and inequality a long-term sustainable goal.
Martin Khor, the Executive Director of the South Centre, pointed out that there is acute poverty due to natural disasters, civil wars and so on, and that these kinds of causes require humanitarian assistance, but there isn't enough of that.
"Secondly, we have in many countries poverty which in the past was due to low commodity prices. This led some countries into external debt crises," he said.
According to Khor, the solutions offered by the international financial institutions were often the wrong ones, with the wrong conditionalities. And this led these countries into two or three lost decades because they continued to be in poverty, especially if one compares them to developing countries that did not suffer a debt crisis and did not go through structural adjustment policies.
When he is often asked why East Asia did better than Africa, Khor said, "I tell my African friends (that) it's not due to more corruption in Africa or more tyranny in Africa – we have this all over the world – it's due to the fact that we (East Asia) didn't fall into the wrong policies of the IMF and World Bank and we were able to institute a lot of policies which they (Africa) were not allowed to do."
So, on the global transformation side, if countries fall into debt, they need to have debt relief upfront or an international debt resolution mechanism. There is also need for reforms of the international debt system as well as reforms in the conditionalities of loans.
Today, said Khor, the big debate is also on the conditionality of loans to the European countries who have gone to the IMF or the European Central Bank.
But on the larger issue of (moving) from poverty to sustained development, Khor said that at the national level one could have short-term and quite successful policy of cash injection to the poor. And this is now being carried out by an increasing number of countries led by Brazil with its Zero Hunger programme and so on.
Citing what Ricupero had said earlier about cash transfers, Khor asserted that this may not be financially sustainable unless one has sustained economic growth, especially (contributing) to government revenues that can then sustain a social programme.
Referring to sustainable development strategies and policies, he asked firstly, how to obtain more revenues from existing commodities, including minerals. "I think this is a very important area."
Khor posed several other questions: How to have better benefit-sharing with the TNCs that extract the natural resources? How to keep the commodity prices up rather than down, because it is the low commodity prices that have led many developing countries into poverty and which also led to the formation of UNCTAD itself? How to diversify away from commodities or among commodities and add value to the commodities through processing and manufacturing?
He recalled one incident, whereby, "I remember the Minister of Commodities in Malaysia telling me that if we (Malaysia) exported one cubic metre of raw wood versus the same cubic metre converted into furniture, we would get seven times more revenue (from furniture) – more value-added – and that is why we went into furniture export."
The role of the State is very important in the provision of loans and subsidies, and in infrastructure, as well as active promotion of commodity-diversification and upgrading into manufactures, said Khor.
He also pointed to the need for a stable currency, saying that unstable currencies led to crisis in many developing countries, and this requires a reform in the international monetary and financial system, which has not come about yet.
This is the global transformation that is needed, stressed Khor, adding that capital flows will also need to be stable. There can't be huge inflows and outflows of capital which makes it very difficult for a country to remain stable in terms of its real economy.
There is need for policy space to be able to carry out all these strategies, he said, further underlining the need to have the correct trade rules.
"We have rules in the WTO in relation to subsidies, TRIMs [trade-related investment measures] and so on that make it difficult, or even impossible, for many developing countries to institute the kind of policies that successful developed countries, or successful developing countries, were able to have in the pre-subsidy agreement and the pre-TRIMs agreement period."
Khor said: "We need developed countries to cooperate by not instituting policies that are detrimental to developing countries, for example, high agricultural subsidies which enable them to export food at very cheap prices to developing countries, which because of lowered tariffs due to structural adjustment, force these poor developing countries to import food, which is less efficient (and) therefore displacing their more efficient farmers."
There is also need to re-examine the free trade agreements that ask developing countries to lower their tariffs to zero for almost all products even as agricultural subsidies remain in the developed countries, and this will make it very difficult for them to escape from poverty and into sustained development.
There is need to look at investment rules that many countries are now finding to be a real burden because it constrains their ability to have regulations, and the fact that they could be brought to court in a very unfair arbitration system.
"We need to have environmental policies that are sound or rather development policies that are environmentally sound, otherwise the base for future development is gone. And we need to have a development agenda post-2015 that has the right Sustainable Development Goals but also go beyond the goals and targets framework," Khor concluded.
Zhao, the Vice-President of the University of International Business and Economics, highlighted China's past experiences in using trade to promote development and to reduce poverty in the country. He pointed out that trade absorbed over 100 million people from the rural areas and that this process is still continuing.
Roberto Bissio, the Global Coordinator of Social Watch, talked about best practices relating to poverty and inequality in his country Uruguay.
He said that after the financial crisis of 2002 with the terrible impact that it had, Uruguay was in a situation not very different from that of Greece or Spain today. But from 2005 onwards, cash transfer programmes were immediately started by the government to address the issue of poverty.
However, they were conceived as an emergency measure much like humanitarian assistance, and what was done was to institute mandatory collective bargaining, which resulted in the doubling of unions, which in turn resulted in the salaries of workers growing in real terms, thus recovering buying power.
In addition, he said, the minimum wage was doubled and all workers, including domestic and rural workers, were formalised. Maternity and paternity leave, universal health insurance and income tax were also introduced.
On top of that, a non-economic agenda of more rights was undertaken, said Bissio, such as women having the right to decide on the number of children they want to have, people having the right to marry whomever they wish to marry, the right to chose one's gender, etc.
All these policies led to poverty reduction and less inequality, and investments grew in enormous proportions, contrary to theories on the need to constrain workers' rights and so on in order to attract investment. In fact, there was growth in both national and foreign investment.
However, said Bissio, inequality between countries is a more complicated issue, because it does not depend on a country's internal policies.
In an apparent reference to a recent decision by the US Supreme Court to reject an appeal by Argentina and thus allowing to stand a lower-court decision concerning its foreign debt, Bissio said: "We are facing a situation in the world today where sovereign country decisions about, for example, your own debt are taken by the Supreme Court of the US."
"And we would like to avoid the Supreme Court of the US judging over Argentina's foreign debt in a way that will lead the country to default, most likely, although they are desperately trying not to," he said, cautioning that this will also pull Uruguay 'down the drain'.
Pointing out that many other Latin American economies will also suffer as a result of this decision, he noted that even the IMF is now saying that debt restructuring cannot be done anymore if such a stand is taken.
He recalled that at the UNCTAD-XI Conference in Sao Paulo in 2004, Ricupero had warned developing countries against joining the path of financial liberalisation.
According to Bissio, Ricupero had said at that time that 'this is like joining the Mafia – you are attracted by a lot of promises and all the benefits that you are going to get in terms of money, power, women, whatever but after a while you realise that maybe it was not a good decision, (and) you cannot send a resignation letter.'
And that is what is happening to many countries now which are bound by Bilateral Investment Treaties (BITs) etc, said Bissio, adding that UNCTAD and the international system need to start thinking of an international witness protection programme for countries that want to get out of this system, as well as for countries that now want to revise their BITs.
Deborah James of CEPR said that a lot of the strategies that the US actually employed in its development when it was looking at a per capita income of $5,000, has been made unavailable now for developing countries, and "we feel that this is one of the roots of the current inequality between countries."
Referring to the issue of services, she was of the view that everyone would agree that for poverty reduction, there is a pretty well-established global consensus about achieving universal access to essential public services such as healthcare, education, and access to water and sustainable energy.
Unfortunately, she said, both in the GATS and the proposed TISA (Trade in Services Agreement), this would really restrict a lot of the policy space, particularly around regulation of public services guarantees as well as access to foreign companies coming in to provide those services.
According to James, some of the best practices that were used by the current industrialised countries such as the strategic deployment of tariffs on certain industries to promote their development are restricted by the current global trade rules.
This obviously needs to be changed if countries are going to have the policy space to act on industrial policy and create jobs, she further said, adding that in terms of IP (intellectual property) rules, there is an actual overvaluing of certain types of labour such as intellectual labour and an undervaluing of other types of labour, such as people working in manufacturing plants.
She also referred to central bank policy, which she said has been most destructive in the last five years.
She said: "We have seen a situation where in the global economic crisis, the mandate of the European Central Bank has been exclusively focused on inflation and prices and has not taken its mandate on jobs and growth seriously. And because of that, we have tens of millions of people in Europe who are out of work and we have the depression of global aggregate demand as a result, that affects everybody around the world." +
United Nations: EU aims to scuttle treaty on human rights abuses
New York, 24 Jun (IPS/Thalif Deen) — When the United Nations began negotiating a Code of Conduct for Transnational Corporations (TNCs) back in the 1970s, the proposal never got off the ground because of vigorous opposition both from the powerful business community and its Western allies.
But a move to resurrect this proposal – through the creation of a new international legally-binding treaty to hold TNCs accountable for human rights abuses – has been gathering momentum at the current session of the UN Human Rights Council (UNHRC) in Geneva, which concludes Friday.
Still, it has triggered the same political replay of the 1970s: strong opposition from business interests and Western nations, this time specifically the 28-member European Union (EU).
Jens Martens, director of the Global Policy Forum Europe, told IPS there is a heated debate in the UNHRC about establishing an intergovernmental working group to negotiate the proposed legally binding instrument on TNCs.
"So, the current discussion is not about the substance of a code of conduct or treaty but on the process," he added.
There are currently two draft resolutions tabled at the UNHRC session in Geneva: one sponsored by Ecuador and South Africa asking the UNHRC to establish an intergovernmental working group: a proposal supported by developing nations of the Group of 77 (G77) and a coalition of more than 500 non-governmental organisations (NGOs).
A second draft resolution, sponsored by Norway, Russia, Argentina and Ghana, supports the existing working group on business and human rights and asks for extending its mandate by another three years: a draft also supported, among others, by the United States and the EU.
Martens, who co-authored a recent study on "Corporate Influence on the Business and Human Rights Agenda of the United Nations," said "corporate actors have been extremely successful in implementing public relations strategies that have helped to present business enterprises as good corporate citizens."
He said they have also given the impression of "seeking dialogue with governments, the United Nations and decent concerned stakeholders, and able to implement environment, social and human rights standards through voluntary Corporate Social Responsibility (CSR) initiatives."
Martens said the UN's much-ballyhooed Global Compact and the UN's Guiding Principles on Business and Human Rights became prime examples of an allegedly pragmatic approach based on consensus, dialogue and partnership with the corporate sector in contrast to regulatory approaches to hold corporations accountable.
Alberto Villarreal, trade and investment campaigner at Friends of the Earth Uruguay, told IPS that by recognising environmental activism in all its expressions as a legitimate defence of human rights, "we can contribute to the struggle of environmental rights defenders and keep them safe."
The London-based Global Exchange, an international human rights organisation, has put out a list of the "top 10 corporate criminals", accusing them of being complicit in violations of human rights and the environment.
The companies identified include Shell/Royal Dutch Petroleum, Nike, Blackwater International, Syngenta, Barrick Gold and Nestle.
The charges include unlivable working conditions for factory workers, lack of worker's rights, pollution, child labour, toxic dumping, unfair labour practices, discrimination, and destruction of indigenous lands for mining and oil exploration.
Anne van Schaik, accountable finance campaigner at Friends of the Earth Europe, said many countries support tabling a resolution for a binding treaty, but the EU has warned that if it gets adopted it will refuse to discuss it.
"The EU is therefore effectively boycotting the UNHRC and standing up for corporate interests instead of human rights," she added.
Asked if there would be a decision at the current UNHRC session, Schaik told IPS, "We are unsure if this issue will be resolved on Friday."
She said the EU's "very obstructive approach" means it will not participate in the intergovernmental process of creating a treaty if the resolution is in fact adopted, "thereby effectively undermining the democratic decision- making process at the United Nations."
Schaik said the Norwegian resolution states that there should be a discussion on the issue of access to remedy, judicial and non-judicial, for victims of business-related human rights abuses on the agenda of the Forum of Businesses and Human Rights.
Effectively that means that at this week's session, there will be a discussion, but there are no consequences or follow-up plans for what happens after that, she added.
Schaik said Ecuador proposes to "establish an open-ended intergovernmental working group with the mandate to elaborate an international legally binding instrument on Transnational Corporations and Other Business Enterprises with respect to human rights."
This means there will be a new instrument which will state obligations for transnational companies, which is obviously much more far reaching than a discussion at a forum at the United Nations, she said.
The study on the human rights treaty, co-authored by Martens, focuses specifically on the responses by TNCs and their leading interest groups to the various UN initiatives, specifies the key actors and their objectives. It also highlights the interplay between business demands and the evolution of the regulatory debates at the United Nations.
The study provides an indication of the degree of influence that corporate actors exert and their ability, in cooperation with some powerful UN member states, to prevent international binding rules for TNCs at the United Nations.
Meanwhile, the Paris-based Reporters Without Borders has urged the UNHRC to promote the adoption of clear and binding rules on online surveillance and censorship. "Businesses sell technology to authoritarian regimes that allows them to carry out large-scale online surveillance of their population," the group said.
In a statement released this week, the Paris-based organisation said this technology has been, and still is, used in Libya, Egypt, Morocco and Ethiopia to arrest, imprison and torture. The companies that provide this technology cannot claim to be unaware of this, it added. +
Paul Quintos IBON International 3rd Flr., IBON Center 114 Timog Avenue, Quezon City 1103 Philippines Telefax:+63 2 9276981 Skype ID: paul.quintos Websites: iboninternational.org peoplesgoals.org                    
——————————–
TWN Info Service on UN Sust Dev.: EU aims to scuttle treaty on human rights abuses
——————————————-
For Immediate Release — Indonesia Peoples Tribunal: human rights violations in garment industry 'systemic
Press Release
'People Tribunal' Indonesia:
human rights violations in garment industry 'systemic
 Contact Person: Emelia Yanti (081387696731)
'People Tribunal' Indonesia: struggle for decent wage and working conditions for garment industry workers, hear cases of alleged human rights violation against the workers of subcontracting companies for global brands such as Adidas, Nike, H&M, Walmart, and GAP.
Accompanied by workers' advocate, expert witness from various countries and more than a hundred workers from West Java, Banten and  Jakarta, five workers delivered testimonies related to their cases.
The five cases that regarded as cases that reflecting the working conditions in subcontracting companies are; (1) Kokom Komawalati represent 1300 unilaterally dismissed workers on July 2012 by PT Panarub Dwikarya Benoa, subcontracting company of Adidas. (2) Sakhroji represent 700 illegally contracted workers by PT Rismar Daewoo Apparel, subcontracting company of H&M. (3) Suparmi, represent 700 dismissed workers by excuse of bankruptcy and redeployment of PT Crystal Garmen, subcontracting company of Walmart. (4) Herdiyansyah represent 700 workers those forced to become contracted workers by PT Olympic Internasional, subcontracting company of GAP. (5) Muhtarim, represent 4800 workers in PT Asia Dwimitra Industri, subcontracting company of Nike.
In front of representative of brand companies H&M and Adidas, judges from three different continents had examined and inspected cases that disclosed by workers.
On his advocacy, workers' advocate Johanes Gea said, "The violation of workers' basic right is the violation of human right, and also the violation of law. Just in one case, various violations of workers basic had revealed. Government was neglectful and let these violations continuously occur."
Responding the testimony on the case of working contract violation and gender discrimination in Rismar Daewoo Apparel, representative of H&M said, "We admit that there are problems occur. We will open a dialogue about the violations, define fair wage, and fulfill the basic rights of workers."
A day before, Sakhroji represent 700 subcontracting company workers for H&M, PT Rismar Daewoo Apparel, disclosed that pregnancy was prohibited, core production workers unlawfully contracted, workers whose refuse the unlawful contract were unilaterally dismissed. "By now, my case was on process in the court," Sakhroji explained.
Meanwhile, representative of Adidas, Adelina Simanjuntak, equivocated that she was lack of information as she attended People Tribunal, so she can't give any satisfying explanation and answer related to the case of Adidas's subcontracting company. "We have so many cases, which one do we talk about?" Regarding cases in Adidas's subcontracting companies, Adelina said, "We already withdrew our order from PDB (Panarub Dwikarya Benoa)."
Adelina's statement provoked the ire of the workers—most of them women. Several workers expressing their ire by hold up a poster written "Adidas Liar".
PDB case is about allegation on violating freedom of association and unpaid wage, which is ended by unilaterally dismissal of 1300 workers, on 12 Juli 2012.
People Tribunal is a free and independent court with moral credibility. In Indonesia, People Tribunal was the fourth performance, after was held in India, Sri Lanka, and Cambodia. This notion was organized by Asia Floor Wage Alliance (AFWA).
AFWA was formed on 2006, involved 71 trade unions, labor activist organization, and  consumer group from 17 countries in Asia, Europe, and North America. AFWA is workers' movement concern on the struggle for freedom of association and negotiate, abolishment of short-term working contract, decent wage, and equal rights.
In Indonesia, AFWA consist of GSBI (Gabungan Serikat Buruh Independen), FSBI (Federasi Serikat Buruh Indonesia), SBSI 92 (Serikat Buruh Sejahtera Indonesia 1992), SPN (Serikat Pekerja Nasional), LIPS (Lembaga Informasi Perburuhan Sedane),  and TURC (Trade Union Rights Center).
Jakarta, 19 Juni 2014
————————————————————
Africa Adaptation Newsletter​- 6th issue
The Africa Adaptation Knowledge Network (AAKNet) is pleased to present the 6th Issue of the Africa Adaptation Newsletter.
This newsletter offers a comprehensive overview of the latest adaptation practices, policy issues, amongst many in Africa and beyond.
We invite you to download the 5th issue athttp://aaknet.org/index.php/component/k2/item/150-aaknet-newsletter-issue-6
PDF linkhttp://aaknet.org/index.php/component/k2/item/download/85_76fecab43fb3973eb4ab4ed33501112e
Also visit our interactive website www.aaknet.org
Best regards
Richard Munang, PhD ● Africa Regional Climate Change  Coordinator● Regional Office for Africa (ROA)- United Nations Environment Programme (UNEP) ●
●www.unep.org ● www.aaknet.org●www.foodsec.aaknet.org●Twitter: @mtingem 
—————————————————————————————
Stop state-spon​sored landgrabbi​ng in Palawan, says NFFSM team
News Release  June 24, 2014
Stop state-sponsored landgrabbing in Palawan,  says NFFSM team
Coron, Philippines — The  Asian Peasant Coalition (APC) is calling the Philippine            government to stop state-sponsored landgrabbing in Palawan covering 40,000            hectares of   agricultural land. The APC joined eight other organizations in the National  Fact Finding and Solidarity Mission (NFFSM) held from 14th to 19th of June 2014 organized by the Katipunan ng   Samahang Magbubukid sa Timog Katagalugan or the Federation of   Farmers' Organizations in  Southern Tagalog (KASAMA-TK) and Anakpawis Partylist or   Toiling Masses   Partylist-Southern Tagalog (Anakpawis-TK) in the disputed  Yulo King Ranch (YKR)  in Coron and Busuanga in Palawan. The KASAMA-TK is the regional chapter of the militant Kilusang  Magbubukid ng Pilipinas or Peasant Movement of the  Philippines (KMP).
The   mission aims to consolidate narratives of residents from  affected barangays  (villages) to understand the history of the disputed land,  know the plight and            demands of the affected residents and formulate actions that will support and            strengthen their rights to food, land and a dignified  livelihood.
The YKR, also known as Busuanga Pasture Reserve (BPR), which covers   39,238.93 hectares, is believed to be the largest agrarian  anomaly in the country, where 22,268 hectares are in Coron (or 32% of  Coron's total land area) and the remaining 16,970.53 hectares are in Busuanga (covering 43% of Busuanga's  total land area).
In 1975, former president Ferdinand Marcos issued Proclamation No. 1387,            declaring YKR as pasture reserve. Marcos, through his cronies Luis Yulo and Peter Sabido, acquired the disputed land using public funds.   Residents interviewed claimed that the "King" in YKR referred to   Marcos.
Despite the heavy rains during the mission, the NFFSM team conducted interviews among  the residents at eight villages namely, Decalachao,  Guadalupe, San Jose, San            Nicolas in Coron and Quezon, New Busuanga, Cheey and Sto.  Nino in Busuanga.
Of the 40,000 has.   involved, 12,817 has. is categorized as Alienable and Disposable Lands  where  2,441 has. is privated or titled and the remaining 10,376 has. is public land. According to the Department of Environment and Natural Resources (DENR), 1,575  has of titled lands has been distributed under Department of  Agrarian Reform (DAR) through the Comprehensive Agrarian Reform Program (CARP) and the remaining 866.5 has. had not been distributed. The 15,389.03 has. is   reserved as Public Forest and the            remaining 11,032.28 has. is Unclassified Public Forest.
The APC said that as early  as 1930s, there were already ten to 15 farming families            who were tilling in the disputed land. In fact, they interviewed one of the original residents who narrated that they were relatively self-sufficient at that time. However, the Philippine Constabulary displaced affected residents and  they (farmers} were so afraid because it was Martial Law then.
The original settlers such as the Tagbanua, Calamianes and Cuyonin were all the more displaced due to the landgrabbing.
But most of the residents  of affected communities, especially those who have been            tilling the land before YKR came, returned to the disputed land due to the lack of            livelihood in the resettlement areas, where lands are hardly suitable for  agriculture. They also cited that they have decided to return and till the lands again as YKR has left  it idle
The mission team concluded that this is a state-sponsored massive landgrabbing case  against the people of Coron and Busuanga. From Marcos' Presidential Decree No.            27 to the Comprehensive Agrarian Reform Program (CARP), which was first            implemented under President Corazon Aquino, the affected residents in Coron and            Busuanga remained landless and poor.
The mission is calling for  the passage of House Bill 252 or Genuine Agrarian Reform            Bill (GARB) sponsored by Anakpawis at the House of Reprsentatives. GARB seeks  to break landlord control and monopoly of lands through the nationalization and            free distribution of lands to landless farmers. ##
–         APC Secretariat  2nd Floor, 217-B Alley 1, Road 7  Project 6, Quezon City, Philippines 1100  Phone: +632-3793083   E-mail: apcsecretariat@asianpeasant.org    Skype: apc.secretariat  Web: www.asianpeasant.org
SOUTHNEWS
http://us5.campaign-archive1.com/?u=fa9cf38799136b5660f367ba6&id=8aad556d91&e=1e33eb2f1a
—————————————————————————————-
Join the Days of Actiofor Development Justice!
On July 21st, farmers, workers, indigenous peoples, migrants, women, youth, and other groups from over 14 countries will        kick-off the Days of Action for Development Justice with        simultaneous events including teach-ins; public forums; media        briefings; and the global launch of the video-graphic "The Road        to Development Justice".  
Please see attached announcement.
– Paul Quintos IBON International 3rd Flr., IBON Center 114 Timog Avenue, Quezon City 1103 Philippines Telefax: +63 2 9276981 Skype ID: paul.quintos Websites: iboninternational.org peoplesgoals.org
——————————————————————————————
NEW CARE Blog:  Climate change must be part of new global developmen​t goals
Dear Climate Colleagues,
I have produced a new blog on the need for a strong representation of climate change in the post-2015 development framework (including a climate change goal), which you can find under the following link:
The text also refers to a letter signed by ca. 180 NGOs and networks from more than 50 countries demandingstrong representation of climate change in the post-2015 development framework (including a climate change goal):
Feel free to distribute it further (in particular to negotiators in New York now discussing the SDGs this week)
Best regards
Sven
c/o CARE Deutschland-Luxemburg, Dreizehnmorgenweg 6, 53175 Bonn
skype: svani18
—————————————————————————————
Right Now We 'Grossly Underestim​ate' Economic Damage From Climate Change, New Paper Says
Dear friends,
an interesting read ..
—————————————————————————————-
2014 Call for Applicatio​ns for Funding Launched
APN UPDATES
please visit: http://www.apn-gcr.org/?p=7529
Special invitation to Cambodian, Sri Lankan and Thai proponents
In addition to welcoming proposals from all APN member and approved countries, the APN particularly encourages Cambodian, Sri Lankan and Thai researchers presently working in their respective home countries to apply for funding under the CAPaBLE and CAF calls, because of potential co-financing opportunities provided by these countries.
Closing date The deadline for the submission of summary proposals for CAPaBLE and expressions of interest for CAF is on 3 August 2014.
For complete information about the 2014 annual calls, please visit: http://www.apn-gcr.org/?p=7529
—————————————————————————————-
SouthNews:​NAM Ministeria​l Conference in Algiers – Report, Comment
SOUTHNEWS
No. 53, 16 June 2014   View this email in your browser
SOUTHNEWS is a service of the South Centre to provide information and news on topical issues from a South perspective.   Visit the South Centre's website: www.southcentre.int.
Algiers Ministerial conference of the Non-Aligned Movement (NAM) reviews existing, new and emerging challenges to the developing world
http://us5.campaign-archive2.com/?u=fa9cf38799136b5660f367ba6&id=30e7bb96fd&e=1e33eb2f1a
—————————————————————————————
Welcome to our May Newsletter! 
Sustainabl​e Developmen​t Solutions Network's May Newsletter is out!
SDSN Leadership Council Meeting in Beijing
On May 15-16, 2014, the SDSN Leadership Council convened in Beijing at the invitation of Tsinghua University. The meeting focused on the SDSN contribution to the post-2015 processes and the preparations of the 2015 climate conference in Paris, building the national and regional networks, and expanding the online education initiatives. Presentations from the meeting are available here.
SDSN China At the invitation of Chen Jining, President of Tsinghua University, a second meeting was held to prepare the launch of the China SDSN scheduled for November 2014 and to review lessons from National and Regional SDSNs in other parts of the world. Senior representatives from universities and research institutions joined the meeting: the China Academy of Social Sciences, Development Research Council, Beijing Normal, Nankai, Peking, Shandong, Tongji, Tsinghua, and the Columbia Global Centers | East Asia. The China Business Council on Sustainable Development also participated.
Leadership Council Side Events
Beijing Health Forum –
On May 13, 2013, the SDSN in collaboration with Peking University, WHO China, and the Columbia Global Centers | East Asia held a health forum at Peking University focusing on the challenges of expanding and financing quality health coverage in China. Keynote presentations were made by former Chinese Minister of Health Chen Zhu and Jeffrey Sachs.   Redefining the Role of Business for Sustainable Development –
On May 14, 2014, the WBCSD, the CBCSD, and the SDSN convened a meeting in Beijing to discuss how Chinese business can contribute to sustainable development. The groups agreed to work closely with the China SDSN and to organize periodic meetings to discuss long-term pathways to sustainable development in China. A first meeting will be convened in late 2014 to discuss deep decarbonization pathways for China with business leaders.
Pathways to Sustainable Agriculture in China – On May 14, 2014, the SDSN in collaboration with the Chinese Academy of Agricultural Sciences (CAAS), the Chinese Ministry of Agriculture, and the China Agricultural University (CAU), held a meeting in Beijing, China, to discuss opportunities for collaboration. Meeting participants agreed to develop a national pathway for sustainable agricultural intensification in China under the umbrella of the SDSN.
Sustainable Urbanization in China – On May 14, 2014, the SDSN in partnership with Columbia Global Centers | East Asia, UN Habitat, and United Cities and Local Governments (UCLG) hosted an expert roundtable, entitled "Learning Lessons From Sustainable Urbanization in China and Encouraging Progress through Sustainable Development Goals." A detailed event report including presentations can be viewed here.  
Good Governance of Extractive and Land Resources – On May 14, 2014, the SDSN co-hosted a workshop in Beijing on sustainable development and extractive industries with the Institute of Geographic Sciences and Natural Resources Research (IGSNRR) of the Chinese Academy of Sciences (CAS) and the World Wildlife Fund (WWF). The goal of the workshop was to explore ways of enhancing the developmental impact of natural resources, particularly in Africa. A detailed event report including presentations can be viewed here.
The Challenges of Social Inclusion – On May 17, 2014, the SDSN, in partnership with Beijing Normal University, hosted an expert roundtable entitled "The Challenges of Social Inclusion." The meeting explored lessons from China's experiences of reducing inequality and social exclusion. A detailed event report including presentations can be viewed here.
Laurence Tubiana Nominated as France's Special Representative for COP21
The French Foreign Minister Laurent Fabius has nominated Laurence Tubiana, Co-Chair of the SDSN Leadership Council, as Special Representative for the 2015 Paris Climate Conference (COP-21). The announcement (in French) is available here.
Revised Working Draft of Indicators Report Released
SDSN has released a revised working draft of the report "Indicators for Sustainable Development Goals", which can be viewed here. Additionally, synthesis and full database of all comments received from the 6-week public consultation can be found here. These indicators have been incorporated into our new, detailed pages on SDSN's proposed goals and targets.
SDSN Side Event for Open Working Group Side: Examining the Evidence Base for the 16 OWG Focus Areas
On May 5, 2014, SDSN, in partnership with the Governments of Bhutan, Colombia, Denmark, Rwanda, South Africa, Sweden and Switzerland, hosted a side event at the Open Working Group (OWG) to discuss the evidence base for the 16 focus areas. The presentations and supplementary notes are available here.
Potential for Regional Use of East Africa's Natural Gas
The Sustainable Engineering Lab (SEL) at the Earth Institute has released an SDSN Briefing Paper on "Potential for Regional Use of East Africa's Natural Gas".
2nd Annual International Conference on Sustainable Development Practice
The Global Association of Master's in Development Practice Programs (MDP), in collaboration with the SDSN, will hold the 2nd Annual International Conference on Sustainable Development Practice (ICSDP) on September 17-18, 2014, at Columbia University in New York City. Proposals are welcome across 12 SDSN thematic areas and must be submitted via the form on the conference website by May 30, 2014. For questions please write to ICSDP@globalmdp.org.
Read the full newsletter on our website!
—————————————————————————————
Internatio​nal Prayer Alert – Iraq
http://campaign.r20.constantcontact.com/render?ca=d52c429d-cf13-4502-9a53-9777c27af0e8&c=506b53d0-541e-11e3-a9eb-d4ae529a824a&ch=513b4e00-541e-11e3-aa33-d4ae529a824a
—————————————————————————————-
Artists And Climate Change
Hello everyone,
My partner Joan Sullivan and I run a blog called Artists And Climate Change
<http://artistsandclimatechange.com>  which I thought might be of interest
to some of you. The blog features artists from all disciplines, and from all
regions of the world, whose work addresses issues related to climate change.
Our goal is to show that artists can bring much value to the conversation
about climate change and communicate the extent and complexity of the
problem in ways that science alone cannot.
You can follow us by clicking the Follow button on the bottom left corner of
the Home page. We're also on Facebook
<https://www.facebook.com/groups/artistsandclimatechange/>  and Twitter
<https://twitter.com/artsandclimate> .
Thank you,
Chantal Bilodeau
Playwright & Translator
www.cbilodeau.com
——————————————————————————————
Human Right to Water and Sanitation for immediate sign on
Dear All,
Please support sign-on request below calling for inclusion of Right to water in the SDGs…
-paul
Dear Friends,
As many of you are aware, we have been campaigning to ensure that the human right to water and sanitation is included within the Sustainable Development Goals framework.  Unfortunately the "zero draft" document which was released this week did not contain any reference to the human right to water and sanitation.
The SDG process will determine the official international development agenda for the next 15 years.  Given that the Millennium Development Goal process failed drastically in the area of sanitation and given MDG targets on drinking water failed to prioritize the needs of the most vulnerable and marginalized communities, it is vital that the same mistakes not be repeated within the SDG process.
Furthermore, we feel that the Human Right to Water and Sanitation will be an important tool in our struggle to prevent the SDG agenda from being co-opted to promote greater corporate access to water resources and services.
Please join us in our call by:
1.      Signing your organization's formal title, contact, country, and if applicable, major group or other stakeholder constituency (e.g., Farmers, Indigenous Peoples, Youth, etc.) onto the letter by June 11th at SDGrighttowater@gmail.com
2.      Circulating the letter within your networks to sign on at SDGrighttowater@gmail.com
3.      Forwarding a copy of the letter to the ambassador representing your country at the UN (see attached contact list).
4.      Tweeting the need for #owg12 to explicitly name the right to water and sanitation in the #SDGs including #SDGH20
In solidarity, Aine O'Connor on behalf of The Mining Working Group at the UN and Blue Planet Project
Aine O'Connor, RSM, Ph.D. Mercy Global Action Coordinator at the UN Sisters of Mercy Mercy International Association 777 UN Plaza, 6H,  NY, NY 10017
– Paul Quintos IBON International 3rd Flr., IBON Center 114 Timog Avenue, Quezon City 1103 Philippines Telefax: +63 2 9276981
Skype ID: paul.quintos Websites: iboninternational.org peoplesgoals.org
– You received this message because you are subscribed to the Google Groups "Campaign for People's Goals for Sustainable Development" group.
Visit this group at http://groups.google.com/group/CPG4SD. For more options, visit https://groups.google.com/d/optout.
—————————————————————————————
Re: Sign on to say no to GM eucalyptus trees in Brazil! (by June 15
—————————————————————————————-
UNISDR Regional Platform for Disaster Risk Reduction in Guayaquil, Ecuador  |  Video: WAGUCHA in Honduras | Analucy Bengochea on Building Resilient Cities in Central America | Relinda Sosa in El País Newspaper
Having trouble viewing this email? http://www.huairou.org
http://campaign.r20.constantcontact.com/render?ca=06a07aba-b674-4509-b96c-783f6a35259a&c=90074340-42d1-11e3-a691-d4ae5292c36f&ch=91199da0-42d1-11e3-a723-d4ae5292c36f
—————————————————————————————
Rise of Oceans Due to Melting Antarctic Ice Sheet Is 'Unstoppable'
  Two forthcoming reports on the western Antarctic ice sheet confirm previous fears that the ice's melt will increase ocean levels by as much as 13 feet within the next few centuries. The New York Times reports that both papers — one by NASA scientists, to be published in Geophysical Research…
The Atlantic Wire
An 'unstoppable,' cataclysmic glacier meltdown is already underway
Two separate studies released this week are announcing a bleak future for the West Antarctic Ice Sheet — and an accompanying sea-level rise across the globe. Both groups of researchers conclude that global warming is accelerating the disintegration of large parts of the ice sheets, and that the…
The Verge
————————————————————————————–
—————————————————————————————————————————————–

World Associatio​n of NGOs (WANGO) NGO News April 2014
WANGO — A Global Association of                              NGOs Serving Humanity                                           April                                2014
WANGO NGO News & Notices
Empowering Families: A Pathway to Development,  DOHA call to action Chairman, Mr Taj Hamad was one of the panelistsGo>>>
THE  UN and International News ECOSOC spring meeting was held in New York April 14 and 15, with the theme Coherence, coordination and cooperation in the context of financing for sustainable development and the post-2015 development agenda Experts from the World Bank, International Monetary Fund, the World Trade Organization and from the United Nations discussed such topics as sustainable development, the world economic situation and prospects and more.Go>>>
NGO Resources
This link will give you information on different organizations that donate books and computers to non profits and NGOs
http://www.fundsforngos.org/featured-articles/ngos-donations-books-computers-vehicles/
Corporate Social Responsibility in Africa
African Regional Coordinator of WANGO, Mohammed Bougei Attah, was recently interviewed for CSR21, the London based initiative for Land Citizenship. In the interview Mr Attah spoke about international partnerships between NGOs, the private sector and communities and their relevance to development, the recent financial crises increasing the need for private sector to relate to communities, the work of WANGO and many other topics.
To hear the interview click here: http://www.csr21.org/news/citizenship/audio-interview-mohammed-bougei-attah-wango
To find out more about CSR21:  Go>>>
Joint Event of the General Assembly and the Economic and Social Council The role of partnerships in the implementation of the Post-2015 Development Agenda, was held 9 and 10 of April, 2014
http://www.un.org/en/ga/president/68/settingthestage/3rop.shtml
UN Secretary-General Message, World Autism Awareness Day, 2014 The seventh annual World Autism Awareness Day was April 2, 2014 and this year, Secretary-General Ban Ki-moon got a little help with delivering his official message. Click here to see the delightful video: Go>>>
"If we share caring, lightheartedness and love, we will create abundance and joy for each other and then this moment will have been worthwhile  "

Deepak Chopra

Contact Us:

WANGO                             200 White Plains Road, First Floor                             Tarrytown, NY 10591 USA                             914 631-8990

For the NGO NewsContributor                            Guidelines, >>>

All material and                            information, which appears on the NGO                              News, is presented for informational                            purposes only. WANGO andNGO News                            present all data as is, without any warranty                            of any kind, expressed or implied, and is                            not liable for any loss or damage caused by                            a user's reliance on any of the information                            obtained through the NGO News. For corrections or                            clarification, email:publications@wango.org.
——————————————————————————————————-
Newsletter-UNDP-Volume2 Final.pdf
——————————————————————————————————–
that they start their own free subscriptions at
—————————————————————————————
This Fifth-Grad​er Raised $200,000 to Clean Up the Gulf Oil Spill by Selling Watercolor​s
http://www.yesmagazine.org/issues/education-uprising/this-fifth-grader-raised-thousands-to-clean-up-oil-spill?utm_source=YTW&utm_medium=Email&utm_campaign=20140502
——————————————————————————————————–
Urbanizing Asia; Thailand's Open Government Trend; Justice in Indonesia; ADB VP on Rising Inequality
viewing this:  Click here to view it online.
——————————————————————————————————-
Dear Friends and Colleagues,
This poll is being conducted by Initiative for Equality (IfE) to help choose priorities for setting up platforms for collaboration towards the goals of the Equity Treaty. The Equity Treaty (written by civil society groups in 2012) contains a shared set of ideas, principles and goals concerning equality within and between societies, and 15 commitments for global action. You can see and sign the Equity Treaty on our website.
The Equity Action Collaborative is IfE's project to foster global collaboration towards these goals and commitments. We intend to form Action Groups to focus on one or more specific issues derived from the Equity Treaty, and then to provide platforms and tools for cooperation. These Action Groups will allow independent organizations to share information, develop strategies, coordinate action, and facilitate global collaboration towards greater equality. You can read more about the Equity Action Collaborative here: https://www.initiativeforequality.org/index.php/equity-treaty-action-collaborative/equity-action-collaborative
This poll is the first step in forming the Action Groups. While all the issues listed in this poll are important, we need your help in choosing which issues are most in need of platforms for coordinated global collaboration at this time. The poll will be open through 23 May. Please take 5 minutes to give us your input here: https://www.surveymonkey.com/s/Issue-Priority-Poll.
We look forward to hearing from you!
With warm regards,
Deb
(Ms.) Deborah S. Rogers, PhD President, IfE (Initiative for Equality)  Email: deborah.rogers@initiativeforequality.orgwebsite: www.initiativeforequality.org
————————————————————————————————-www.empasys.net
—————————————————————————————
—————————————————————————————-
Environmental News: Media Center
NRDC, Black Rock and FTSE Jumpstart Mainstream Climate-Co​nscious Investing
Dear Community of Educators,
The Natural Resources Defense Council (NRDC), BlackRock and FTSE Group, the global index provider, partnered today in launching the first equity global index series that will exclude companies linked to exploration, ownership or extraction of carbon-based fossil fuel reserves. The new investment tool will allow climate-conscious investors, including foundations, universities and certain pension groups, to match their investment strategy and financial interests with their values. To learn more,
All the best,
Pam Puntenney and Bremley Lyngdoh
UN SD Education Caucus Co-Chairs
Co-Coordinators Climate Change
—————————————————————————————–
Thanks for joining Access' Movement for Global Digital Freedom! Right now, the fight for internet freedom and digital rights is taking place on many fronts, from Egypt to Australia, from Vietnam to Pakistan.
Together we can make a difference to ensure that all people have open and secure access to the internet. If you would like to support our vital work, please donate here: https://donate.accessnow.org/page/contribute/donate
Please let your friends know about us by sending them this link: http://www.accessnow.org/
With hope, The Access Team
——————————————————————————————-
Dear Community of Educators,
The United Nations' Intergovernmental Panel on Climate Change (IPCC) released the Fifth Assessment Report (AR5), Climate Change 2014: Impacts, Adaptation and Vulnerability Monday, and it makes for overwhelming reading; climate change is already affecting the food supply, will only get worse, and the poor will suffer the most. Intended to represent global scientific consensus, the report is big news worldwide. Richard Tol, now a professor at the University of Sussex and a professor of the Economics of Climate Change, Institute for
Environmental Studies and Department of Spatial Economics, Vrije Universiteit, Amsterdam, has told Reuters that he disagreed with some findings of the summary issued in Japan today.
•  "The drafts became too alarmist," he said but he acknowledged some other authors "strongly disagree with me."  See, http://www.finfacts.ie/irishfinancenews/article_1027490.shtml
__________________
—————————————————————————————-
Powerful new NY Times article on climate in/justice
The NY Times has run a powerful article on the intersection of climate change and global inequality in Bangladesh:
The video/graphics – particularly the sea level rise model – are great.  This struck me as an effective reading with which to generate discussions on climate in/justice, so I thought I'd share.
-Noah
——————————————————————————————
The LDCs call for the inaugural meeting of the 'year of ambition' to be placed on a very high stand
http://us5.campaign-archive1.com/?u=84285436aa6613a4dc8c2d737&id=2037c4b597&e=57d8ea3878
—————————————————————————————–
Climate Change Specialist
Climate Change Programme (CCP)
Palais des Nations, CH-1211 Geneva 10, Switzerland
http://unfccc.int/files/meetings/warsaw_nov_2013/application/pdf/cop19cmp9_overview_schedule.pdf
http://www.wedo.org/wp-content/uploads/Short-info-flyer-WMG_FES-event5.pdf
————————————————————————————————-
Date: Thursday, 9 January 2014, 1:00-2:50 PM
Venue: German House, 871 UN Plaza (1st Ave at 49th St) Organized by: the United
Nations Environment Programme (UNEP), with the support of the German Mission to the
UN RSVP:  wi-4-vn@newy.auswaertiges-amt.de
***********
Jim Sniffen Programme Officer UN Environment Programme
New York tel: +1-212-963-8094 sniffenj
at un.org/jsniffen88 at gmail.com
————————————————————————————————-
TBL Group  Conferences   www.tbligroup.com     –    www.tbliconference.com
————————————————————————————————-
World Associatio​n of NGOs (WANGO) NGO News   http://www.wango.org/about.aspx
————————————————————————————————-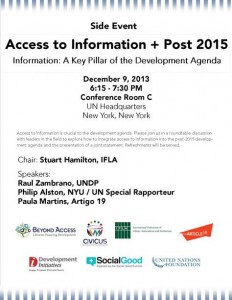 UN Site event Access to information EN US      UN site event Invitation-WV-UNFPA-Social Accountability-Dec2013
————————————————————————————————–
http://sexualrightsinitiative.com/universal-periodic-review/upr-toolkit/
http://campaign.r20.constantcontact.com/render?llr=wwgqt5nab&v=001Xb0L0r5qCg0Wa4X9fxKMH1XE82JqbynezKexeWRXNSBsN_JrQmGmZYhdXx5Y01q5LI_-ESKne3Mte-GEWbxs8FChO8501Kbpm6b7Fdnad2Vhsb5Q8j8r0A%3D%3D
http://www.undp.org/content/undp/en/home/presscenter/pressreleases/2013/11/22/the-un-redd-programme-receives-us-40-million-pledge-from-norway-to-help-48-developing-countries-halt-deforestation.html#.UpBtytky4pg.gmail
http://www.itcilo.org/en/the-centre/about-us/job-opportunities/?set_language=en
http://www2.smartbrief.com/servlet/encodeServlet?issueid=CEEBB152-F8A5-4E6D-B7FB-82AAC25E3E65&sid=46001adc-4290-4fa3-9e2c-7f77ea0d3b37    WAY PDF BULLETIN OCTOBER 2013    
This event is public although RSVP is strictly required.
http://www.planetearthinstituteworldwide.org/wp-content/uploads/2013/09/Planet-Earth-Institute-African-Union-side-event-23rd-September1.pdf
Headquarters 49 Berkeley Square Mayfair, London W1J 5AZ T
+44 (0) 20 34900899 M +44 (0) 7711378992
valentina@planetearthinstitute.org.uk www.planetearthinstituteworldwide.org Attachment(s)from Paul Shaw included below]
On African Youth Day, Judyannet Muchiri asks 'What Can I Do?'
Attachment(s) from Paul Shaw 1 of 1 File(s)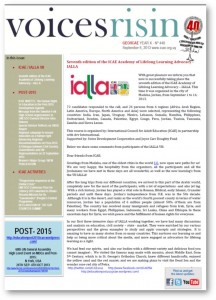 International Women's Earth and Climate Summit, September 20th-23rd.:http://www.iweci.org/summit-delegates    http://post2015.iisd.org/post2015-update/2013-09-11/
————————————————————————————————-
Job Announcement: EECapacity Program Coordinator Cornell University seeks an individual to assist in the planning, delivery, and development of the Expanding Capacity in Environmental Education Project funded by U.S. Environmental Protection Agency's Office of Environmental Education.
This project is EPA's National Environmental Education Training Program and is housed at Cornell University. For more information about the position and to apply online visit: https://cornellu.taleo.net/careersection/jobdetail.ftl?job=361372&lang=en&sns_id=mailto
For more information about EECapacity visit:  http://www.eecapacity.net/
————————————————————————————————-

Worldview Mission (WM) Netherlands/EU 2015-Post Development Agenda Involvement (PDF
————————————————————————————————
————————————————————————————————–
————————————————————————————————–
————————————————————————————————-
————————————————————————————————-  
African Perceptions of Chinese businesses operating in Africa.
Please find attached  French, English and Portuguese https://g3research.co.za/index.php/257173 https://g3research.co.za/index.php/257173/lang-fr     Globethics.net,  Nous sommes heureux d'annoncer aujourd'hui le lancement de l'enquête pour évaluer les perceptions des Africains sur les entreprises chinoises opérant en Afrique. S'il vous plaît voir le lien du communiqué de presse en français, anglais et en portugais.   Bom dia todos, Estamos felizes em anunciar hoje o lançamento da pesquisa para medir a percepção de africanos para as empresas chinesas que operam em África. Por favor, veja a communicado de imprensa em Português, Inglês e Francês.  A pesquisa pode ser acessada através deste link https://g3research.co.za/index.php/257173/lang-pt.
————————————————————————————————-
UNICEF KENYA
SEXUAL EXPLOITATION AND ABUSE
TRAINING OF TRAINERS https://docs.google.com/document/d/1JNrVpQTia7frGZY-cqAe0wYcfMrVQW5fnD01uyM-9xI/edit
————————————————————————————————-
http://www.odi.org.uk/publications/7344-disaster-risk-management-post-2015-development-goals-potential-targets-indicators
——————————————————————————————————————————
—————————————————————————————————-
—————————————————————————————————
http://us5.campaign-archive2.com/?u=84285436aa6613a4dc8c2d737&id=14f0c183a2&e=57d8ea3878
—————————————————————————————————-
AFRICAN SUMMIT http://africansummit.org/       http://africansummit.org/new-speaker-page/
—————————————————————————————————
Post 2015 Agenda on Population and Youth Employment Conference
Dear all,
Full information about the programme, concept note and practicalities is available at:
http://fcj.org.cv/index.php/programme
————————————————————————————————-
The 4th University Scholars Leadership Symposium which will be in Manila, Philippines this August 1 to 7, 2013.
              (The USLS is one of the 3 Youth in Action Programs endorsed by the United Nations Department of Economic and Social Affairs, New York.)
Attached the event materials (Application Form, Poster, Rates).
For further information, the brochure can be accessed here: http://tiny.cc/ManilaSymposium2013 You can also visit our website:
————————————————————————————————-
The formal Prime Minister Ruud Lubbers Holland Co-founder  of The Earth Charter UN High Commissioner for Refugees
Afican Union:  Application Dead line!!!   Dec 15th,  2012 APPLICATION FORM FOR ELECTION INTO THE ECOSOCC GENERAL ASSEMBLY http://www.au.int/en/content/application-form-election-ecosocc-general-assembly  http://www.kenyayouthnetwork.blogspot.nl/   http://www.unicef.org/policyanalysis/index_67742.html  http://www.unhabitat.org/list.asp?typeid=15&catid=531   http://www.unhabitat.org/content.asp?cid=11796&catid=5&typeid=6&AllContent=1   http://www.unhabitat.org/content.asp?cid=11853&catid=5&typeid=6&subMenuId=0   Bali UN Global Youth Forum Declaration FINAL-1http://www.unfpa.org/public/cache/offonce/home/news/pid/12630;jsessionid=66D4A80A471A04BFAB59CD5AE2AA9C85.jahia02    Albania News letter JC 2012 clean Jonathan Center for children with Down syndrome Albania
The New York Global Young Leaders Summit International MUN
New York, 26th to 29th March 2013 REGISTRATION DEADLINE:15 JANUARY 2013 http://www.newyorkmun.org/styled-22/index.html
Earth Charter – For a Better World  – Video 2012
————————————————————————————————-
Registration for the Youth Assembly at the UN New York, YA+11B to be held on January 29 to February 1, 2013 is now OPEN.
————————————————————————————————- "Get It Done": Urging Climate Justice, Youth Delegate Anjali Appadurai Mic-Checks UN Summit
————————————————————————————————-
————————————————————————————————-
The fifty-seventh session of the Commission on the Status of Women will take place at United Nations Headquarters in New York from 4 to 15 March 2013 http://www.un.org/womenwatch/daw/csw/57sess.htm
————————————————————————————————-
The 2013 Call for Africa-India Fellowship Programme http://www.au.int/en/dp/hrst/content/mwalimu-nyerere-african-union-scholarship-scheme-africa-india-fellowship-programme-call-2013 The scholarship is for Masters and PhD programmes in the field of Agriculture tenable in reputable Indian Universities. Note that the deadline for the call is 28th February 2013  !!!
————————————————————————————————- 1.     New York Global Young Leaders Summit INTERNATIONAL MODEL UNITED NATIONS
                         New York, 26 – 29 March 2013
http://www.newyorkmun.org/slideshow/page21.html
————————————————————————————————-  
                 African Union
———————————————————————————————— Deadline to apply: 20 December 2012
————————————————————————————————-
THE WORLD WE WANT IN 2015
UK Beyond2015 Bulletin 3_Updated TURKEY: 2015 WORLD WE WANT UGLA_Habitat_Video_Basin Bülteni TURKEY: 2015 WORLD WE WANT IYLA_Habitat_Video Press Release
————————————————————————————————- Sidewalk University Gives the Gift of Sight to Children Trip in Antigua and Barbuda :  Press Release
————————————————————————————————- Netherlands Water Parnership – Waterproof and Waterproof –
————————————————————————————————-https://sites.google.com/site/youthmdgambassadors/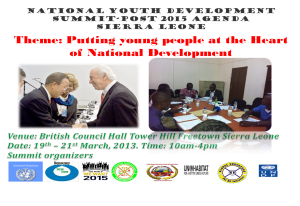 ————————————————————————————————-
Best wishes,
Emma
Overseas Development Institute 203 Blackfriars Road London SE1 8NJ United Kingdom
Risk management – Principles and guidelines   ISO 31000:2009   provides principles
http://www.theirm.org/publications/documents/rm_standard_nl_15.11.04.pdf
http://www.theirm.org/publications/PUstandard.html
—————————————————————————————————-
*Worldview Mission is Standing Up ,* Taking Action* , **Making Noise for the UN MDG's !!!**