PARIS21: On the Data Revolution
IBON Foundation
Discussion for the PARIS 21 "Informing a Data Revolution: Country Workshop"
October 23, 2014
Good afternoon to all, and thank you to the organizers for the opportunity to share our views on PARIS21 and the data revolution. IBON is a research and education organization that also generates primary data through national opinion surveys, direct field research, and other ways.
But with respect to the official statistical system, IBON is mainly a user. We use and analyze official data in our capacity as a development NGO and as activists and seek to disseminate information and knowledge to the largest number of people possible. We operate on the principle that informed people can and will take action to change the world. Good data and a lot of good data is vital for this. These give the flexibility to be creative in explaining issues, to draw public attention, and to motivate people to not just understand but to take action.
There are already so many things to attend to in the official statistical system. A mountain of data is generated and all our days can be occupied with processing these, improving these, and adding to these.
There is the recent trend for greater self-awareness with the generation of competitiveness indices. The novelty of new technologies and innovations meanwhile open up whole new realms of work and injects creativity and new energy. Amid all this, however, we would like to argue for the importance of pausing to reflect and going back to some basics. This can only help us in setting out a road map for, as declared, "more effective and sustained poverty reduction and development".
All of us here believe in the power of numbers to reveal and, indeed, to conceal. For better and for worse, numbers scream even if said quietly or even when written down and not said at all. Many times, of course not always, if we do not have the numbers then we cannot say that we really know something.
This empowering nature of numbers is why IBON is such a heavy user of government statistics in our work among the country's peasants, workers, youth, urban poor, indigenous peoples, and other marginalized sectors.
And for this we appreciate the official statistical system and we are very grateful to our friends and colleagues working in it who are so accommodating. The agencies under the Philippine Statistical Authority (PSA) have always been helpful unlike other line agencies from whom we are accumulating folders of letters denying our data requests.
Since this morning, the many strengths of the current system and competence of its people have been affirmed many times over and a score of methodological, technical, technological and organizational improvements have been proposed. So in this short comment we'd just like to stress a particularly neglected area for improvement.
The disempowering nature of numbers is when they are used to conceal or divert from fundamental and important issues.
There is such an avalanche of data that what is not counted, in not being part of that avalanche, is inadvertently or perhaps even intentionally diminished in importance. What are some of the lapses in the Philippines – and indeed of many statistical systems abroad as well – in terms of giving data and information on our main concern of poverty and underdevelopment?
We can identify blind spots by raising questions that aren't answered or not easily answered by the data generated by the statistical system (whether by individual data sets or various data sets combined).
In particular we can raise the questions that progressives and Leftists have been asking for a very long time.
This is another wish list but then this is the Philippines so Christmas approaches faster than elsewhere. In any case, some wishes really are more basic and important than others.
It is currently fashionable to talk about inequity and the inclusiveness or otherwise of growth. Economics textbooks even from decades ago point out that national income accounts are crude measures of development.
But despite this the Philippine national accounts are essentially unchanged since they started to be used in 1950. GDP, GNP and GNI data are far and away the most widely used and headline indicators for "development" – and if only for this they should be radically overhauled. Specifically: How is national income distributed between the holders of wealth and assets and the working classes?
The current severe and unchanging inequity in the country is the result of past annual inequities which are annually unseen in the national accounts data. Yet these inequities strongly affect our economy and our politics in a vicious cycle of backwardness and underdevelopment. We would probably look at economic performance very differently if we saw every quarter or even every month more systematically who really gains from this supposed performance.
We can also ask: how is national output divided between Filipinos and foreigners? We've gotten into the habit of thinking that the difference between domestic investment and foreign investment dissolves with a conversion at current foreign exchange rates.
Yet domestic capital and foreign capital behave very differently vis-à-vis the domestic economy in terms of where they invest, what they produce and where, technological development, fiscal conduct, applicable laws and many others. It does not make sense to be oblivious of this.
Family income surveys have been used to generate poverty figures – but what about wealth figures and everything between poverty and wealth? There are very strong reasons to believe that the intractable poverty and the concentration of wealth are structurally related but we are not generating the data to investigate this.
Families are also not just passive recipients of income – would it not also be helpful to profile them as also producers of goods and services? Profiling families by income, occupation and industry will likely give us new insights into the stubborn persistence of inequity and exclusionary growth.
The Philippines is still a significantly agrarian country with deep rural poverty. So there is the very nagging question that remains unanswered even by the most involved policymakers and statisticians in agrarian reform: after over four decades of agrarian reform programs, what is the state of landownership and control? How much do our farmers and fisherfolk earn with what assets they have or, more commonly, don't have?
We would also like to support the other matters already mentioned. Amid scattered and dated but nonetheless mounting evidence of ecological destruction, what is the real state of the Philippine environment – our water resources, coastal resources, forests, minerals and biodiversity? Data will correct both alarmism and complacency. F
ilipina women already face differential and heavier burdens in the economy and society – yet there is still so much to be done in terms of better data disaggregation and frequency to see their place in households, communities, markets and the economy.
Overseas Filipinos are reportedly over 10% of the population yet our data sets for them are incomplete, inconsistent and incomparable. Lastly, we like to talk about the knowledge economy, innovation and competitiveness – but what is the state of our efforts to develop Filipino science and technology? Our domestic technological base is vital but we do so little to even know how much we are or are not building this.
Our perception of the world is formed by what we see. There is no overestimating how the statistical system tells us what to see and shows us what is there.
All of us and each of us have our finite direct experience but it is the official statistical system above all which gives us a bigger view of things. By "us" and "we" meaning not just statisticians and practitioners but also policymakers, sectors, communities and the general public.
We hope that statisticians ask ever more rigorously: an economy and society for whom? The more that the numbers at hand reveal this then the more we can all do to transform the economy and society for the better.
But even with the imperfect information we have now we already see how so much more has to be done for real, equitable and sustainable development in the country and elsewhere.
We are very much looking forward to a revolution not just in data but in our economy and society.###
sonnyafrica@ibon.org, sonnyafrica@yahoo.com, sonnyafric@gmail.com
+63 928 505-3550  /  www.ibon.org   / Follow IBON on Facebook / Follow IBON on Twitter
IBON Foundation  / 114 Timog Avenue / Quezon City, 1103 / Philippines
Trunkline: + 63 (2) 927 7060 to 62  / Fax: + 63 (2) 929 2496
——————————————————————————————————-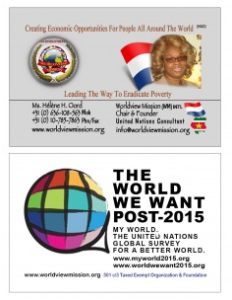 Worldview Mission, Headquarter, "Kingdom of the Netherlands"
Contact Ms. Helene H. Oord
Address: Beemsterhoek 14,  2905 XA, Capelle A/D IJssel,
Rotterdam T: +31(0)636108563
(Netherlands-EU) , Registered: RSIN, ANBI 851082403 B01
CHAMBER OF COMMERCE  K.v.K. 53.94.11.36
SEPA: Bank Account nr.:  NL08 ABNA 0506 0822 02
https://www.geef.nl/externalMod.php?gd=5052&taal=nl_NL
Mapping:  http://worldviewmission.geef.nl/kaart
http://www.un.org/millenniumgoals/
http://www.youtube.com/channel/UCG73AhrHfyq9KkqQtmSEsnw
http://www.youtube.com/channel/UCYGi5G1WSObsWLzx_kbp6Pg
*Worldview Mission  is Standing Up ,* Taking Action* , **Making Noise for the United Nations MDGL's !!!**