WORLDVIEW MISSION  (WM)
http://www.un.org/en/events/observances/days.shtml
http://www.faf.org/main/youth-assembly-at-the-un/assembly-program-annual/
Oral Yep Contact
Mr. Agbaje Falilu Opeyemi
Executive Director: Oral Youth Empowerment Initiative,
Office: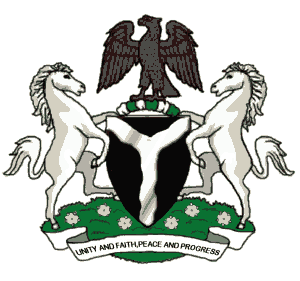 Nigeria
Email: demogbaje2008@yahoo.com  /  info@oralyep.org
Website: www.orolyep.org  / Facebook: http://www.facebook.com/orolfoundation
Please register for the ECO TOURISME INVITATION   Date:   July 29th  –  August 12th Togo-Africa
WORLDVIEW MISSION Mr. William Togo West Africa Ecotourism pdf
Worldview Mission (WM) and Lauchout Foundation Breastcancer Awareness May 2015:
Worldview Mission Nigeria May 2013 MFon Lauchout Foundation BREAST CANCER AWARENESS
Worldview Mission TOGO REPORT OF THE ACADEMY SUSTAINABLE Plant March 2013
Worldview Mission Togo, Report 2013 REPORT OF THE ACADEMY Plant March 2013 pdf
Mufaddal Shk. Akbar Ali Mirza N.K.D. Ph.D.(UIUC-USA)
Technopreneur & Total Quality Business Coach
drmufaddal52 @ Skype 923332283257 
Please Comment – Renewables To Hydrogen Storage
Hello Shane –
Blessed Spring Greetings..
MSB Global University GREEN Industrial Park close to largest Cattle Colony of the World Landhi Cattle Colony in Karachi is available to demonstrate the Innovative GREEN Energy Technologies.
Kind Blessed Regards..
Mufaddal Mirza NKD, Ph.D. (UIUC-USA)
+92-333-228-3257
12 Faisal Arcade, A-39, Block 7&8, KCHSU
Shahrah e Faisal, Karachi 75350
———————————————————————————————————————————
EMPOWERMENT OF OUR YOUTH TO COMBAT POVERTY  
Worldview Mission programs are financed by donations and fundraising events.
You can help us provide these programs in our communities and other places to make a difference in someone's life. 
———————————————————————————————————–
ISO 31000:2009
Risk management – Principles and guide lines
WM,  ISO 31000 DAY ONE-DALI-OpRiskconference-Istambul-version1
—————————————————————————————–
African Union:  Application Dead line!!!   Dec 15th,  2012
APPLICATION FORM FOR ELECTION INTO THE ECOSOCC GENERAL ASSEMBLY
http://www.au.int/en/content/application-form-election-ecosocc-general-assembly
—————————————————————————————–
Worldview Mission (WM) afiliated  with Sidewalk University USA.
——————————————————————————————
Registration for the Youth Assembly at the UN New York, YA+11B to be
held on January 29 to February 1, 2013 is now OPEN.
—————————————————————————————————
The New York Global Young Leaders Summit International MUN beheld in New York, from the 26th to the 29th of March 2013
REGISTRATION DEADLINE:15 JANUARY 2013
http://www.newyorkmun.org/styled-22/index.html
————————————————————————————————–
The 2013 Call for Africa-India Fellowship Programme
http://www.au.int/en/dp/hrst/content/mwalimu-nyerere-african-union-scholarship-scheme-africa-india-fellowship-programme-call-2013
The scholarship is for Masters and PhD programmes in the field of Agriculture
tenable in reputable Indian Universities.
Note that the deadline for the call is 28th February 2013  !!!
—————————————————————————————————-
Long-Term Training Course for Youth Workers on Access to Social Rights for Young
People (2013-2014) Residential seminar: 11 – 21 March 2013,  EU/Strasbourg Project
development and learning: April 2013 – June 2014 Evaluation seminar: 2014 (dates t.b.c.)
                         Deadline to apply: 20 December 2012
All candidates must apply online, completing the application form through this link:
http://youthapplications.coe.int/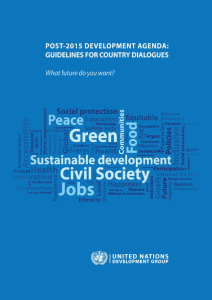 —————————————————————————————————-
Youth Event (February 26, 2013) as part of the  5th United Nations Alliance of
Civilizations Forum in Vienna (February 27-28, 2013)
APPLICATION GUIDE LINES:  UNAO ViennaYouth Event Application Guidelines
APPLICATION DEADLINE:  November 1, 2012 
(PDF)   UNAOC ViennaYouth
————————————————————————————————————
                                           HOW TO REQUEST FOR AN AU-YV?
————————————————————————————————
WORLDVIEW MISSION  YOUTH PROGRAMMES INTERNATIONAL
PLANT FOR THE PLANET  -TREES FOR CLIMATE  JUSTICE- "YOUTH ACADEMY"
———————————————————————————————————–
———————————————————————————————————–
Programme Worldview Mission and One Million Lights  (WM & OML)
http://onemillionlights.org/blog/2010/11/09/partners/
———————————————————————————————————-
Dear All,
THE 22 ND INTERNATIONAL  CHILDREN'S  PAINTING  COMPETITION  ON THE  ENVIRONMENT
UNEP has launched the 22nd International children's painting competition. The Competition is organized annually by the UNEP and the Japan-based Foundation for Global Peace and Environment (FGPE), Bayer and Nikon Corporation.
The theme of the 22nd  painting competition will be " Water" and participants will have until 29th  February, 2013 to submit their entries.
Sub themes of the competition are:
Water: Where does it  come from? Water : Source  of  life
The selection process will be in two stages; the regional selection which will be done by UNEP Regional Offices and their partners, and the global selection which will be done by UNEP and its partners, Foundation for Global peace and Environment (FGPE), Bayer and Nikon Corporation.
For more details on the Competition please visit :http://unep.org/tunza/children/int_comp.aspx
For more information, send an email to children.youth@unep.org.
——————————————————————————————-
Worldview Mission / Youth  "STIWENA"  Suriname
Robby Berghout   Co-Founder Stiwena
Em: info@worldviewmission.org    /    robbyberghout@sr.net
————————————————————————————————-
Worldview Mission, NEPAL WORLD HIV-AIDS Day 2012 celebrated at Rainbow Children Home Nepal
—————————————————————————————————-
WORLDVIEW MISSION (WM) YOUTH CONFERENCES IN AFRICA
Dear Friends, The 4th Biennial conference for Youth Alliance for Leadership and Development in Africa will hold from the 4th to 7th October 2012 at the Lagos Business School, Lekki-Ajah Campus in Lagos, Nigeria.  This year's conference will be in partnership with Lagos Business School (http://www.lbs.edu.ng/)  LEAP Africa (http://www.leapafrica.org/)  and FindajobinAfrica.com (http://www.findajobinafrica.com/)  After an outstanding conference in Botswana last year, most of you delegates requested a different format and you also requested that the conference was not scheduled during Ramadan.
We look forward to seeing YOU in Nigeria this 2012 October!
Mr. Raymond C. Maro
YALDA International Publicity Chair
Site:  www.conference.yaldafrica.org
Em:  contact@yaldafrica.org , raymond_maro@yahoo.com
Facebook:  YALDA International
We are taking applications….so please visit:
To apply!!!!   Space is limited!!!!  Deadline is 31st of July!!!
————————————————————————————–
Antarctic  Youth  Ambassador  Programme  Year  2041
————————————————————————————-
Worldview​ Mission: ICPD Global Youth Forum Invitation
PROGRAMS     4th to 6th December 2012 in Bali, Indonesia.
Dear Members and Colleagues of  Worldview Mission  Youth board International. Warm greetings from the World Assembly of Youth (WAY) headquarters in Melaka, Malaysia! On behalf of the Steering Committee of the International Conference on Population and Development (ICPD) we have the honor and pleasure to extend this invitation to all youth and youth leaders to attend the Global Youth Forum (GYF) from 4th to 6th December 2012 in Bali, Indonesia. The GYF will focus on the following themes: * Staying healthy * Getting an education * Employment and livelihood * Family and well-being * Fully inclusive civic participation We encourage interested youth representatives and/or nominations of both genders from various networks to submit CVs/ bio data via email before Wednesday 8th August 2012. Applicants must conform to the following criteria: 1. The applicant must represent the underrepresented groups in terms of gender, culture and ethnicity, disability, socioeconomic status, and the likes; 2. The applicant must be within the age range of 18-30, with special preference for those 24 and under; 3. The applicant must have an established record of working with young people, as well as general familiarity with the ICPD; 4. Indicate the country and/or region you currently reside in. Kindly be informed that the Committee shall select 100 youth representatives that fulfill the criteria and thereby submit invitations based on the selection.Em: info@worldviewmission@gmail.com
For further information about the GYF please refer to http://icpdbeyond2014.org/whats-next/icpd-global-youth-forum/
WAY Secretariat World Assembly of Youth (WAY) | World Youth Complex | Jalan Lebuh Ayer Keroh | 75450 Ayer Keroh|Melaka, MALAYSIA Tel: +606-2321781/2711 | Fax: +606-2327271 | Email: office@way.org.my | Website <mailto:office@way.org.my%20%7C%20Website> : www.way.org.my <http://www.way.org.my/>
——————————————————————————————————
Violence against women cannot be tolerated, in any form, in any context, in any circumstance, by any political leader or by any government."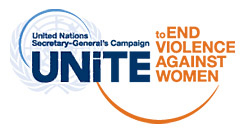 STICHTING  SIO  (SURINAAMS INSPRAAK ORGANISATION)
On the SIO The Surinamees Inspraakorgaan, SIO, committed to a qualitative social position of the target Surinamees in the Netherlands. We do this through a nationwide network of persons and Surinamees organizations who provide us with information on issues that demand our attention. With this antenna function SIO serves as a link between governments and civil society bodies and the Surinamees community. SIO is the only nationwide Surinamees foundation, which also aims to ethnicity, religion and culture and to connect this in society visible as the Surinamees identity. We are the information hub about Suriname and Surinamees in the Netherlands and for everyone.  More about the Surinamees Inspraak Organisation. 
———————————————————————————————————-   
Peace Corps  Projects "One Laptop A Child"   SURINAME
————————————————————————————–
                                       UNICEF  New York
Missing the message about Maternal Morality    Spread awareness
http://www.unicef.org/devpro/46000_48066.html  
————————————————————————————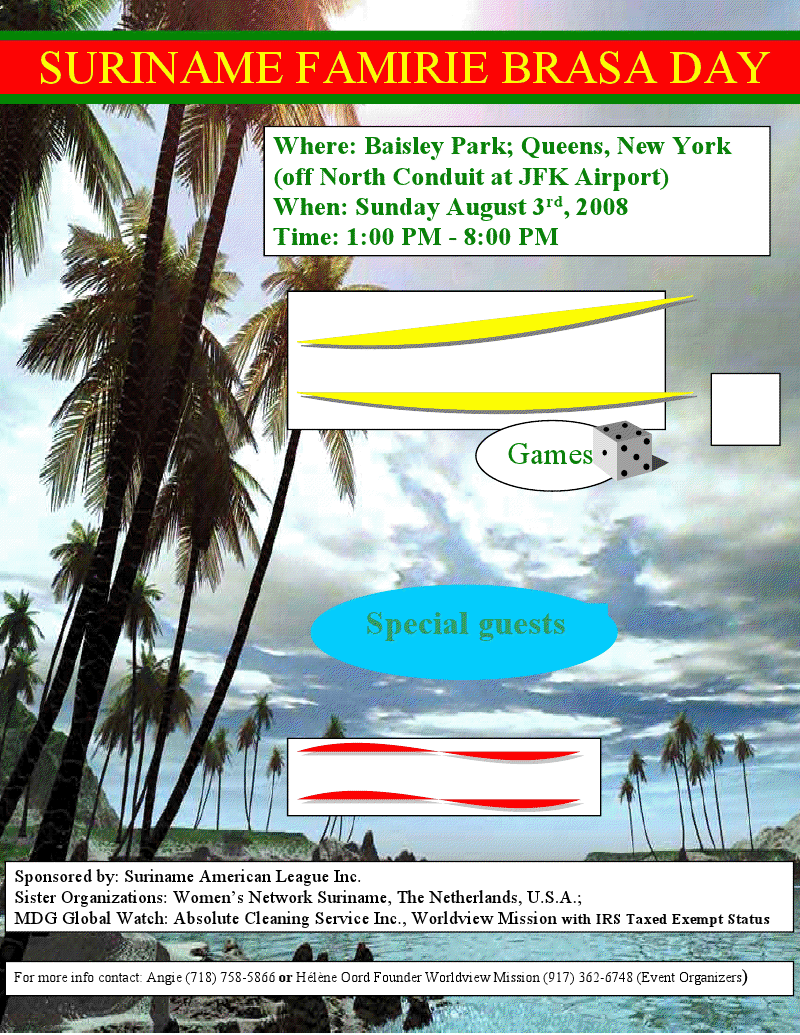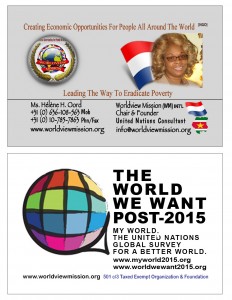 Contact Ms. Hélène H. Oord 
Beemsterhoek 14,  2905XA,
Rotterdam-Capelle aan den IJssel,  ( The Netherlands-EU) 
Founder: Worldview Mission (WM)  |  Registered Rotterdam  K.v.K. 53.94.11.36 | Account Info:   BIC/ SWIFT: ABNANL2A | IBAN: NL 08ABNA0506082202
                http://www.un.org/millenniumgoals/
*Worldview Mission  is Standing Up ,* Taking Action* , **Making Noise for the United Nations MDGL's !!!**