"Call For Additional Solutions" 4 Examples of Innovative Solutions to Deliver on Education Amid Ebola Crisis West Africa
Please share with your colleagues and networks.
Dear Friends and Colleagues,
Are you working for or know an organization with experience delivering non-contact education, or have other innovative ideas for educating children in Ebola-affected West Africa? Send an email to news@devex.com or comment on the web page at the end of the article, to learn more
https://www.devex.com/news/4-innovative-solutions-to-deliver-on-education-amid-ebola-crisis-84620 
All the best,
Pam Puntenney and Bremley Lyngdoh
UN SD Education Caucus Co-Chairs
Co-Coordinators Climate Change
————————————————————————————————–

 :
Asia: So Close and Yet So Far From Polio Eradicatio​n
Click here for the online version of this IPS newsletter
————————————————————————————————–
Hours for our climate
In hours Europe could agree a plan to curb catastrophic climate change, but unless EU leaders hear from us louder than the blockers, they won't negotiate the plan our planet needs.
Send them an urgent message before they meet in Brussels:
Dear friends across Europe,
2014 is on track to be the warmest year on record, but in hours Europe could agree on a plan to stop disastrous climate change.
Most EU leaders know we need to cut carbon pollution quickly, or superstorms and sea level rises will destroy the species and landscapes we all love.
But they are letting the coal lobby in Poland play politics with our future. Europe has long led the world on climate, but unless our leaders hear from us louder than they hear from the blockers, they may fold.
If Europe leads the world on pollution cuts this week, it'll build momentum for next year's climate summit and get other governments to follow our lead. Last month, more than 100,000 of us marched across Europe with a call for strong climate action — now let's bring our voices directly to our leaders before they meet in Brussels.
Click to send a quick message:
https://secure.avaaz.org/en/eu_2030_climate_sam/?bSPCVgb&v=47725
The science is clear: we need to start to reduce overall carbon emissions and move fast to clean energy sources.
The first step to get there is a European climate plan to cut carbon pollution by at least 40% from 1990 levels in the next 15 years. But, with 28 governments needing to reach consensus, there's a big danger that leaders will settle for any deal rather than the right deal.

Poland and a few other countries with strong coal industries are trying everything to limit the agreement and even to get billions of euros to subsidise their dirty coal plants. 13 key European countries, including Denmark, Italy, and the Netherlands, have formed a green alliance, and if they play their cards right, they can persuade Poland to accept the carbon goals, alongside money for clean technology and energy efficiency, not coal. It's all a matter of political will.

Over two million of us have already signed a petition urging a bold shift to clean energy, so let's now urge European leaders to take a stand this week to save everything we love. Send a message now:
https://secure.avaaz.org/en/eu_2030_climate_sam/?bSPCVgb&v=47725
Last month, our massive march was on front pages around the world, and now we have a chance to bring our dream of a cleaner, greener future one step closer.
Let's inspire our leaders to become climate champions.
With hope, Pascal, Jo, Alex, Christoph, Daniel, Juliane, Laila, Risalat and the Avaaz team MORE INFORMATION:  EU 2030 compromise could weaken climate action (RTCC)
http://www.rtcc.org/2014/10/09/eu-2030-compromise-could-weaken-climate-action/

57 Companies Including 3M, Philips, Novozymes Demand EU Council Adopt Robust 2030 Climate Goals (Sustainable Brands)
http://www.sustainablebrands.com/news_and_views/collaboration/sustainable_brands/57_companies_includ…
Poland says will cooperate on climate change – for a fee (EurActiv)
http://www.euractiv.com/sections/energy/poland-says-will-cooperate-climate-change-fee-309082

UK hailed as 'leader' in 2030 climate talks (The Guardian)
http://www.theguardian.com/environment/2014/oct/07/uk-hailed-as-leader-in-2030-climate-talks

Earth headed for warmest year on record: US meteorologist (Deutsche Welle)
http://www.dw.de/earth-headed-for-warmest-year-on-record-us-meteorologists/a-18009086
Avaaz.org is a 38-million-person global campaign network that works to ensure that the views and values of the world's people shape global decision-making. ("Avaaz" means "voice" or "song" in many languages.)
Avaaz members live in every nation of the world; our team is spread across 18 countries on 6 continents and operates in 17 languages.
Learn about some of Avaaz's biggest campaigns here, or follow us on Facebook or Twitter.
Ebola: before the window closes
Join in to equip the Ebola frontline heroes by clicking below:
€2    €4    €8    €16    €32
Pledge another amount
Dear friends,
In the last two weeks, thousands of courageous members of our movement have volunteered to fly to West Africa and help contain the deadly Ebola virus. It's an act of heroism and a testament to the interdependence we all feel as part of this global community.

But not all of us could travel or have the right skills to help, so Avaaz asked one of the leading frontline organisations what else the 39 million of us could do to support these health workers to save lives and stem the spread. Their response was so simple, tangible and tragic it nearly made me cry: sanitation materials – gloves, soap, chlorine; personal protective equipment (PPE) kits; ambulances; and beds, equipment and supplies for the Ebola Treatment Centres.

It's practically criminal the international community still hasn't managed to get enough of these basics in. But we can help! PPE kits cost $280 USD — and as elements of the kits are thrown away after each use, health staff will go through over 15,000 PPE kits in just a month! $50,000 USD could buy, deliver and equip an ambulance.

So basically, if just 50,000 of us give just $20 USD right now, we could buy 10 ambulances and 2,000 hazard suits. And the frontline organisations can likely get the gear out fast enough for local and international doctors and nurses, and the amazing volunteers from our community, to have a chance to get ahead of the Ebola virus before the window to stem the outbreak closes.
Click below to pledge a donation to stop Ebola — pledges won't be processed until there's enough to make a difference:
YES, I'LL PLEDGE €2
YES, I'LL PLEDGE €4
YES, I'LL PLEDGE €8
YES, I'LL PLEDGE €16
YES, I'LL PLEDGE €32

To pledge an amount other than the ones listed above, click here.
This is the scene: entire health systems are collapsing under the strain. Local health workers have died trying to treat patients without the right gear. And the international response has been inadequate — a few of the richest nations in the world have committed fewer medics than the number of Avaaz members who have offered to volunteer. Right now the UN expects 10,000 new cases of Ebola a week, and there are only 4,300 beds pledged to treat them!
Governments are slowly starting to move, thanks to the intense public attention on the crisis, but most are not delivering fast enough. The scary truth is the UN says we only have weeks to contain this or millions may be under threat. That's why us pledging now is so important — if we all chip in fast, Avaaz could provide the funds we raise to the frontline organisations within hours of reaching our goal. Here's what we could help purchase:
$2 USD could purchase soap to prevent an infection.
$29 USD could provide training for a teacher on Ebola prevention so that children learn how to keep safe from the disease.
$280 USD could pay for a full personal protective equipment kit to allow frontline health workers to more safely care for people with Ebola.
$50,000 USD could buy, deliver and equip an ambulance.
$120,500 USD could provide the equipment and supplies needed to help set up a 50-bed treatment centre.
Avaaz is working with several humanitarian organisations in the field, and consulting with the governments of Liberia and Sierra Leone. Together, we can support those in the thick of the battle against Ebola. Join in by clicking below. Our pledges will only be collected if we raise enough to make a difference:        

To pledge an amount other than the ones listed above, click here
Our response to this deadly disease now not only could save lives, it defines who we are — a global community that believes in and acts on the threads that tie us together as one people.
The Avaaz volunteer heroes have shown that each of our lives is worth risking everything for. Let's support their beautiful humanity wherever we are by pitching in, before this dangerous window closes.
With appreciation for all we have built together,
Alice, Mia, Ricken, Emma, Patricia, Ari, Emily and the whole Avaaz team 

MORE INFORMATION:

Up to 1.4m people could be infected with Ebola by January, CDC warns (The Guardian)
http://www.theguardian.com/society/2014/sep/23/ebola-cdc-millions-infected-quarantine-africa-epidemic 

New Ebola Cases May Soon Reach 10,000 a Week, Officials Predict (New York Times)
http://www.nytimes.com/2014/10/15/world/africa/ebola-epidemic-who-west-africa.html

Despite New Pledges, Aid to Fight Ebola Lagging (Inter Press Service)
http://www.ipsnews.net/2014/09/despite-new-pledges-aid-to-fight-ebola-lagging/

Known Cases and Outbreaks of Ebola Virus Disease, in Chronological Order (Centers for Disease Control and Prevention) http://www.cdc.gov/vhf/ebola/outbreaks/history/chronology.html

Spread of Ebola in West Africa outpaces resources (CBS News)
http://www.cbsnews.com/news/ebola-epidemic-much-more-needs-to-be-done/

Ebola death rates 70% – WHO study (BBC) http://www.bbc.com/news/world-africa-29327741

Unprecedented number of medical staff infected with Ebola (WHO)
http://www.who.int/mediacentre/news/ebola/25-august-2014/en/
—————————————————————————————————
Conference Highlights
 http://www.youtube.com/watch?v=osV2bktvrbk
http://www.un-ngls.org/spip.php?page=article_s&id_article=2818
 62nd Annual DPI/NGO Conference : For Peace and Development: Disarm Now!  
http://www.youtube.com/watch?v=sDqecr1yZ_o
United Nations University for Peace (UPEACE) http://www.youtube.com/watch?v=X2vXR2gzOtc
—————————————————————————————————–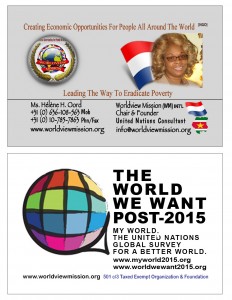 https://www.youtube.com/watch?v=DuXB1a3NBCw
————————-
Worldview Mission, Headquarter, "Kindom of the Netherlands"
Contact Ms. Hélène H. Oord
Chair Fouder of  Worldview Mission to the United Nations  https://worldviewmission.nl/
PR-Media, Int'l  Relations Liaison to the United Nations
Liaison- Ambassador to Project One Inc. to the United Nations with UN/ECOSOC Status 
Address: Beemsterhoek 14,  2905 XA, Capelle A/D IJssel,
Rotterdam T: +31(0)636108563
(Netherlands-EU) , Registered: RSIN, ANBI 851082403 B01
CHAMBER OF COMMERCE  K.v.K. 53.94.11.36
SEPA: Bank Account nr.:  NL08 ABNA 0506 0822 02
https://www.geef.nl/externalMod.php?gd=5052&taal=nl_NL
Mapping:  http://worldviewmission.geef.nl/kaart
http://www.un.org/millenniumgoals/
http://www.youtube.com/channel/UCG73AhrHfyq9KkqQtmSEsnw
http://www.youtube.com/channel/UCYGi5G1WSObsWLzx_kbp6Pg
*Worldview Mission  is Standing Up ,* Taking Action* , **Making Noise for the United Nations MDGL's !!!**