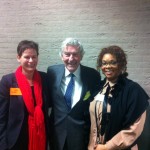 Ms. Hélène H. Oord (Chair/Founder WM) with Drs. Ruud Lubbers, former Prime Minister Netherlands and Co-founder of The Earth Charter UNHCR
Mr. Ruud Lubbers, ex Prime Minister of the Netherlands, promotes the Earth Charter
http://www.youtube.com/watch?v=FntRVRzwCu4b
http://worldviewmission.nl/?page_id=5660
http://wmpakistan.webs.com/office-infrastructure

Worldview Mission (WM) was founded in USA by Ms. Hélène H. Oord in 2007, C0-founded Ms. C. C. Oord, Semi founded together with our personal United Nations Consultant  Mr. Richard Jordan , Chair, 60th Annual UN DPI/NGO Conference, Assist by Mr. Gary Gardener United Nations  Conference Officer.  In 2008, WM, registered as 501 (C) (3) Nonprofit (NGO) IRS-Taxed Exempt Status Subsidiary of  affiliate  org (SU), NJ, New Jersey.   AN INTRODUCTION   http://worldviewmission.nl/?page_id=233

Through its founder, Mrs. Hélène H. Oord, official partner with  http://www.myworld2015.org/?partner=H.H.Oord  , her  Bio  remained a proud Ambassador to Project One Inc, with UN-ECOSOC STATUS during the years 2009 to 2011 and Ambassador to T.L. Lowery Foundation with UN ECOSOC Status. (WM) extended its outreach to Europe by registering itself with the Chamber of Commerce of Rotterdam, Netherlands in October 2011 and registered in Suriname (South America).
This Global Organization connected to the United Nations is affiliated with a multitude of organizations in the world that are concerned with ending poverty, complies with the Statement of United Nations Under-Secretary- General for Communications and Public Information (DPI) Mr. Kiyo Akasaka, by 2015.  By 2050 the world's population will reach 9.1 billion, 34 percent higher than to day. Worldview Mission (WM)  Complies with United Nation's Millennium Development Goals to end poverty by 2015. 

  

Worldview Mission (WM) was instigated with a philosophy to support and collaborate with the humanitarian agencies throughout the globe in their effort to ensure basic human rights to the communities especially in third world countries. Based on the premise of universality of Human Rights, Worldview Mission is actively working to promote a Rights Based Approach in all areas of interest (areas defined below). 

For instance, it a common understanding that the United States is one of the richest counties in the world, still, 37 million people are poor, and from those 13 million children (19 percent of all children) under age eighteen live in families with incomes below the official poverty threshold. Worldview Mission (WM) is on a mission to break the cycle of poverty in low economic communities by educating and preparing the youth to become leaders in their community and eventually extend their cause on a global level.

Programs of Worldview Mission (WM) are directed to enhance self-direction, self-determination and self-regulation of our youth as oppose to just giving them a handout which constitutes merely an ephemeral solution, but not a solution to the problem.
The Vision
"To improve the quality of life for the people living in poverty helping them to become self-sufficient and to facilitate global effort in meeting United Nation's Millennium Development Goals."
The Mission
Eradication of  poverty in our communities especially in the third world nations.
Provide comprehensive programs of growth and development for individuals as well as communities.
Youth development and empowerment
Create an environment and use activities that foster mutual respect, resilience, self-esteem, self-regulation, self-efficacy and leadership
Promote awareness and acceptance of diversity
Worldview Mission  (WM) Areas of Concern:
Community development
Community service and volunteering
Economic development
Family and Parenting
Poverty and hunger
Education
Leadership
Employment
Micro-finance Micro
Humanrights Court
Women Entrepreneur Program
Environmental Sustainability and Climate Change
Clean water
Health
Promote Gender equality and Empower women
United Nations Millennium Developments Goals (MDG's)  &  2015-Post Development Agenda
 EMPOWERMENT OF OUR YOUTH TO COMBAT POVERTY  
Our programs are financed by donations and fundraising events.
You can help us provide these programs in our communities and other places to make a difference in someone's  life
REFERENCES  of  Ms. Hélène H. Oord:
Mr Richard Jordan,  USA, UN, New York
United Nations Officer
http://www.un.org/dpi/ngosection/annualconfs/60/RichardJordan.htm
Mr. Scott Moore & Mrs Tracy Moore , Project One Inc , UN Ecosoc Consultative Status
Mrs. Carla Busbee, Project One Inc. United Nations Ecosoc Consultative Status
Dr. T. L. Lowery,  T.L. L, Foundation   http://tllowery.org/  UN Ecosoc Consultative Status
Pastor John H. Boyd Sr.,
New Greater Bethel Ministries, Queens, New York /USA
————————————————————————————————–
Mr. Gary Gardener, USA-New York
UN Conference Officer
United Nations, New York
—————————————————————————————————
Bishop Rev,  Dr. Timothy Birkett, USA
Church A-Live
Bronx, New York
————————————————————————————————-
Mrs Vera van Os  
Amsterdam-Netherlands    
http://www.youtube.com/watch?v=j5IaKHkUF2g
————————————————————————————————–
Dr. P. J. Puntenney
Environmental & Human Systems Management
1989 West Liberty
Ann Arbor, MI  48103  USA
————————————————————————————————-
Prof. Jan Peter Balkenende, Ph.D., LL.M.,
M.A.|Partner Ernst & Young Nederland
LLP Boompjes 258,
3011 XZ, Rotterdam, Netherlands
Office: +31 88 407 90 28
Site: http://www.ey.com/NL/nl/ Prof. Jan-Peter-Balkenende -bij-Ernst-Young
UN. Sustainlable Publication.pdf
E-Mail: jan.peter.balkenende@nl.ey.com
Phone: +31 88 407 90 28  /  Fax +31 88 407 89 93
Em: amalia.angel.rodriguez@nl.ey.com
Assistant: Phn: +31 88 407 8716
Dutch Sustianable Growth Coalition (DSGC  1)
Leadership and Corporate Governance for Sustainable Growth Business Models
Dutch Sustainable Growth Coalition (DSGC 2 PDF)  Models, DSGC Publication
———————————————————————————————–
Mr. Aart De Geus
Chairman and Chief Executive Officer
Bertelsmann Stiftung
Carl-Bertelsmann-Straße 256 | 33311 Gütersloh | Germany
Phone: +49 5241 81-81515 | Fax: +49 5241 81-681515
E-Mail: aart.degeus@bertelsmann-stiftung.de |
Mr. Aart De Geus with  Dr. Kofi Annan erhält den Reinhard Mohn Preis 2013
http://www.bertelsmann-stiftung.de/cps/rde/xchg/SID-B3DC5AA5-62E06175/bst/hs.xsl/media_119132.htm
http://www.bertelsmann-stiftung.de/cps/rde/xchg/SID-B20DFC32-64EC94D7/bst/hs.xsl/media_116437.htm
Website:      www.bertelsmann-stiftung.de
———————————————————————————————–
Mr. Joop Atsma
http://www.nu.nl/tag/joop%20atsma/
http://www.parlement.com/id/vg09lljpk5z2/j_j_joop_atsma
E-mail: j.atsma@planet.nl     /    +31(0)512363668 Mob
————————————————————————————————-
Worldview Mission 2015-Post Development Involvement Rotterdam-Netherlands /EU

Worldview Mission (WM) is heavily involved in the Post 2015 and MDG's work and is supporting
youth and women consultations in Asia, Africa and EU to make sure that the voice of the
marginalised are incorporated in designing the next set of development goals.
Half the world is under 25 – that's over 3.5 billion people. 87% of young people live in
developing countries, disproportionately affected by their community and country"s most
pressing problems. More than 30% of 15-24 year olds in the world live on less than $2 a
day. And yet, young people remain isolated from decision-making processes, frequently
overlooked as a resource for change and development. Young people are a vital asset in the
formulation and leadership of any new commitments to global development and tackling
poverty worldwide. Hugely impressive work is being led by young people aiming to combat
the same challenges the MDGs set out to overcome but offering different perspectives and
new methodologies and tools. However, often this work does not gain enough profile and
young people are markedly absent from the decision-making processes, despite the
nuances and expertise that they have to offer. Participation is a fundamental human right.
Youth, as any other group has the right and potential to be meaningfully engaged in
development of the post-2015 development agenda.
http://www.theinterdependent.com/us-un-relations/article/new-goals-and-opportunities-ahead-of-2015
Apart from advocacy, Worldview Mission in supporting ongoing and scheduled works in
Agriculture, Education, Green Energy, Health and Entertainment.
I am sharing my recent blog :
The High Level Panel on post 2015 Development Planning is submitting its report to the UN Secretary General in the end of May. The Panel agreed that its vision and responsibility should include a determination to "end poverty in all its forms" and to "have in place the building blocks of sustained prosperity for all". They also felt there is strong interest in going beyond poverty reduction to include job-creating growth, protecting the environment and providing equity, peace, security, justice and freedom. The Panel agreed to develop a global agenda with global responsibilities. This vision is widely expected to be bold and ambitious. As the Panel prepares to submit its report, the challenge is to ensure that the report sets a framework for a transformative, universal, people-centered development while clearly outlining a bold and relevant commitments needed to ensure a new paradigm for sustainable development that is deeply grounded in sound economic, social, cultural, civil human rights obligations and easy to galvanize collective political action around.
Young people have been consulted during the High Level Panel meetings right from the very beginning. In London under the theme of Household Poverty, young people said poverty cannot go away without their meaningful involvement. In Liberia under the theme of National Building Blocks for Sustained Prosperity, young people urged the panel to put youth at the center of economic transformation and social equity. And in the last meeting in Bali under the theme of Global Partnership and Means of Implementation, we called on all stakeholders to ensure that partnership with young people through actively engaging them in planning, implementation and monitoring development are at the heart of the post 2015. The logic of these outreach meetings is that any effort to eradicate individual and household poverty must be supported by sound national policies and strengthened by global partnership. This is a true at the level of rhetoric. Action is what we want now! Ending poverty among young people will entail some increasing of their income and reducing their expenditure. Increasing income will mean active and dignified insertion of youth in the work ensuring them a good wage and decent jobs. Reducing expenditure will mean basic social services like health, education; water and housing are accessible, of quality and affordable.
Read the full article as published by 'My World' : 
http://blog.myworld2015.org/?p=322&preview=true
————
My involvement in the post MDG's process .
http://www.unausa.org/
   Particularly , I am involved in global advocacy work which focuses on putting young people at the heart of development policy and practice, prioritizing the post-2015 agenda. Key to his approach to the process is working collaboratively with partners in the youth sectors to maximize coordination and involvement of organizations in the global conversation. My recent works in support of the Post 2015 Agenda include:
-Brazilian government/UNDP selected Youth Mobilizer forRio+20 Dialogues ( <http://www.riodialogues.org> ) -Africa youth representative to the Africa We Want beyond 2015 SCO consultation, Monrovia -Youth representative to the UN post 2015 Outreach Planning Group -Global south youth representative at the Post 2015 High Level Panel meeting, London -Partner to 'My World' post 2015 online and offline survey -Planned and delivered a youth consultation with UN Special Adviser on Post 2015 Development Agenda, Kenya -Participant at Bali Youth Global Forum as a follow up to the implementation of Programme of Action of the ICPD beyond 2014, Indonesia -Speaker at mobile platform initiative enabling African youth participation in the post 2015 agenda  inception workshop, Johanesburg. -Beyond 2015 Children and Youth Working Group nominee for the Beyond 2015 Drafting Committee on Vision, Values, Criteria and Purpose -Organizing partner and speaker at the Africa Youth Conference on Post 2015, Nairobi -Appointed post 2015 Youth Ambassador for water, sanitation and hygiene (WASH) in the post 2015 process. -Youth delegate at the immediate  UNEP and UNHABITAT  Governing Councils -Production of post 2015 youth toolkit on WASH -Organizing committee member of  the Kenya National post 2015 consultation . -Youth Panel speaker on 'The Journey Young People have Travelled in the Post 2015′ at the Monrovia Post 2015 High Level; Panel -National Focal Point and appointed African champion, 'Post 2015 Mobile Campaign' – -Youth delegate at the 4th High Level Panel on post 2015 development agenda, Bali Indonesia -Panel speaker at the Asian parliamentary forum for acceleration of achievement of MDGs, Bali Indonesia -Post This2015 youth engagement at the 2013 Commonwealth Local Government Conference ,Kampala and others.
——-
Mr. Willice O. Onyango
Ambassador to Worldview Mission to the United Nations
Worldview Mission Int'l , Youth Ambassador Coordinator Post Agenda Chairperson,
Phone: 0726570757     Skype: willice.okoth
——
Thank you,
Willice Onyango
Youth Nominee to the Beyond 2015 Drafting Committee
Twitter : owillice