SOUTH  NEWS

No. 48,  4 February 2014
SOUTHNEWS is a service of the South Centre to provide information and news on topical issues from a South perspective.
Visit the South Centre's website: www.southcentre.int.
Latin American and Caribbean leaders create a Zone of Peace and unite against poverty and inequality
UNICEF UNITES OUR CHILDREN
Mission and Vision:
To provide an avenue where people can share their culture, art and education.
Purpose:
Manage all of the educational, medical, cultural, sports and people exchanges covered by the "Sister City" agreement between Jersey City and the city of St. John's Antigua and Barbuda.
Affilliates 
Sidewalk University
P. O. Box 84, Paramus, NJ 07753-0084
President:  Andy Howell
Email:   Sidewalku@msn.com
WebSite: www.SidewalkUniversity.org 
Worldview Mission affiliates of  Sidewalk University USA
 SU Health Art Diabetes Programme in Antigua The Observer Article
SU Honored,  Mr.  A. Howell_OL 12-04-12 by:  USA President Obama
 SU Report Eye Glass Antiqua & Barbuda
———
Worldview Mission registered
Paramaribo – Suriname
Ms. Helene H. Oord  /  Founder
UN Development Programme Pacific Centre
http://www.facebook.com/media/set/?set=a.4054889694772.2147622.1357965541&type=1&l=56a38e3505
———————————————————————————————
 DESA News: Renewing Focus on Sustainable Islands
———————————————————————————————-
http://us6.campaign-archive1.com/?u=e5895bcd12e23439a6c00ef95&id=0a5a153811&e=[UNIQID]
———————————————————————————————–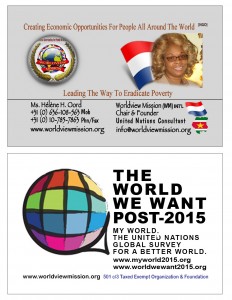 Worldview Mission, Headquarter, "Kingdom of the Netherlands"
Contact Ms. Hélène H. Oord
Chair Fouder of  Worldview Mission to the United Nations  https://worldviewmission.nl/
PR-Media, Int'l  Relations Liaison to the United Nations
Liaison- Ambassador to Project One Inc. to the United Nations with UN/ECOSOC Status 
Address: Beemsterhoek 14,  2905 XA, Capelle A/D IJssel,
Rotterdam T: +31(0)636108563
(Netherlands-EU) , Registered: RSIN, ANBI 851082403 B01
CHAMBER OF COMMERCE  K.v.K. 53.94.11.36
SEPA: Bank Account nr.:  NL08 ABNA 0506 0822 02
https://www.geef.nl/externalMod.php?gd=5052&taal=nl_NL
Mapping:  http://worldviewmission.geef.nl/kaart
http://www.un.org/millenniumgoals/
http://www.youtube.com/channel/UCG73AhrHfyq9KkqQtmSEsnw
http://www.youtube.com/channel/UCYGi5G1WSObsWLzx_kbp6Pg
*Worldview Mission  is Standing Up ,* Taking Action* , **Making Noise for the United Nations MDGL's !!!**