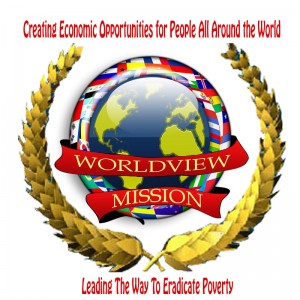 AGENDA  Worldview Mission  2013-2015 and  beyond
———————————————————————————————-
http://www.ohchr.org/en/hrbodies/upr/pages/UPRSessions.aspx
https://www.accessnow.org/pages/calendar
———————————————————————————————
Your Comments on the Themes of the High Level Youth Policy Dialogue on SDGs
Dear Colleagues,
As you are aware, a High Level Youth Policy Dialogue on SDGs will be convened in July 2014 in Nairobi, Kenya. The meeting preparations are ongoing very well spearheaded by a Youth Steering Committee Co-Chaired by OAYouth and IFAPA.  Other members include youth organizations, representatives from 4 UN Agencies and the AU Youth Division.
The steering committee has come up with themes that will form the basis of the discussion in the dialogue and we want to solicit your input or comments The dialogue will be organized in form of plenary discussions, parallel sessions on different thematics, working groups and a cultural event. The dialogue will run for 3 days.
Below  are the thematic areas and session topics:
Sustainable Development Goals in Context: What Role and Opportunities for African Youth?

Full employment and access to decent work

Education for Sustainable Development: African Youth Perspective

Sustainable Agriculture and Rural Development.

Youth Civic Engagement, Peacebuilding and Political Participation

Health and HIV/AIDS.

Youth in the Age of Information Communications Technology and Innovations.

Sustainable environment and addressing climate change.
Special Panel/Plenary Discussions:
Assessing the AU African Youth Decade Plan of Action in the Context of AU Agenda 2063
African Common Position on Post-2015 Agenda: Youth Key Asks
African Youth and African Diaspora: A Dialogue Across Continents
Youth and the Media
Young + Aged Solidarity Dialogue: 

Integrating youth and older people into the Post 2015 Agenda Framework.
We will be glad to read your comments. Do these topics reflect the issues we young people want to be top priority in the post-2015 agenda? Any topic we should add or remove? 
Also, we would love your your suggestions on possible speakers we can invite to participate in the dialogue, particularly top level in person in organizations who are champions of the youth agenda.
And we expect to make the call for youth delegates in May.
—
George Ndungu,
Secretary for International Affairs and Kenya Chairperson.
Executive Committee Member- Beyond 2015.
———————————————————————————————–
SEPTEMBER – DECEMBER 2012
————————————————————————————————————–
Registration for the Youth Assembly at the UN New York, YA+11B to be
held on January 29 to February 1, 2013 is now OPEN.
——————————————————————————————
The fifty-seventh session of the Commission on the Status of Women will take place at United Nations Headquarters in New York from 4 to 15 March 2013
  UN International Day of Peace   September 21
Education First ( INEESITE)     September 26 – October 10 th 2012
YALDA Youth Conference ,      October 4- 7th , Lagos
World Women Social Forum ,      November 1- 19 th 2012
UNFCCC , COP18 and World AIDS      Day – November 26- Dec 06th 2012 , Qatar
 To achieve UN MDGL's we need to collaborate with partner to get towards a Sustainable
 Future for the betterment of the World    We remain humble to collaborators international
 International Youth Day 2012 Reports
                             Brief History of Worldview Mission  
—————————————————————————————————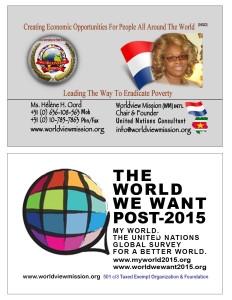 Worldview Mission, Headquarter, "Kingdom of the Netherlands"
Contact Ms. Hélène H. Oord
Chair Fouder of  Worldview Mission to the United Nations   
PR-Media, Int'l  Relations Liaison to the United Nations
http://www.un.org/millenniumgoals/
*Worldview Mission  is Standing Up ,* Taking Action* , **Making Noise for the United Nations MDGL's !!!