REMINDER – Conference Town Hall Meeting – 6 November 2014

http://outreach.un.org/ngorelations/files/2014/11/Save-The-Date-Speakers.pdf
Dear NGO Colleagues,
Please be reminded that this Thursday, 6 November 2014, NGO Relations will have a Conference Town Hall meeting where we will show our appreciation to our volunteers, discuss the implementation of the Conference Outcome Document and will have a look ahead to next year's conference.  We invite your participate and RSVP at the below link.
Yours Sincerely, NGO Relations and Advocacy Department of Public Information United Nations Headquarters in New York http://outreach.un.org/ngorelations
—
Jeffery Huffines NGO Major Group Organizing Partner CIVICUS UN Representative (NY) Cell:
+1 646-707-1060
Email: 
jeffery.huffines@civicus.org
Skype: jefferyvhuffines
CIVICUS: World Alliance for Citizen Participation
PO BOX 933, Southdale 2135, JHB, South Africa
www.civicus.org
Follow threats and take action to protect civil society – join Civil Society Watch at 
www.cswatch.org
———————————————————————————————————-
8th World Environmen​tal Education Congress (WEEC) — "Call for Abstracts" Deadline November 15th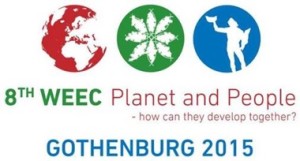 8th International
World Environmental Education Congress
Gothenburg, Sweden, June 29-July 2, 2015
Call for Abstract Submissions
About the WEEC 2015 Congress
The 8th World Environmental Education Congress (WEEC22015) is an international congress addressing education for environment and sustainable development. The congress is directed towards everyone working on environmental and sustainability education in different contexts. The congress will take place in Gothenburg, Sweden between the 29th of June and 2nd of July 2015. The Centre for Environment and Sustainability will be hosting the conference together with the WEEC Permanent Secretariat. We are expecting participants from a wide range of countries. 
WEEC2015 is an opportunity to learn more about the latest in environmental and sustainability education, to discuss with people from all over the world, to share your own work and to learn from others.
Invitation for Abstract Submissions
The congress will discuss 11 themes, of which you can read more on the website: http://weec2015.org/congress-themes/
Abstracts written in English, Spanish or French, should be no longer than 3000 characters. The authors of the selected abstracts are invited to present their work through one of the following presentation formats:
·         Oral
·         Poster
·         Workshop
·         Roundtable
For further instructions, please consult the WEEC 2015 website http://weec2015.org/
The abstract submission will be open between September 15 and November 15, 2014. The abstract will be reviewed by the National Scientific Committee and the International Scientific Committee. The authors will get information of the acceptance status of their abstract(s) on February 15, 2015.
Accepted abstracts will be published in the Congress Abstract Book or/and made available on the website. To submit an abstract, please go to the congress website.
We look forward to seeing you in Gothenburg at WEEC 2015!
Sincerely,
Professor Ingrid Pramling Samuelsson National Program Chair, WEEC 2015
Professor Arjen Wals  International Program Chair, WEEC 2015
Should there be any questions, please do not hesitate to contact us:
Centre for Environment and Sustainability (for content):
Rebecka Hallén, rebecka.hallen@gu.se 
Conference Secretariat (for practicalities):
MCI Scandinavia, info@weec2015.org, +46(0)8-54651500
———————————————————————————————————–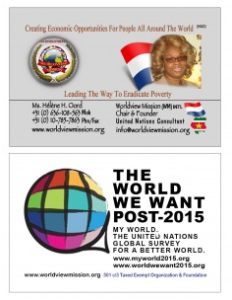 Worldview Mission, Headquarter, "Kindom of the Netherlands"
Contact Ms. Hélène H. Oord
Address: Beemsterhoek 14,  2905 XA, Capelle A/D IJssel,
Rotterdam T: +31(0)636108563
(Netherlands-EU) , Registered: RSIN, ANBI 851082403 B01
CHAMBER OF COMMERCE  K.v.K. 53.94.11.36
SEPA: Bank Account nr.:  NL08 ABNA 0506 0822 02
https://www.geef.nl/externalMod.php?gd=5052&taal=nl_NL
Mapping:  http://worldviewmission.geef.nl/kaart
http://www.un.org/millenniumgoals/
http://www.youtube.com/channel/UCG73AhrHfyq9KkqQtmSEsnw
http://www.youtube.com/channel/UCYGi5G1WSObsWLzx_kbp6Pg
*Worldview Mission  is Standing Up ,* Taking Action* , **Making Noise for the United Nations MDGL's !!!**