Bezoek Nederlands MediaNetwerk op:
http://www.nederlandsmedianetwerk.nl/?xg_source=msg_mes_network
e-mEDIA
Beste netwerk lid, 
De genomineerden voor de meest invloedrijke persoon in de Nederlandse media zijn bekend!Welk persoon heeft volgens jou de meeste invloed en mag dus absoluut niet ontbreken in DeMedia100? Ik nodig je graag uit om je stem uit te brengen (dit kost maximaal 5 minuten van je tijd).
De resultaten zullen op woensdag 26 november tijdens het exclusieve DeMedia100 Event in het Amsterdam American Hotel aan het Leidseplein in Amsterdam bekend worden gemaakt. Je kunt meedoen door op deze link te klikken:
Of knip en plak onderstaande url in je internet browser: http://mediatest.eu.qualtrics.com/WRQualtricsSurveyEngine/?Q_SS=9Y0FPiwlmv3go0l_eEG43fwriZmOLCB&_=1
Alvast hartelijk dank voor je medewerking!
Met vriendelijke groet,
Stephan van Furth, Michiel Rotteveel – Managing Partner MediaTest Bas Vlugt – Nederlands MediaNetwerk.
—————————————————————————————————- 
Meet the Master Michael B. Johnson (Pixar)
iMMovator Nieuwsflits
Dit is onze maandelijk​se nieuwsbrie​f waarin alle activiteit​en van iMMovator aan bod komen
View this email in your browser if you are unable to view this.
Uitnodiging Workshop waardecreatie – Is de taxi app Uber echt $17 miljard waard?
—————————————————————————————————–
United Nations Regional Information Centre Residence Palace Bloc C 7th floor Rue de la loi, 155, 104 Brussels http://www.unric.org/en/
View this email in your browser
——————————————————————————————————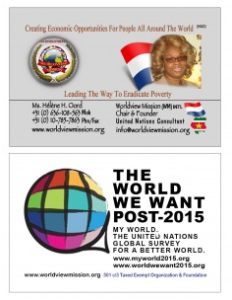 Worldview Mission, Headquarter
"Kindom of the Netherlands"
Contact Ms. Helene H. Oord
Address: Beemsterhoek 14,  2905 XA, Capelle A/D IJssel, Rotterdam T: +31(0)636108563
(Netherlands-EU) , Registered: RSIN, ANBI 851082403 B01
CHAMBER OF COMMERCE  K.v.K. 53.94.11.36
SEPA: Bank Account nr.:  NL08 ABNA 0506 0822 02
https://www.geef.nl/externalMod.php?gd=5052&taal=nl_NL
Mapping  http://worldviewmission.geef.nl/kaart
http://www.un.org/millenniumgoals/
http://www.youtube.com/channel/UCG73AhrHfyq9KkqQtmSEsnw
 http://www.youtube.com/channel/UCYGi5G1WSObsWLzx_kbp6Pg
*Worldview Mission  is Standing Up ,* Taking Action* , **Making Noise for the United Nations MDGL's !!!**