2014 Human Developmen​t Report Published

The United Nations Development Programme (UNDP) has published the 2014 Human Development Report. The report, titled 'Sustaining Human Progress: Reducing Vulnerabilities and Building Resilience', considers vulnerability and resilience  through a human development lens, for the first time in a global Human  Development Report.
The 2014 Human Development Report summary states: 'As successive  Human Development Reports (HDRs) have shown, most people in most  countries have been doing steadily better in human development. Advances in technology, education and incomes hold ever-greater promise for  longer, healthier, more secure lives. But there is also a widespread  sense of precariousness in the world today – in livelihoods, in personal security, in the environment and in global politics. High achievements  on critical aspects of human development, such as health and nutrition,  can quickly be undermined by a natural disaster or economic slump. Theft and assault can leave people physically and psychologically  impoverished. Corruption and unresponsive state institutions can leave  those in need of assistance without recourse'.
The report looks at two interconnected concepts that are important to securing human development progress. The report shows that overall  global trends are positive and that progress is continuing. Yet, lives  are being lost, and livelihoods and development undermined, by natural  or human-induced disasters and crises.
To download the summary, click 2014 Human Development Report (Summary)
To download the full report, click 2014 Human Development Report (Full Text)
Ibrahim SIDIBE
Coordinator of the Initiative for Agricultural and Rural de Development in Mali (ARD)
Country Representative Young Professionals' Platform for Agricultural Research for Development in Mali (YPARD)
BP-E: 4630 Bamako, Mali
Kalaban coura Ext South Street 325 Door 69
Phone: (00223) 20284223
Mobile: (00223) 76312529
Skype: sidhibe
E-mail: ibrahimsidhibe@gmail.com
Site: www.ypard.net
—————————————————————————————————
PCFS calls to uphold rights of indigenous peoples during WCIP in New York
 29 September 2014
New York, USA – Members of the People's Coalition on Food Sovereignty (PCFS) have recently participated in the 69th High Level Plenary Meeting of the UN General Assembly known to be the World Conference on Indigenous Peoples held in the UN Headquarters in New York, USA last 22-23 September 2014.
The said conference has discussed the priorities for indigenous peoples in the Post-2015 Development Agenda while CSOs participating expressed serious concern with limited reference indigenous people's rights. The High Level Meeting was expected to further strengthen and affirm the commitments by states to implement the UN Declaration on Indigenous Peoples in 2007.
CSOs participating in the conference have expressed concern with the outcome document saying it failed to incorporate key demands of the indigenous peoples. Mr. Jiten Yumnam, secretary of the Center for Research and Advocacy in Manipur and member of the PCFS Steering Council in Asia said, "Substantive themes on promoting human rights of indigenous peoples, especially the reaffirmation of indigenous peoples right to self determination as key for their survival as peoples, to demilitarize their land and territories and to end human rights violations are excluded in the final outcome document."
The Center for Research and Advocacy in Manipur along with grassroots and social movements participating in the conference positioned that there should be clear commitments from states to collective rights of land, territories and livelihood and the recognition of indigenous peoples to their traditional means of livelihood and traditional knowledge as outlined in the outcome document of WCIP and will be the step forward towards promoting food sovereignty.  
"Indigenous peoples' food sovereignty has long been undermined through aggressive pursuance of unsustainable and destructive forms of development, such as mega dams, oil exploration, plantations, and climate change mitigation projects, infrastructure projects that destroyed their agricultural land, forest, water sources and all means of survival," Yumnam added.
CSO participants added in their demands that countries need to initiate strong efforts to implement the outcome document, more so to ensure that States and corporate bodies end all forms of land grabbing, violation of indigenous peoples' rights all across Asia, Africa and Latin America. Criminalization and vilification of indigenous and other local human rights defenders protecting their land should also end. 
The adoption of the world conference should be another occasion to strengthen and deepen indigenous peoples self determination over their land and in fostering just development. PCFS and its members have committed to uphold rights of indigenous peoples even beyond the WCIP spaces. ###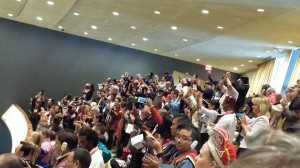 —————————————————————————————————
Report on Side Event "Education as a Bridging Factor of All Dimensions of Sustainabl​e Developmen​t, Tuesday July 8th during High-Level Political Forum – 2nd Session
Dear Friends and Colleagues,
During the HLPF – 2nd Session, MaryAnn Celis
> Development and Program Advisor with Earth Child Institute  attended the side event "Education as a Bridging Factor of All Dimensions of Sustainable Development" [Context: Formal Education].
Thanks MaryAnn for sharing a summary of the event and your insights regarding the missing linkages.
 All the best,
Pam Puntenney and Bremley Lyngdoh
UN SD Education Caucus
Environmental & Human Systems Management
1989 West Liberty
 Ann Arbor, MI  48103  USA
—
Education as a Bridging Factor Panel Session .docx
127 KB
.