http://worldviewmission.nl/?page_id=14081
.
——————————————————————————————-
.
.
.
.
——————————————————————————————–
.
Happy New Year 2016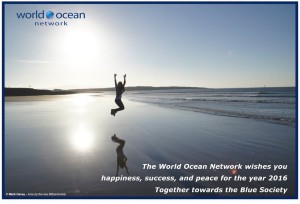 .
——————————————————————————————-
.
Taking IT Global New Year's Note
.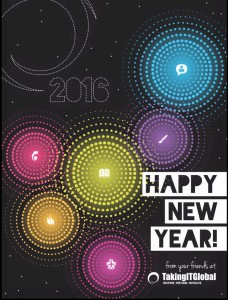 .
.
Merry Christmas from the Worldview Mission
Season's  Greetings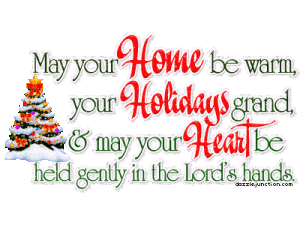 On behalve of Worldview Mission Int'l
Hélène  H.  Oord

.
———————————————————————–
.
.
Merry Christmas and new year of 2016
Dear Dr.  Helene H. Oord,
Greetings we believe everything going well for end of this year of 2015  I and family  we wishing you merry Christmas  with your family and your team ministers and Coordinators of your ministry. our prayer is good God Continuing bless your missions and your vision  of coming year of 2016
We thank  God for your calling and burden and your Compassion of  continue advocating Vulnerable people for change their lives  of different nations  we respect your good work you do in Christ.
God  we believe  we  will continue develop our our Partnership of  2016
Thank you again
Pastor Denis Ruhorimbere
.
————————————————————————-
.
Happy New Year! Canada 2016 — Science Matters: Our voices and actions bring hope for the year ahead
---
Our voices and actions bring hope for the year ahead
Like any year, 2015 had its share of good and bad, tragedy and beauty, hope and despair. It's difficult not to get discouraged by events like the Syrian war and refugee crisis, violent outbreaks in Beirut, Paris,Burundi, the U.S. and so many other places, and the ongoing climate catastrophe.
But responses to these tragedies and disasters offer hope. It became clear during 2015 that when those who believe in protecting people and the planet, treating each other with fairness, respect and kindness and seeking solutions stand up, speak out and act for what is right and just, we will be heard.
As Syria descended deeper into chaos during 2015, people in many wealthy nations called for blocking refugees. But many more opened their hearts, homes and wallets and showed compassion. Governments responded by opening doors to people who have lost everything, including family and friends, to flee death and destruction.
Shootings and the inevitable absurd arguments against gun control continued south of the border, but many people, including the president, rallied for an end to the insanity. And while the U.S. presidential race remains mired in bigotry, ignorance and a dumbfounding rejection of climate science, many U.S. citizens, including political candidates, are speaking out for a positive approach more aligned with America's professed values. And in 2015, voters here and elsewhere rejected fear-based election campaigns that promoted continued reliance on climate-altering coal, oil and gas.
The fossil fuel industry and its supporters continued to sow doubt and confusion about the overwhelming evidence for human-caused climate change and to rail against solutions, but many more people marched, signed petitions, sent letters, talked to friends and family, demanded action from political, religious and business leaders, and got on with innovating and implementing solutions.
The public appetite for a constructive approach to global warming led Canada to shift course in 2015, taking global warming seriously enough to make positive contributions at the Paris climate conference in December. The resulting agreement won't lower emissions enough to prevent catastrophic warming, but it's a significant leap from previous attempts, and it includes commitments to improve targets.
If we want to heal this world we have so badly damaged, we must do all we can. Although many necessary and profound changes must come from governments, industry and other institutions, we can all do our part. For the climate, we can conserve energy, eat less meat, drive less, improve energy efficiency in our homes and businesses and continue to stand up and speak out.
Those who fear and reject change have always been and always will be with us. They'veargued ending slavery would destroy the economy; they've claimed putting people on the moon would be impossible; they've rejected ending South Africa's apartheid system; they've said the Berlin wall wouldn't come down.
With today's technological and communications advances, everyone with access to the Internet can be heard. That's good, but people who fear they have something to lose often speak loudest, and in the greatest numbers. I tell people at the David Suzuki Foundation, "Don't read the comments!" It's often disheartening to see online discourse sink to such irrational and often idiotic depths.
But many comments and efforts to stall or block necessary progress arise from fear. People who are afraid that change might remove or diminish their privilege — real or imagined — often do or say anything to block it. Unfortunately, those who benefit most from privilege or the status quo, even if only in the short term, often stoke those fears and uncertainties, taking advantage of and manipulating the frightened and ignorant for political or economic gain.
That's not to say people must always agree. But racism, sexism, homophobia, religious prejudice, the denial of climate science and solutions, and blindness to the need for gun control are all irrational.
We can and must speak louder than those who would keep us on a destructive path despite the overwhelming evidence that it's past time to shift course. Events in 2015 taught us that when those of us who care about humanity and the planet's future stand up and speak out, we can make this small, blue world and its miraculous life and natural systems a better place for all.
By David Suzuki with contributions from David Suzuki Foundation Senior Editor Ian Hanington.
The David Suzuki Foundation is a registered charity in both Canada (BN 127756716RR0001) and the United States (94-3204049). We are located at 219-2211 West 4th Avenue, Vancouver, B.C., V6K 4S2, and we also have offices in Montreal and Toronto. Please visit our website for more information on how to contact us.
.
———————————————————————–
.
Happy New Year 2016 from Peace Boat US
Happy New Year from Peace Boat US!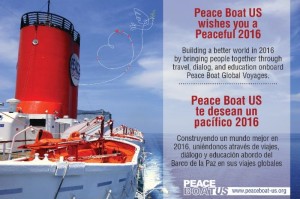 Dear Friends of Peace Boat US,
Happy New Year! Peace Boat US wishes you all a peaceful, happy and healthy 2016!
Peace Boat US had a busy year working on peace and disarmament education through advocacy programs in New York City schools as well as at the United Nations Headquarters.  In May, Peace Boat US helped represent civil society at the United Nations' 2015 NPT Review Conference (2015 Review Conference of the Parties to the Treaty on the Non-Proliferation of Nuclear Weapons). We worked to strengthen awareness of the humanitarian consequences of nuclear weapons through multifaceted activities, including both public education and policy advocacy. Highlights included a Concert for Disarmament and two side events at the UN focusing on the importance of creating a Northeast Asia Nuclear Weapon Free Zone and the humanitarian impact of nuclear weapons by sharing the voices of Hibakusha; those who survived the atomic bombings of Hiroshima and Nagasaki.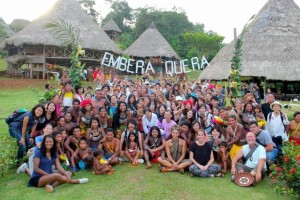 Wishing you a peaceful new year from all of us at Peace Boat US!
777 United Nations Plaza, 3rd floor
New York, NY 10017
.
———————————————————————–
.
Happy New Year / Feliz Año Nuevo
Dear friends and colleagues,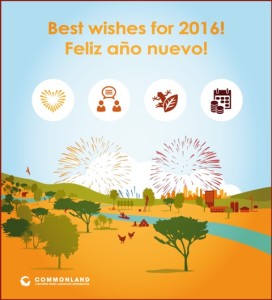 Our address:
Kraanspoor 24
.
Dear All:
Happy new year and make it the initiative year for protection and sustainable management of ecosystems worldwide irrespective of their size and extents of development destruction, particularly under the umbrella of "sustainable development."
We should not forget or bypass the biodiversity of each ecosystems. Biodiversity is the foundation of ecosystems and their functions that sustain our life-support system.  At the same time, the ecosystem conservation would require biodiversity assessment, that has been ignored or bypassed to make sustainable development easier, to understand the functional health of ecosystems. All the best for the year of 2016.
K. C. Kim
Ke Chung Kim, Ph. D., Dipl.-ABFE
Professor Emeritus of Entomology (2008)
Founding Curator, Frost Entomological Museum;
Former Founding Director, Center for BioDiversity Research
Pennsylvania State University, University Park, PA, U.S.A.;
2014 Pathology/Biology Section Award for Lifetime Achievement
in Forensic Life Sciences, American Academy of Forensic Sciences;
Founding Chair, Board of the DMZ Forum, Inc., NY;
United Nations CSD Education Caucus: Member
Home: 213 Morningside Circle, State College, PA, 16803-1347
Email Address: kck@psu.edu; Tel: 814-234-1718;
http://www.ento.psu.edu/Personnel/Faculty/kim.htm
 .
.
Dear friends and colleagues,
.
.
————————————————————————-
.
 Season's Greetings and Wishes for a Wonderful New Year, 2016

Greetings to Pam and the WSSD Education Caucus
from Puget Sound in the northwest corner of the United States,
I'm delighted to join the chorus of warm wishes for the New Year to come, with the hope that the world (with all of us helping) can move closer to peace, justice, and the wellbeing of ecosystems and the beings who inhabit them.
Thank you Pam for creating the connections amongst us all, and sending along the stream of news and updates.
All the best,
Jean MacGregor
Director, Curriculum for the Bioregion
Washington Center for Undergraduate Education
The Evergreen State College
2700 Evergreen Parkway NW
Olympia, WA 98505
Ph. 360-867-6608
Fax 360-867-6662
http://bioregion.evergreen.edu
"We need a new ethic of place, one that has room for salmon and skyscrapers, suburbs and wilderness, Mount Rainier and the Space Needle, one grounded in history."    - Matthew Klingle
.
————————————————————————
.
Happy New Year 2016
.

World Youth Foundation | No. M1-2-35 | World Youth Foundation Complex | Lebuh Ayer Keroh | Melaka | Melaka | 75450 | Malaysia
.
———————————————————————–
.
Highlights of 2015 for your holiday reading
The year's top features, analysis, videos and more
.
.
————————————————————————–
.
Our Resolution for this Challenging, Hopeful New Year – Promises Made and Promises to Keep
Robert Zuber <zuber@globalactionpw.org>
Date: Wed, Dec 30, 2015
Subject: Promises Made and Promises to Keep: A Small Policy Office Makes its 2016 Resolution, Dr. Robert Zuber
saludos.. hopw you will read .. and share- good step to start 2016  and go on.. Gracias Lester for the input.. anf to Bob for the time to prepare and share..
here is my twit for today, love.. marta
Blessings to all of you in the New Year.
https://gapwblog.wordpress.com/2015/12/30/promises-made-and-promises-to-keep-a-small-policy-office-makes-its-2016-resolution-dr-robert-zuber/
.
We as MLK dream of worldAtPeace in HealthyPlanet: We commit 2 create ClimateOfPeace 4NowFuture @Oikoumene @Pontifex m
 .
.
.
———————————————————————–
.
Happy Holidays!
Michael Scoullos <scoullos@chem.uoa.gr>
Subject: Re: Happy Holidays!
Date: December 30, 2015
To: Pamela Puntenney <pjpunt@umich.edu>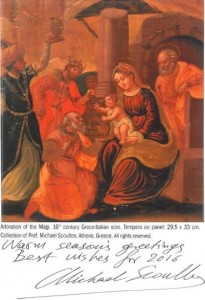 Professor Michael Scoullos
Director of Environmental Chemistry Laboratory,
Faculty of Chemistry
UNESCO Chair & Network on
Sustainable Development Management and Education in the Mediterranean
National and Kapodistrian University of Athens
Panepistimioupoli, GR-15784, Athens

Tel.: 0030-210727-4274, -4952, -4448
Fax: 0030-210727-4432
e-mail: scoullos@chem.uoa.gr


.
————————————————————————-
.
Season's Greetings and Wishes for a Wonderful New Year
Kavita Myles <myleskavita@gmail.com>
Dear Colleagues,
I hope you and your family are having a lovely holiday season. A very joyous, peaceful and stimulating new year to you.
Here's to your indefatigable spirit and to hoping that we can work together more closely in achieving big and interesting things for the year ahead.
Warm wishes,
Kavita
.
———————————————————————-
.
.
Restoring the Heart Ministries celebrates the Birth of our Savior with you and your Families! We look forward to walking with you through a great 2016! Our Sacred Calling "To journey together with you to help the wounded fulfill their God given unique destinies…let's desire and dream God dreams with the wounded."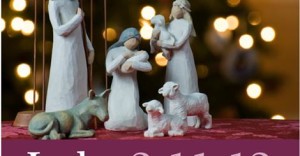 Please listen to this gift from Johannan Swank, ,Julie's daughter Bonnie Joy McMaken in the middle, and Marissa Cunningham.
Infant Holy, Infant Lowly
CHRIST SONG
https://www.youtube.com/watch?time_continue=2&v=cGC92rXAjKU
.
.
————————————————————————
.

Merry Christmas
   Email: familycareministries.sa@gmail.com
Dear   Helene ! -
Merry Christmas to you …
Josef
We are coming to the close of this year.  A year has come and gone.  Most companies are closing by the end of this week and this will be our last email for this year. We don't want to just fill up your mailbox. We won't be going away and will answer your mail. We be back again in the first week of January.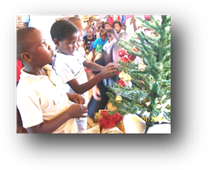 ORANGE FARM – KIDS CHRISTMAS PARTY: Out of seeming chaos came voices of cheer, joy & laughter forever after. When we arrived at the primary school in Orange Farm to our surprise the parking lot was full of cars and lots of children were walking everywhere. We expected it to be empty, school holidays having started but in this case the pupils hadn't yet received their report card and were there to get them. What to do with hundreds of kids running around collecting their report card & we are having a Christmas party for 400 kids.
       Thank God for our local helpers assuring us it would be no problem and yes they handled it with determination and a firm hand and lots of loud shouts. We ended up with @ 450 kids. We had hired a couple fantastic entertainers and had some hard working volunteers helping to handle the kids and engage them in some great games. Of course the 3 jumping castles helped greatly in keeping the little & big kids busy.
       We started off with prayer and a short explanation of Why Christmas and after 1.5 hrs of jumping, playing and target practice on one of our volunteers the kids were ready for a delicious hot dog and juice. After their tummy were full they eagerly waited for their prize, a Christmas gift of stationary (5pcs), color pencil (6pcs) combined coloring/story book, snack & a A4 page message of Christmas greetings & quotes of hope and encouragement especially for their parents.  We had lots of fun with the kids.
We still have one more Christmas party in Diepkloof, Soweto to bring some love and cheer to under-privileged children.
The children are like Christmas trees, their eyes light up, their smiles grow big and their cheery voices are like Christmas bells, ringing through the air as they play, jump and enjoy their food and gifts.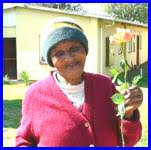 A MERRY CHRISTMAS FROM OUR FRIENDS IN BRIXTON: We aren't forgetting our dear friends, the pensioners in Brixton whom we will serve a delicious meal on Tuesday and on Wednesday we go from apartment to apartment presenting them their gift box with oil, sugar, tea, coffee, cappuccino, chocolate, chocolate wafers, cookies & a Christmas story booklet. A smile, a warm embrace & a word of prayer will shared with the gift.
Sending Jesus to earth on that first Christmas was part of the unfolding of God's great love plan that made it possible for us to live our lives for love. We celebrate this gift of God's love not just one day a year, but all year long with all who understand the real meaning of the season. Christmas continues throughout the year as we joyfully proclaim Jesus' birth, His life, His death, and His resurrection through our words and our deeds.
Christmas is about giving in every way—God giving His Son, Jesus giving His life, us giving our love, which is His love. God started Christmas giving and we carry it on.
I'm praying for each one of you, that your Christmas will be filled with light and love, as we each do our part to light others' lives with the love of Jesus. The world knows so much darkness and can use all the light it can get! And let's look forward to and praise Him in advance for the many lights of blessing and care that He is sure to brighten our lives with—and the lives of those we love—in the coming year.

Thank you Helene for your prayers, support and making a difference in our lives and in the lives of those we are ministering to.
Thank you for being a partner in caring!

Merry Christmas and a New Year filled with God's love and blessings,
Josef & Talitha
Family Care Ministries
Cell: 074 1688066
Email: familycareministries.sa@gmail.com
 .
.
———————————————————————–
.
climate-l digest: December 18, 2015
Sat, 19 Dec 2015
Subject: BENELEX Newsletter 6, December 2015
BENELEX Newsletter 6, December 2015
Season's greetings,
Subject: climate-l digest: December 18, 2015
From: "Climate Change Info Mailing List digest" <climate-l@lists.iisd.ca>
Reply-To: "Climate Change Info Mailing List" <climate-l@lists.iisd.ca>
Date: Sat, 19 Dec 2015
| Having trouble viewing this digest email? Please visit our "climate-l" forum to read all messages: https://lists.iisd.ca/read/?forum=climate-l |
CLIMATE-L Digest for Friday, December 18, 2015.
1. BENELEX Newsletter 6, December 2015
2. Rapid evolution of disaster risk reduction in the Paris Agreement
The BENELEX Team
Welcome to the sixth edition of the BENELEX Newsletter!
These short circulars are intended to update mailing list subscribers on the BENELEX project's activities, upcoming events and publications. Please forward this Newsletter to anyone who you think would be interested in BENELEX and encourage them to sign up to our mailing list by emailing benelex@ed.ac.uk (mailto:benelex@ed.ac.uk)!
Season's greetings,
The BENELEX Team
.
——————————————————————–
.
SANEC NEWSFLASH DECEMBER 2015
SEASON'S GREETINGS

View it online
| | | | |
| --- | --- | --- | --- |
| | NL | Networking event | |
.
————————————————————————-
.
.
The_U_Thant_Institute@mail.vresp.com
To: worldviewmission@hotmail.com Wed, 21 Dec 2011
Subject: Holiday Greetings

http://hosted.verticalresponse.com/551312/c54c520f3a/TEST/TEST/
The U Thant Institute
12 Dubonnet Lane
Nashua, New Hampshire 03062
US
the VerticalResponse marketing policy.
.
————————————————————————
.
Seasonal Greetings from Empower Women

Dear Empower Women members and friends,
Empower Women | www.empowerwomen.org
.
———————————————————————-
.
2015- Working for Justice & Peace: Thank You!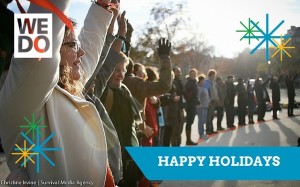 Wishing you a joyful & peaceful new year!
 WEDO is happy to have shared the triumphs and challenges
of 2015 with all of you. In 2016, together, may we continue
to create change by challenging injustice at all levels,
promoting women's human rights, and realizing equality
on a healthy and peaceful planet.
Key Highlights of Work for a Just World in 2015
We are unstoppable, another world is possible.
.
.
——————————————————————–
.
marta to each of you– thanking you for the accompaniment.. –pls see . open the attachment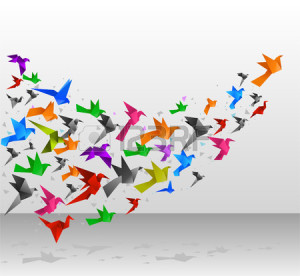 In gratefulness…AND PLS OPEN THE ATTACHMENT
.. DEAR COMPAÑERAS-OS WITH APPRECIATION FOR THE ACCOMPANIMENT GOOD TIMES, AND BLESSINGS YOU SHOWER ON OUR WORK… GRACIAS.. LOVE..MARTA
Salud to each of you, dear compañeras and compañeros, this dawn as it is each day of my life, especially when I am in my country or Latin America-Caribbean, the songs of birds wake me up with their beautiful songs, a real symphony of joy.  I wake up to give thanks and bless the day of work ahead, I think of all of you, symbols of the whole world, in this loving planet.
With gratitude for the support you give us, and our ministry of accompaniment for culture of peace, you have accompanied us, and particularly me as I carry much of the international responsibilities: some shared a bed or sofa, some shared a meal with me, and some have consistently provided  basic economic support for the work we do as Siglo XXIII (XXIII Century), in our country, sub region, region, and world.
As a matter of spiritual practice, Siglo XXIII does not depend on economic support from foundations, political parties or religions, but from the support of committed friends-partners who understand our accompaniment.  For this we are most, most thankful, and hope that you would consider to keep us in mind and in accompaniment.
Siglo XXIII has continued with all of its program work:  the AHA  Folks Arts and Cultures Museum, the ecological house, the work with First Nations and traditional knowledge, the permaculture farm, the support of youth-students, the three free universities, and the alliances for sustainability.  We also have continued with all the national, regional, and global  campaigns for peace : on fiscal reform and justice, Food sovereignty, the restructuring of the debt, water as a human right, economic social and cultural rights of peoples, migrants rights, women rights, first nations rights, eradication of poverty and inequalities, climate change.
In cooperation-collaboration with UN UNDP in our country and globally, and in partnership with many networks and partners nationally, regionally and globally we have been accompanying and impacting on the evaluation and conclusion of the UN Millennium Development Goals –MDGs, the creation of the UN New Development Agenda post 2015 to 2030 in its various aspects and manifestations, the agreements of the UN Financing for Development-FfD, the recent UN Climate Change Agreement- COP21 and now in accompaniment to UN Habitat process which is about implementation at the local and territorial levels all that has been found through all the UN summits, world conferences and MDGs, SDGs, CC agreements  that is needed to LEAVE NO ONE BEHIND, FOR A LIFE OF DIGNITY FOR ALL, as stated by the UN, as a result of peoples pressing and presence at all levels
One of the 17 SDG goals is on conflict and peace, this was the results of work from nations, and teams such as ours.  However we know, that all the various aspects and expressions of the work, conclusions and agreements carried globally  up to now, can be summarized as the urgent need to LIVE IN PEACE IN A HEALTHY PLANET, thus many of us at the national and global levels, work  and live within this principle, perspective and framework.   We affirm it as the overarching goal for the 2030 New Development Agenda and Beyond
We recognize that Peace is THE solution to Climate Change and to Sustainable livelihoods. We invite you to join in this path.
Each day I envision the work ahead, visionary and futurist, a world at peace, with justice and dignity for all, and for those who still are to be born, in a healthy, healthy planet.  I know that this is the work all, and each, of us gets up each day to carry out.  At the end of each day we can with gratitude give thanks.
As committed members of those who affirm that another world is possible, and live to prove it, we have the work clear for years to come:  Sustainable, durable peace on earth: care of life, care of the planet, eradication of poverty to dismantle all kinds of inequalities.  This is peace, this is justice.  This is our commitment to bring about each day, always, in all ways.  Abrazos..marta
.
.
——————————————————————
.
.
IN ASIA — Best of the Blog 2015
.
.
———————————————————————–
.
Praying for you to have a wonderful Christmas and an amazing 2016!!
Andres Bisonni Ministries <abm@abm.cc>
"Do not be afraid, for behold, I bring you good tidings of great joy which will be to all people. For there is born to you this day in the city of David a Savior, who is Christ the Lord."  Luke 2:10-11
Dear Friends and Partners,   (Para Español leer abajo)
It is a our prayer that the Lord will bless you and your family with the abundance of His love and the security of His Peace during this Christmas.  May the wonder and glory of the birth of the Son of God captivate our hearts with the reality of God's love for each one of us!  May the life of Jesus become the center of our lives!
We are amazed at all that the Lord has done in 2015 and our hearts are full of expectancy to see what He will do in 2016!  We want to thank all our partners for making it possible for us to share the gospel with so many lives around the world this past year.  It touches our hearts, and I know it moves the heart of God, to know that you gave so that people in other nations whom you have never met would have an opportunity to hear and receive the good news of salvation through faith in Jesus.  Because of your faithful support, next year we will be able to literally reach millions of lives with the gospel!  We are continuing to plan events in many different countries, and the Lord has also opened doors to show the TV series "The Promise" in all of South and Central America, Europe and Africa!
The vision behind this project is for people around the world to receive salvation through faith in Jesus, and to also come to know, experience and encounter the person of the Holy Spirit.  We desire for people to hear what the Scriptures say about the Holy Spirit, see the exact locations where the events took place in Israel, witness how the Lord is pouring out His Spirit upon the nations today, and most importantly for them to have a supernatural encounter with the Holy Spirit as they watch.
It is our prayer that the episodes would become an instrument in God's hands to pour out His Spirit upon countless lives around the world.  Thank you for making it possible for us to produce these videos!
We love you and we pray for the Lord to fill your life with the joy that can only be found in the Presence of the Holy Spirit!
Rejoice for great is the Holy One of Israel in your midst!  Therefore with joy you will draw water from the wells of salvation. (Isaiah 12)
In Christ,
Andres, Giannina, Elijah, Anabella, and James Bisonni
———-
No temáis; porque he aquí os doy nuevas de gran gozo, que será para todo el pueblo:  que os ha nacido hoy, en la ciudad de David, un Salvador, que es CRISTO el Señor.   Lucas 2:10-11
Queridos Amigos y Patrocinadores,
Es nuestra oración que el Señor bendiga tu vida y familia con la abundancia de Su amor y la seguridad de Su paz durante esta Navidad.  Que el asombro y la gloria del nacimiento del Hijo de Dios cautive tu corazón con la realidad del amor de Dios para con cada uno de nosotros!  Que la vida de Jesus sea el centro de cada una de nuestras vidas!
Estamos sorprendidos con todo lo que el Señor ha hecho en el 2015 y nuestros corazones están llenos de expectativa por ver lo que El hará en el 2016!  Queremos agradecer a todos nuestros patrocinadores por hacer posible que podamos compartir el evangelio con tantas vidas alrededor del mundo el año pasado.  Toca nuestros corazones y estoy seguro que conmueve el corazón de Dios, el saber que dieron para que personas en otras naciones que nunca han conocido tengan la oportunidad de escuchar y recibir la buenas noticias de salvación por medio de la fe en Jesus.  Gracias a su apoyo, el año que viene vamos a poder alcanzar literalmente millones de vidas con el evangelio!  Seguimos planeando eventos en varios países, y el Señor también nos ha abierto puertas para mostrar la serie de television "La Promesa" en toda America del Sur, America Central, Europa y Africa!
La vision detrás de este proyecto es que personas alrededor del mundo puedan recibir la salvación por medio de la fe en Jesus, y que también puedan conocer, experimentar y tener un encuentro con la persona del Espiritu Santo.  Deseamos que muchos puedan escuchar lo que las Escrituras dicen sobre el Espiritu Santo, ver los lugares donde sucedieron los eventos en Israel, ser testigos de como el Señor esta derramando Su Espiritu en las naciones en estos dias, y lo mas importante, que al mirar estos episodios ellos puedan tener un encuentro sobrenatural con el Espiritu Santo.  Es nuestra oración que estos programas se conviertan en un instrumento en las manos del Señor para derramar Su Espiritu sobre un sinnúmero de personas.  Gracias por hacer posible la realización de estos videos!
Les amamos y oramos para que el Señor llene sus vidas de el gozo que solo se puede encontrar en la Presencia del Espiritu Santo!
Regocíjate porque grande es en medio de ti el Santo de Israel!  Sacaréis con gozo aguas de las fuentes de la salvación.  (Isaias 12)
En Cristo,
Andres, Giannina, Elijah, Anabella y James Bisonni
.
———————————————————————–
.
 Best wishes
Ntiokam,Divine
Global Youth Digital Advocate Post-2015
MY World 2015 Youth  http://blog.myworld2015.org
http://csayouthnetwork.wordpress.com/
.
————————————————————————————–
.
Happy Holidays!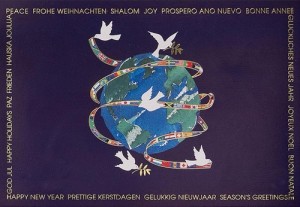 .
————————————————————————————
.
 كل عام و أنتم بخير  Happy Holidays -
Hafed Al Ghwell <hafed.alghwell@post.harvard.edu>
.
——————————————————————————-
.
Gelukkig 2016!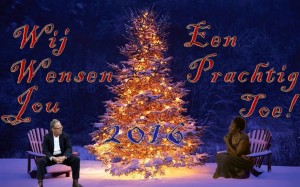 Mayke Kromhout
.
—————————————————————————–
.
.
From the APN Secretariat in Kobe, Japan, we would like to extend our warmest wishes for a wonderful holiday and a happy new year 2016!
Thank you for being part of APN's journey in 2015 as we celebrate our 20th anniversary and embark on the 4th Strategic Phase. We especially thank all members, project leaders and collaborators, invited experts, external reviewers and partner organisations for defining APN's successful 2015.
May the joy of the holidays be with you throughout the new year!
Best regards,
APN Secretariat
.
———————————————————————————
.
"Dr Michael ATCHIA" <mklatchia@intnet.mu>
                        Seasons Greetings
.
——————————————————————————–
.
.
 世界资源研究所祝您节日快乐!Seasonal Greetings from WRI China!
LaiLai Li <lilailai@wri.org>
祝好,
来来
Dear friend,
As another year comes to an end and 2016 approaches,  I would like to express many thanks for your steady support to our team.
During the year, WRI China achieved our projects' goals, enlarged our research team, and expanded our policy research areas and platforms in terms of cities and transport, water, climate, energy and sustainable finance. We are glad to be known and partnered with more friends in China. These accomplishments would not have been possible without your support!
Hoping that you and your families will enjoy a relaxing and cheerful holiday season at the close of this year, we would like to extend our warm wishes for a very merry Christmas and a prosperous New Year filled with warmth, peace, and happiness!
In 2016, we look forward to your continued support and input, and to have more opportunities for cooperation.  With your backing and teamwork, we will carry on our efforts towards China's sustainable future!
Yours sincerely,
Lailai
.
.
——————————————————————————-
.
.
최석진 <sukjinchoi@dreamwiz.com>
Date: December 22, 2015
To: Pamela Puntenney <pjpunt@umich.edu>
Subject: Re:Happy Holidays! 

Dear. Dr. Pam
Thank you so much for your Greetings and useful informations during this year.
I wish to you and your friends  have best shape and condition.
Very Sincerely ! 
CHOI, Suk-jin. Seoul, Korea 
.
.
Sharon
Christmas is not a time nor a season, but a state of mine.  To cherish peace and goodwill… 

&

Wishing you a Happy New Year and the best of 2016!


 

<UN SD Education Caucus Logo.jpeg>

Sharon Abreu

Executive & Artistic Director

Irthlingz Arts-Based Environmental Education 501(c)(3)
POB 969, Eastsound, WA 98245
(360) 376-5773
.
"Combes, Bernard" <b.combes@unesco.org>
Date: December 23, 2015
To: Pamela Puntenney <pjpunt@umich.edu>, Education Caucus – list <WSSD-EducationCaucus@umich.edu>
Subject: Happy Holidays!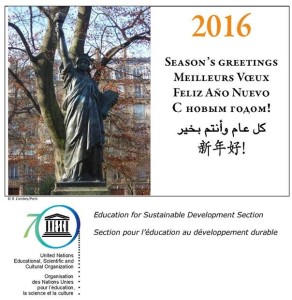 .
——————————————————————————
.
Seasons greetings, 2016
and
review of e-Forum in 2015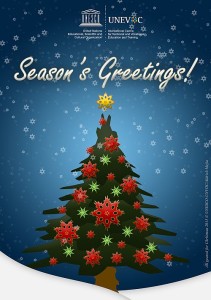 UNESCO-UNEVOC [unevoc@unesco.org]
Sent: 2015-12-17
Subject: Seasons greetings and review of e-Forum in 2015
Dear e-Forum members,
another year is coming to an end. Time to say thank you very much to all of
you for sharing your knowledge and insights and for participating in so
many discussions!  Let us take the opportunity to look back on the year
2015 in the e-Forum.
It has been another very successful year on the e-Forum, not only in terms
of numbers:
* e-Forum membership continues to grow.
More than 4250 individuals (one year ago: 3,700) from 183 countries are
currently subscribed to the mailing list, and more follow discussions using
the online interface only.
* The largest group of members comes from the Asian region, followed by
Africa and Europe/North America. Less subscribers are from Latin America
and the Arab States. Partly this reflects population figures, but in some
parts of the world it will certainly have a major effect that almost all
our exchanges are in English. A record number of 1,679 messages have been
shared from January until today, coming from almost 700 different
contributors.
* In total we had 382 different discussion topics thus far.
* The 10 most active contributors in 2015 were Moustafa Wahba, Dr Ahmed
Elgeushey, Joseph Hegarty, Damian Boyle, Anil Prasad, Rafael Barrio
Lapuente, Owen Lingard, Ronan Haughey, Max Ehlers, and Joe Lokes.
* Participation of UNEVOC Network member institutions has increased
dramatically: Where in 2014 we had 81 contributors from UNEVOC Centres,
there were 129 in 2015!
* The most engaged discussion this year was started in March and lasted
more than a month: Adams Dasmani's question on the introduction of a
"Grading system in competency based training" received 56 answers! Another
popular discussion with 40 contributions began soon after in April, on
"TVET Master/Ph.D. standards".
* Three virtual conferences were held on the e-Forum platform in 2015. In
June we saw active participation in a conference called "Delivering TVET
through Quality Apprenticeships". In September Professor Mike Campbell
moderated a VC on "UNESCO's future TVET strategy". And in November Nick
Sofroniou guided us through a discussion on "Greening TVET in the context
of COP 21″.   The reports of these virtual conferences are or will become
available to everyone at
http://www.unevoc.unesco.org/go.php?q=e-Forum%20-%20Virtual%20Conferences
You may be interested to hear about some minor new features we implemented
recently on the e-Forum platform: If you access the discussion board
online, you will notice a fire icon signifying topics with "hot debates".
And pictures are now displayed directly under each message, such as the
Season's Greetings card linked to this message. We do hope that we can soon
introduce new features, such as a browsing option for messages and a
message digest option allowing you to receive only one e-Forum message per
day with a quick overview on the discussions of the day. But that is for
next year.
So much for now. On behalf of the entire UNEVOC team, we would like to wish
you all a very happy festive season and a wonderful new year!
Best regards,
The e-Forum Team and all staff at the UNESCO-UNEVOC International Centre
P.S. Please note that UNEVOC will be closed from 24 December to 1 January.
The e-Forum will not be serviced during this period.
Attachment:
Season`s Greetings and a happy new year 2016 from UNESCO-UNEVOC
http://www.unevoc.unesco.org/e-forum/UNEVOCSeasonsGreetings2015(2).jpg
view thread online:
http://www.unevoc.unesco.org/go.php?q=e-Forum+-+Message+Board&skin=efor&lang=en&action=threadlist&thread=3236
.
—————————————————————————–
.
Pasang Dolma Sherpa <pdsherpa2008@gmail.com>
Dear Pam and All,
Thank you so much for your wishes.
I wish your life showers with happiness, peace and prosperity in the coming new year and have a enjoyable holiday season!
Best wishes,
.
—————————————————————————
.
.
Prettige feestdagen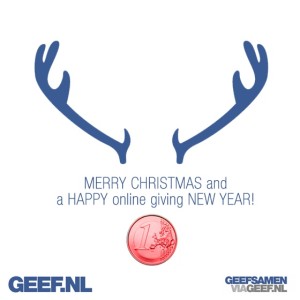 .
———————————————————————-
.
 Greetings from ICAE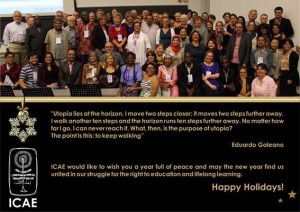 ICAE
Facebook: ICAE
.
——————————————————————————
.
Season's Greetings from the Embassy of the Republic of Rwanda

Warmest thoughts and best wishes for a wonderful Christmas and a Happy and Successful New Year 2016!

.
——————————————————————————–
.
Season's Greetings from JFS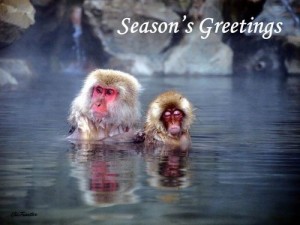 click here.
.
————————————————————————————-
.
[WorldYouth] Season's Greetings from World Assembly of Youth [3 Attachments]
Dear esteem Members and Colleagues,
Season's greetings from all of us at World Assembly of Youth (WAY) Headquarters in Melaka, Malaysia.
Our utmost gratitude goes out to our members, sponsors, partners, volunteers, speakers and numerous affiliates for their collaboration and support rendered the past year.
We would like to wish all of you a happy holiday season, and extend our best regards on behalf of the WAY  Executive Committee and Secretariat.
We trust that 2016 will be a great year to tackle and address even more challenging youth issues, and look forward to another fruitful year ahead.
Our doors will always remain open to the youth of the world.
Best wishes and regards,
.
———————————————————————————–
.
Greeting from SIWI
Our mailing address is:
Stockholm International Water Institute
.
————————————————————————————–
.
Merry Christmas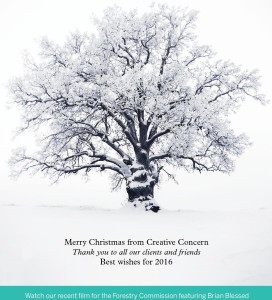 Hi Pam and Friends
Good decision ! Merry Xmas to each of you and a hope filled New year to
be a sign of hope and courage to stand up for the truth!
Peace!
Celine MMShttp://creativeconcernltd.cmail20.com/t/r-l-vchrky-diqjhkyjy-s/>
Merry Christmas and a Happy New Year from all of us at Creative Concern.
This year, rather than posting cards we are making a charitable donation
to Save the Children and the Cumbria Community Foundation Flood Recovery
Appeal.
Celine Paramunda
UN Representative
Medical Mission Sisters
(NGO with the UN ECOSOC,DPI,UNFCCC)
8400 Pine Road, Philadelphia,PA 19111
Tel:215 742 6100 Ext.180
Skype: celine.paramundayil
FB:Medical Mission Sisters at the UN
www.mms-un.org
 .
——————————————————————————————-
.
Jihane Nehhas <Jihane.Nehhas@unigib.edu.gi>
Subject: Merry Christmas from the University of Gibraltar
Date: December 21, 2015
Cc: Daniella Tilbury <daniella.tilbury@unigib.edu.gi
Merry Christmas from the University of Gibraltar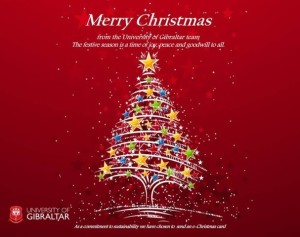 .
.
—————————————————————————————–
.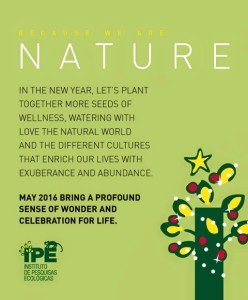 .
——————————————————————————————
.
Happy Holidays from Earth Force

View this email in your browser
.
—————————————————————————————–
.
Happy Holidays & Seasons Greetings! 
Seasons Greetings from Women Deliver!
View this email in your browser
Women Deliver · 588 Broadway, New York, NY · New York, NY 10012 · USA
.
—————————————————————————————
.
Fijne feestdagen en graag tot in 2016!
Fijne feestdagen en graag tot in 2016!

Nu de korte dagen van december zijn aangebroken en het parlementaire reces volgende week ingaat, is het Montesquieu Instituut volop bezig met de voorbereidingen voor het komende jaar.

Vanaf februari presenteren wij u een mooi programma vol activiteiten, publicaties en columns met o.a.

-  wo 3  feb 2016 – Actualiteitendebat over defensie

-  di 9  feb 2016 – Politiek Café over integratie

-  do 18 feb 2016 – Film & Debat over de VN-missie in Mali

-  mrt 2016 – Montesquieu bundel over het raadgevend referendum over de associatie-overeenkomst EU-Oekraïne

Wij wensen u mooie, gezellige en inspirerende feestdagen toe en een succesvol nieuwjaar! We verwelkomen u vanaf februari graag weer bij een van onze vele activiteiten.

---

Blijf op de hoogte van de columns van Parlement & Politiek

Wekelijks belichten dr. 

Bert van den Braak

 en prof. dr. 

Joop van den Berg

 de politieke ontwikkelingen vanuit staatsrechtelijk, politicologisch of historisch perspectief. De onderwerpen variëren van partijpolitieke ontwikkelingen tot constitutionele vraagstukken en van typisch Nederlandse thema's tot tendensen die zich in de Europese Unie voordoen.

Wilt u een e-mail ontvangen zodra er een nieuwe column online staat? Abonneer u dan op de wekelijkse mailing.
.
———————————————————————————–
.
Global Foundation

http://www.globalfoundationdd.org/
Season's greetings from GFDD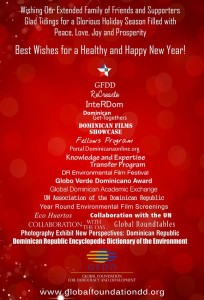 .
——————————————————————————–
.
Give the gift of membership!
Women's Foreign Policy Group • 1615 M Street, NW , STE 210, Washington, District of Columbia 20036, United States
.
Happy Holidays from the WFPG!
December 17, 2015
Dear Members and Friends,
Thank you for supporting the Women's Foreign Policy Group during our 20th Anniversary in promoting women's leadership and voices on foreign policy issues, and mentoring the next generation of women leaders.

This year has been incredibly exciting for us. We have hosted over 35 timely global issues programs covering issues including Ukraine and Russia, the conflict in Yemen, US-Cuba relations, ISIS, the European migration crisis, Syrian refugees, peacekeeping in the CAR, and the US priorities at the UN. In addition to top officials, journalists, and authors, WFPG was honored to host events with the ambassadors of Argentina, France, Germany, Hungary, Monaco, Switzerland, as well as the foreign minister of Australia. We ended the year with a panel of top notch journalists covering foreign policy and national security hot spots. We also mentored several hundred students in NY and DC at our annual mentoring fairs and career panels and hosted 12 fabulous interns.
We are proud of what we have been able to achieve with your support, but there is still much to do and we need your help. With your help we can continue the WFPG's role as a leading force in advancing women's roles in international affairs and an essential resource for today's and tomorrow's leaders.
Your contributions this holiday season will help make it possible for us to continue all of our important initiatives to support women leaders and to mentor the next generation of leaders. We ask that you invite and encourage your friends to join WFPG as members; to provide a gift membership to a colleague or young associate; or to make a tax deductible contribution to help underwrite WFPG's educational work.
Thank you again for all of your support and we look forward to seeing you in 2016!
Happy Holidays,
Patricia Ellis
President, Women's Foreign Policy Group

---
.
——————————————————————————————-
.
Member Interview

Jan Willem Drent Managing Director
Deane Europe B.V.
How could you best describe your organization?
What makes your products/ company/ service different from others?
We are a privately owned company so we treat our clients in a special way with one contact person who will always cater for their specific needs. Our 24/7 service is a promise to all our clients.
What customers can expect from your company? 100% Commitment at all times, 24/7 communication and support as all Offices are equipped with VOIP telephone systems to cater / follow up customers freight movements etc.
» To read full interview click here