http://worldviewmission.nl/?page_id=14822
.
.
.



.
.
.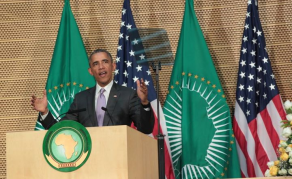 Obama Makes Historic Speech at African Union
Publisher: UpTakeVideo Publication Date: 28 July 2015
President Barack Obama's speech to the African Union, recorded in Addis Ababa on Tuesday. see mo
http://allafrica.com/view/group/main/main/id/00038009.html
.
.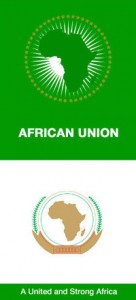 African Union
http://www.au.int/en/content/launch-au-handbook
.
 ———————–
.
Kofi A. Annan
The seventh secretary-general of the United Nations
.
http://kofiannanfoundation.org/
.
http://www.unfoundation.org/who-we-are/board/kofi-annan.html
.
Kofi Annan: The World I'm Working To Create
https://www.youtube.com/watch?t=23&v=c-i6KpIi_pk
.
Kofi Annan
Funding the Future
.
http://issuu.com/gsdh/docs/english_funding_web/1?e=12316753/14336751
.
..
.
.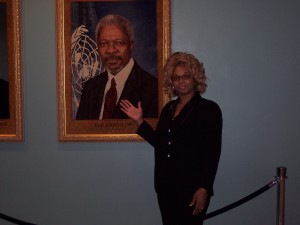 Pics,  Helene H. Oord  with Kofi Annan, United Nations Guided Tour
.
.
Kofi Annan, Formal Secretary-General of the United Nations
During his momentous time as Secretary-General of the UN, Kofi Annan played a decisive role in launching the Millennium Development Goals, establishing the International Criminal Court, and creating the Global Compact. These and other crucial events are encapsulated in Mr. Annan's forthcoming book of speeches, "We the Peoples: A UN for the 21st Century", to be published in the spring of 2014.
Click here to find out
more: http://kofiannanfoundation.org/kofi-annan/book-speeches
Kofi Annan erhält den Reinhard Mohn Preis 2013
Der Friedensnobelpreisträger und ehemalige Generalsekretär der Vereinten Nationen Kofi Annan hat den Reinhard Mohn Preis der Bertelsmann Stiftung erhalten. Annan nahm die mit 200.000 Euro dotierte Auszeichnung am 7. November 2013 aus den Händen der stellvertretenden Vorstandsvorsitzenden der Bertelsmann Stiftung, Liz Mohn, vor rund 500 Gästen im Gütersloher Stadttheater entgegen.
http://www.bertelsmann-stiftung.de/cps/rde/xchg/SID-B3DC5AA5-62E06175/bst/hs.xsl/media_119132.htm
.
———————————————————————————
.
New Year, New Challenges, New Website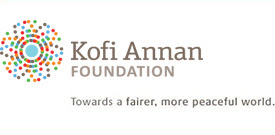 February 2016  View this email in your browser
.
   http://www.kofiannanfoundation.org/topics/mediation-and-crisis-resolution/
.
 On Mediatation and conflict resolution
.On mediation and conflict resolution
https://www.youtube.com/watch?v=YfuDIsL8D1s
.
.
.
——————————————————————————-
.
Climate Development – Africa
Dear Friends and Colleagues,
UN SD Education Caucus member, Divine Ntiokam [Cameroon], is currently in Victoria Falls attending the CCDA-V meeting, to learn more
All the best,
Pam Puntenney and Bremley Lyngdoh
UN SD Education Caucus Co-Chairs
.
—————————————————————————-
.
Africa Week 2015 in the Context of the United Nations 70th Anniversary(12 – 16 October 2015)
Theme: "Agenda 2063 and the 2030 Agenda for Sustainable Development – Moving from Aspirations to Reality"
 http://www.un.org/en/africa/osaa/events/2015/africaweek20151012.shtml
.
.
———————————————————————————–
.
SDGs — 2030 – Africa beyond 2015: The Africa Forum's 3 main takeaways
.
———————————————————————————
.
Sahelian bocage concept/Concept du bocage sahelien.
 ENGLISH
bocage concept Green Earth 08.2015(1)
concept bocage Terre Verte 08.2015..
.
 ——————————————————————————
.
Africa Ecosystem based Adaptation – Google Groups Invitation: EbAfosc2015
Do you:
• Conduct your own climate change Adaptation research, & care about public understanding of Ecosystem based Adaptation in Africa?
• Want to use social media to effectively communicate ecosystem based adaptation?
• Want to use multiple social media tools to engage different audiences during conferences?
• Normally live tweet from conferences?
• Plan to attend the 2nd Africa Ecosystem based Adaptation conference?
If you answered yes to any of the above questions, we encourage you to join our team who will be tweet, blog & podcast the 2nd Africa Ecosystem based Adaptation conference (#EBAFOSC) from 29th – 31th July, 2015 in Nairobi, Kenya.
Want to join the #EBAFOSC social reporter's team? Get in touch with Abbas– abbas.abdulrafiu@gmail.com – and he'll plug you in!
Richard Munang (Ph.D,) ● Coordinator, Africa Regional Climate Change Programme (UNEP) and Abbas AbdulRafiu ● Senior Scientist (NESREA) Nigeria, will be coordinating the discussions during & after the conference.
About this group:Aimed at bringing together African professionals, academia, policy maker and youths to 2nd EbA conference in Nairobi: to Re-imagining Africa Food Security through Harnessing Ecosystem based Adaptation (EbA) Approaches now and the future.
.
———————————————————————————
.
Acceptance Speech of AU Chairperson Chairperson, H.E President Robert Mugabe of Zimbapwe, 30 January 2015
.
Youtube
https://www.youtube.com/watch?t=154&v=E1jzhgNU-ig
.
https://www.youtube.com/watch?v=LpCEgCDPmtA
.
.——————————————————————–
.
.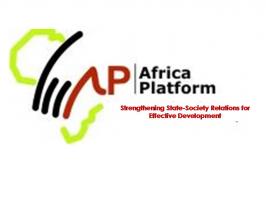 .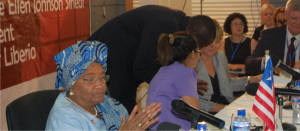 Mrs. Ellen Johnson Sirleaf, President of Liberia
Paul Okumu-ACP <paul.okumu@africacsoplatform.org> Date: Monday, March 23, 2015
Subject: Statement that is making waves!
.
G77 Statement on Targets and Indicators
.
——————————————————————————
.
.
.
. Worldview Mission, Headquarter, "Kingdom of the Netherlands"
Address: Beemsterhoek 14,  2905 XA, Capelle A/D IJssel, Rotterdam
Mob: +31(0) 636108563    /   +31(0) 107857863  Tel/Fax (Netherlands-EU) ,
Registered: RSIN, ANBI 851082403 B01 CHAMBER OF COMMERCE  K.v.K. 53.94.11.36 SEPA: Bank Account nr.:  NL08 ABNA 0506 0822 02
.