.
.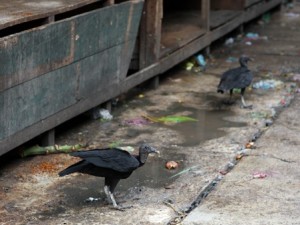 There, in the sky! It's a bird! It's a plane! It's a vulture with a camera mounted to its body, geolocating illegal trash dumps and starting conversations about a clean environment!
Public Engagement – Lima, Peru GoPro-vulture Approach to Environmental Awareness
Dear Friends and Colleagues,
As the weekend begins, we would like to put a smile on your face.  Vultures… yes vultures and social media!  OK, creative approach to public engagement.  What is your reaction? Hmmmmmm.
The U.S. Agency for International Development faced a tricky challenge in Peru's bustling urban centers. How do you raise citizen awareness and concern about a critical natural environment most city dwellers will never have the opportunity to see?
Meet 
Capitán Huggin, Elpis, Nyx and seven others, each of them equipped with a GPS tracker and, sometimes, a GoPro video camera. The vultures go about their business in the skies over Lima — and in the trash piles of its gutters — all the while clueing municipal authorities into the locations of illegal dumping sites around the city. 
They are also, USAID hopes, pulling urban Peruvians into a conversation about environmental stewardship, civic awareness, and the value of natural environments both near and far.
 To learn more, https://www.devex.com/news/usaid-s-gopro-vulture-approach-to-environmental-awareness-yes-really-87676   
 All the best,
Pam Puntenney and Bremley Lyngdoh
UNSD Education Caucus Co-Chairs
Co-Coordinators Climate Change
__________________
Dr. P. J. Puntenney
Environmental & Human Systems Management
1989 West Liberty
 Ann Arbor, MI  48103  USA
Cell:  1-734-352-7429
.