.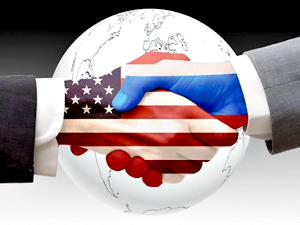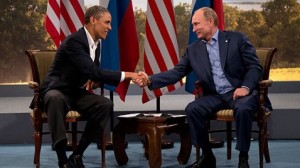 Relations between US President, Barack Obama &  Russia President  Vladimir Putin

.
.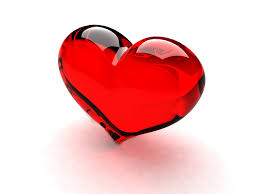 http://worldviewmission.nl/wp-content/uploads/2012/03/heleneheader.swf
.
.
.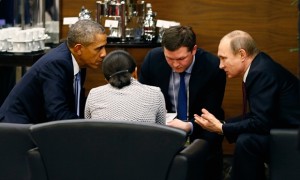 US President Barack Obama,  Russia President Vladimir Putin
https://www.youtube.com/watch?v=a3oZXo7cdEA
.
G20: Barack Obama and Vladimir Putin agree to Syrian-led transition
Presidents of US and Russia meet at leaders' conference and agree to have the UN negotiate a peace deal between the opposition and the Assad regime
http://www.theguardian.com/world/2015/nov/16/g20-barack-obama-and-vladimir-putin-agree-to-syrian-led-transition
.
.
Compare: Obama and Putin arrive in Antalya for G20. Nov.15, 2015
.
https://www.youtube.com/watch?v=wOfnXJNKNNM
.
2015 G-20 Antalya Summit: family pic with Obama/Putin/Juncker/Erdoğan/Tusk/Merkel/Fabius/Rousseff…
https://www.youtube.com/watch?v=2NqfMl902Uo
.
.
———————————————————————————–
.
.
Stakeholder Consultation on Post-2015 Governance in English, French, Spanish and NOW Russian .
.

Civil society is a critical actor in sustainable development governance. Now is the time to convey your organisation's views and recommendations.
Fill out the survey and participate in the consultation around stakeholder engagement in the High Level Political Forum (HLPF)
Participate today:
This online survey is a part of a wider consultation on the HLPF that SD2015 is carrying out until June 2015. The purpose is to make use of this crucial opportunity for members of Major Groups and other Stakeholders to shape engagement in the HLPF. Findings will be shared in a report in June-July 2015.
Stakeholders active in areas related to sustainable development will autonomously establish and maintain effective coordination mechanisms for participation in the high-level political forum
-General Assembly Resolution on the organization aspects of the HLPF-
..   .
——————————————
.
(Moscow, Russia)
.
[WorldYouth] FW: Invitation. Preparing Global Leaders Summit, 25 – 31 July, 2015 (Moscow, Russia)
From: pgls@pglf.org [mailto:pgls@pglf.org] Sent: Tuesday, May 19, 2015 To: ediola@way.org.my Subject: Invitation. Preparing Global Leaders Summit, 25 – 31 July, 2015 (Moscow, Russia)     Dear  Ms Ediola Pashollari,   With this letter we would like to bring to your attention a unique summer opportunity for professional development for you and your colleagues – Preparing Global Leaders Summit (PGLS) in Moscow, Russia. PGLS is a premiere international educational 7-day program for the best young professionals in the world. The program seeks to prepare aspiring global scholar-leaders with the tools that are necessary for effective leadership in an increasingly complex world, should they work in business or politics, or better yet the mixture of both. PGLS is a component school of Preparing Global Leaders Foundation (PGLF), an educational non-profit dedicated to changing the paradigm of leadership through intensive institutes, seminars and summits.   The summit brings together the most talented students (BA, MA and PhD) and young professionals from over 30 countries that cover all the world's continents and the world renowned faculty from Georgetown, Columbia and Oxford Universities. With the mission of creating a global network of scholar-leaders ready to take on the global challenges through a change of the leadership paradigm, especially in the face of increasing international tensions and politics of mistrust, 2015 PGLS will focus on the following courses: – Leadership and Communication; – What is Expertise? Facts That Function; – What People Suffer: An Orientation to Global Health; – Learning How To Learn: How to Build Your Knowledge Base Quickly; – Leadership Development; – The Foundation of Leadership;   The courses will be accompanied by interactive simulations and a confidential evaluation and personalized tutorial for each delegate.   The summit will include faculty from world topnotch universities – Oxford, Georgetown and Columbia. Recent events have demonstrated the importance of responsible leadership and effective communication, as well as challenges associated with collaborative decision-making. PGLS is about substantive, effective, outward-looking leadership. 21st century trade, government, security, academia and charity all exist in a world where international borders are ever more permeable, and 21st century leaders need to be able to communicate across borders and look at issues from different cultural perspectives. PGLS brings together participants from a wide range of different countries, working in different economic sectors, in a forum to learn how to communicate effectively to a diverse global audience.   Skills developed through Preparing Global Leaders Summit will help the delegates in understanding the changing world order, their personal strengths and weaknesses and how those could be used to their advantage. World-class award-winning experts in the field of leadership and communication, statistics and public policy, and global citizenship will share their expertise and its application possibilities. Various simulations will assist delegates with polishing their newly acquired skills, while the social events will provide a unique opportunity for networking. Given the strict selection criteria, only the strongest candidates are accepted in order to encourage learning from other's experiences as much as from the faculty.   We would appreciate your help in spreading the word about PGLS in your organization, and encourage you to apply. Should you have any questions, don't hesitate to contact us via e-mail or phone (see below). For more detailed information, please visit our website at http://russia.pglf.org. Visit and like our Facebook page at https://www.facebook.com/PreparingGlobalLeadersSummit Thank you beforehand for your help! Kind regards, Tatsiana Yankelevich MSc in International Relations and Diplomacy Leiden University, The Netherlands Institute of International Relations Clingendael Program Director, Preparing Global Leaders Summit pgls@pglf.org; tatsiana.yankelevich@gmail.com +31 650 73 44 74 (NL) +370 610 69 202 (LT) +7 916 296 74 55 (RU) Attachment(s) from 'Ediola Pashollari' ediola@way.org.my [WorldYouth] | View attachments on the web

PGLS_2015_p
Check out the automatic photo album with 1 photo(s) from this topic.
WORLD ASSEMBLY OF YOUTH
Visit our website at http://www.way.org.my Secretariat Address: World Assembly of Youth, World Youth Complex, Jalan Lebuh Raya, 75450 Melaka, Malaysia. Telephones: +6062321871 or +6062322711 Fax: +6062327271 Email: info@way.org.my
 .