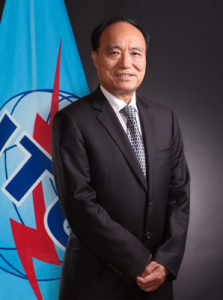 Mr. Houlin Zhao ITU Secretary-General
.
http://www.itu.int/en/osg/Pages/default.aspx  
http://www.itu.int/en/osg/Pages/default.aspx
On 23 October 2014 Houlin Zhao was elected 19th Secretary-General of the ITU. His four-year mandate started on 1 January 2015.
Born in 1950 in Jiangsu, China, Mr Zhao graduated from Nanjing University of Posts and Telecommunications, and holds an MSc in Telematics from the University of Essex in the UK.
From 2007 to 2014, he served as ITU Deputy Secretary-General, supporting the work of the Secretary-General, principally in terms of day-to-day management, including human resources, financial administration, improving efficiency, and working to help broaden ITU's membership, particularly in terms of academic institutions.
Apply membership http://www.itu.int/en/membership/Pages/sm-form.aspx

ITU Membership Form, apply online.
IMPORTANT NOTICE: Once you fill in the ITU membership application form below, please print, date, sign and send it to membership@itu.int.
This application form is only available in English. If you have any questions or require assistance in one of the other ITU official languages, please contact us at: membership@itu.int.
 .
.
—————————————————————————————-
.
Internet Society Q1 Community Forum
ISOC – Internet Society <mailer@comms.isoc.org>
To the Community Members of the Internet Society,
Best wishes to all for a peaceful and progressive New Year for 2016.
2016 promises to be a year of intense work on many fronts.  The Internet Society's strategic themes of Connecting the Unconnected and Restoring and Promoting Trust in the Internet, comprise a variety of projects and initiatives which many of you have already helped plan and on which you will be collaborating.  Now is the time for the Internet Society as a global community to establish leadership through actions.
On Wednesday, January 27 you are invited to participate in our first Community Forum of 2016 where you will hear from Kathy Brown and from various community leaders how we are setting the stage for our work and how you can contribute.  We also want to hear from you how we can and should be making a difference in your region.  With the WSIS+10 high level meeting success behind us, we look now to build broader agreement for the principles of the open, accessible, secure and multi-stakeholder governed Internet through our communal advocacy and voice.
The Q1 Community Forum is schedule for 15:00 – 16:30 UTC on January 27.  A full agenda and connection details will follow early next week.
This message was intended for: worldview.mission@gmail.com
You were added to the system August 6, 2015.
For more information click here. Update your preferences
Unsubscribe | Unsubscribe via email

.
—————————————————————————————–
.
Refugees' internet services blocked
Ms. Helene H. Oord,
The island nation of Nauru may be tiny — it's only 21 square kilometers (8.5 square miles) — but what is happening there matters to people around the world. This summer, the Nauru government officially blocked Facebook and internet services until it could pass measures to protect its residents from "abusive" content online. We asked you to tell Nauru to stop blocking the internet. Get this: three months later, Facebook is still blocked.
Now Nauru has to go before the United Nations. In November, Nauru will have its human rights record reviewed by the Human Rights Council, and we need to hold it accountable. Governments should NEVER shut off any part of the internet. Period.
Tell Nauru to end its blocking of the internet.
Nauru operates an immigration detention center (funded by the Australian government) for people seeking asylum in Australia. Men, women, and children are held there — often in abusive conditions — while authorities decide whether to grant them full refugee protection and resettlement in Nauru, Papua New Guinea, or Cambodia, but not Australia, the very country where they are seeking asylum.
Without the internet, asylum seekers in Nauru are losing vital connections to loved ones, colleagues, and family, deeply impacting their quality of life and denying them important resources for obtaining asylum.
Sign the petition to tell the government of Nauru to turn the internet back on!
In August, a Senate committee from Australia released an official report condemning the conditions it found in Nauru after investigating the detention center — which is just another word for a prison. Its discoveries were shocking. These refugees seeking help are suffering from malnourishment and abuse, and they need to tell their stories to their loved ones and the world.
Sign the petition to help restore access to the internet for asylum seekers in Nauru.
P.S. — For more information on why what happens in Nauru is so important, check out our blog post.
.
—————————————————————————————
.
.

https://savetheinternet.eu/
.
Don't forget: Speak out for Net Neutrality!
 The internet needs you! Tell your MEPs to stand up for the open internet and  protect Net Neutrality.
Ms.Helene H. Oord,
There's still time to save the internet! Already thousands of activists like you across the EU have contacted their MEPs asking them to stand up for Net Neutrality.  As the trialogue debates continue, it's even more important for you to make sure your voice is heard.
Visit savetheinternet.eu to urge MEPs to protect the free and open internet!
See our original email below for more info.
Ms.Helene H. Oord,
The open internet in Europe is at risk. Right now the European Commission, European Parliament, and the Council of the EU are in negotiations over the final text of a law that could completely undermine Net Neutrality.
Visit savetheinternet.eu to let your MEPs know where you stand.
This is not a new fight. About a year ago, European Parliament voted in favour of clear and binding Net Neutrality rules after people like you across the EU asked their MEPs to stand up for the free and open internet. This was a huge victory! But ever since, telecoms companies have been fighting to make sure Net Neutrality doesn't get in the way of their profits.
Now, the EU's three most powerful institutions are in negotiations known as a the "trialogue."  They're debating the language of a proposal that would create paid fast-lanes, allow price discrimination in the EU, and authorise blocking of lawful content.
That means big cable companies and internet service providers can decide what content people view online by making some websites too expensive, too slow, or altogether unavailable. This kind of limitation on free expression and innovation would mean the end of the internet as we've known it. We can't let that happen.
Take action at savetheinternet.eu to make sure your MEPs protect the free and open internet.
Internet users have defended Net Neutrality before, and we can do it again now. Around the world, from India to the United States to Brazil, activists are fighting to protect our online freedoms — and they're winning.
Net Neutrality rules in the EU will affect people everywhere. Let's make sure we each do our part to keep the internet free and open.
Thanks for all you do,
Raegan MacDonald
Access Brussels
Access defends and extends the digital rights of users at risk around the world. By combining tech-driven policy, user engagement, and direct technical support, we fight for open and secure communications for all. To help protect the internet around the world, you can donate to Access. To reply, please email info@accessnow.org. 
Follow Access on: Facebook | Google+ | Tumblr | Twitter | YouTube

.
.