.
http://worldviewmission.nl/?page_id=15528
.
.
.
———————————————————————-
.
.
UN Climate Chief Christiana Figueres to Step Down
Dear Friends and Colleagues,
UNFCCC Christiana Figueres has been a tireless champion to meet challenges to move the climate venue forward.  She set a tone of inspiration, positive encouragement with a sense of humour and an occasional light touch, leading by example to move the climate framework forward.  The BBC announcement in their Science and Environment section, 
http://www.bbc.com/news/science-environment-35612559
  has given  us a few insights into her stepping down.  We can assume in the future Christiana Figueres will be active in international affairs bringing her leadership skills to another arena.  We thank the Chief for her many contributions to international cooperation and coordination that helped deliver the climate agreement in Paris.
Pam Puntenney and Bremley Lyngdoh
UNSD Education Caucus Co-Chairs
Co-Coordinators Climate Change 
Dr. P. J. Puntenney
Environmental & Human Systems Management
1989 West Liberty
 Ann Arbor, MI  48103  USA
Cell: +1-(734) 352•7429
Landline: +1-(734) 994•3612
 —
UN climate chief Christiana Figueres to step down
By Matt McGrathEnvironment correspondent
UN climate chief Christiana Figueres played an important role in the Paris negotiations
The UN's top climate diplomat, Christiana Figueres, has said she will leave her post in July.
Ms Figueres said she would not accept an extension of her appointment which finishes this summer.
As executive secretary of the UN Framework Convention on Climate Change, she played a key role in the talks that lead to the Paris Climate Agreement.
Her contribution to the negotiation process was praised as "really extraordinary".
Ms Figueres became executive secretary in the wake of the Copenhagen climate conference in 2009, widely perceived to have been a failure.
Over the past six years she helped rebuilt the momentum for a global compact, which saw 195 nations sign the Paris Climate Agreement after weeks of intense negotiations in the French capital last December.
In her letter to the UN confirming that she was standing down, the 59-year-old Ms Figueres highlighted the importance of that deal.
"The Paris Agreement is a historical achievement, built on years of increasing willingness to construct bridges of collaboration and solidarity. It has been an honour to support you along this path over the past six years," she wrote.
Before taking the UN post in 2010, Ms Figueres had been part of Costa Rica's climate negotiating team since the mid 1990s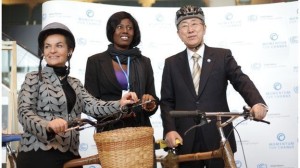 Christiana Figueres shows her lighter side at climate talks in Warsaw with UN secretary general Ban Ki-moon
Her contribution to the successful outcome of the talks in Paris was praised by climate economist Lord Stern.
"Christiana's contribution to international climate negotiations over the [past] six years has been really extraordinary," he said.
"She is gifted with an outstanding ability to see where we need to go as a world and to bring people together.
"Christiana is one of the great leaders of our time. She no doubt has much more to contribute in the coming years. The challenge for everyone is to build on her achievements, and I am sure she will be part of that."
Ms Figueres has announced her decision to stand down in the same week as the President of the Paris conference, Laurent Fabius, announced he was stepping aside from that role. He is being replaced by French environment minister Segolene Royal.
.
.
————————————————————————
.
Which Election Observation Groups Should be Invited to Future Elections?
Dear Worldview Mission:,
We are writing to invite you to participate in an effort to better represent the voices of civil society regarding which election observation groups should be invited to future elections in your country. These organizations can influence whether elections are perceived as free and fair. There are now many different organizations that engage in international election observation, and which organizations are invited may play an important role in how citizens and international audiences ultimately judge the quality of elections.
In most countries, the government has the power to extend invitations to international observers. Non-governmental organizations (NGOs) like yours are sometimes left out of the conversation. Therefore, we are asking you and representatives of many other NGOs about which election observation groups should be invited to future national elections. We plan to compile these recommendations from diverse representatives of civil society and share them with election observation groups.
If you are willing to participate, please fill out a brief (5-10 minute) questionnaire at the following link:
Or copy and paste the URL below into your internet browser:
https://byu.az1.qualtrics.com/SE?Q_DL=5iESwRmTBHLFb93_56VqK74f2vEgJr7_MLRP_0PKvYSRsQYmASQR&Q_CHL=email
You can learn more about our broader research and commentary on election observation by clicking on these links: http://sites.duke.edu/kelley/about/ or http://hyde.research.yale.edu/research.htm. Alternatively, you can perform a Google Search for "Judith Kelley election monitoring project" or "Susan Hyde election observation" or you can browse our individual websites from the Duke or Yale University websites.
Thank you in advance for your willingness to respond to this invitation to make the voices from civil society representatives heard on this important issue.
Sincerely,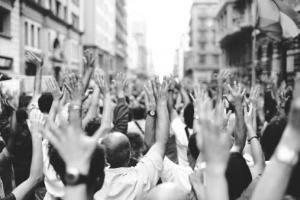 Professor Judith Kelley, Duke University
Professor Susan Hyde, Yale University
Professor Dan Nielson, Brigham Young University
.
————————————————————————-
.
ANNOUNCEMENT: Arts4Peace Forum 28 to 30 January 2016 Addis Ababa, Ethiopia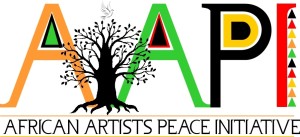 Dear Friends and Colleagues,

The African Artists Peace Initiative (AAPI) www.aapiafrica.org is a Pan-African movement of artists and peace-makers, championing a culture of peace and non-violence in Africa. The overarching objective is to use "Arts and Culture" as a weapon and tool for nurturing a culture of peace based on values, attitude, and ways of life conducive to the promotion of peace among individuals, groups and society. The movement is inspired by the AU Constitutive Act, AU Year of Peace and Make Peace Happen Campaign, AU 2063 Agenda and the UNESCO Culture of Peace and Non-Violence Campaign.
AAPI intends to contribute to peace advocacy and education through the arts.  African history and arts, can strengthen the emotional and psychological appeal of messages and provide a believable and interesting way to explore sensitive issues, particularly conflict related issues.

Sequel to success of the first consultative meeting Arts4Peace in Addis Ababa in January 2015, AAPI is organizing the 2nd Arts4Peace Forum from 28 to 30 January 2016 in Addis Ababa, Ethiopia.

Please find attached the concept paper for your kind attention and perusal.
 We hope you will consider attending or sending a representative from your organization. Kindly email aapi@aapiafrica.org for more information on participation, partnership or further clarifications.
​#InspireACultureofPeace​
Ibrahim Ceesay

Chairman

Gambia National Youth Council

National Organizing Committee- Banjul+10 May 2016
4 Kanifing Industrial Estate, Julbrew Road
P.O BOX 2545 Serre Kunda
KMC-The Gambia
Tel: +220 9932685 or 7675977
Skype:ceesaydelight

             ..                                /        …
 .
—————————————————————————
.
Announcement – Appointment of new IUCN Director General
We congratulate Julia for the smooth transition and welcome Inger.  As we say in Ghana "Akwaaba",
Regards,
Sakeena K. Bonsu
Evergreen Club of GhanaSent from my iPhone
Dear Friends and Colleagues,
I have the immense pleasure of announcing that the Council of IUCN has completed its statutory responsibility by selecting Inger Andersen as the next IUCN Director General.
Inger Andersen, a Danish national, is currently the Vice President of the Middle East and North Africa (MENA) at the World Bank, and is responsible for the Bank's strategy and operations throughout the Region. Inger Andersen has been passionate about environmental sustainability and conservation since the beginning of her career.
Inger Andersen joined the World Bank in 1999, working primarily on water, environment and sustainable development, with special focus on the Africa and Middle East and North Africa Regions. In 2010, she was named Vice President for Sustainable Development (some 1,700 staff) at the World Bank and Head of the CGIAR Fund Council. In this position, she oversaw the technical quality of the Bank's portfolio and led the Sustainable Development Network's engagement to provide sustainable development solutions, enhance food security, promote environmental sustainability and conservation, manage disaster response and preparedness, develop social accountability and provide support for climate change mitigation and resilience. On the CGIAR side, she oversaw the conclusion of the CGIAR reform and the roll out of the first programmes post reform.
Inger Andersen started her career working for an NGO in Sudan providing support to rehabilitation and dryland management in the post-drought emergency. In 1987, after five years in Sudan, she joined the UN Sudano-Sahelian Office in New York to work on desertification and dryland challenges. With the establishment of the Global Environment Facility in 1992, Inger Andersen was asked to serve as UNDP's Coordinator for the Arab Region, a position she held until 1999 when she moved to the World Bank. Upon joining the World Bank, Inger Andersen worked for two years in the Environment Vice Presidency on water resources and regional seas issues with special emphasis on large and contested river basins. In 2002, she was named Sector Manager for Water and Urban Development overseeing the programme in West and Central Africa, followed by assignments as Director of Sustainable Development in the Middle East Vice Presidency and, later, in the Africa Vice Presidency followed in 2010 with her appointment as Vice President for Sustainable Development.
In view of her long association with the Middle East Region, Inger Andersen was requested to take on the Vice President position for the MENA Region in 2011 at the onset of the Arab Spring.
Inger Andersen has a track record of strategic leadership and management. She is experienced at resource mobilization. She has close contacts with the broad NGO community and with many of the UN agencies. She speaks English, French and Arabic, and is a good negotiator with a deep understanding of political economy issues. She has strong operational skills and is a recognized leader in development and sustainability circles.
The number and outstanding quality of candidates for this position are evidence of the wide respect in which IUCN is held. It has made the task of the DG Search Committee both a pleasure and a lengthy, challenging endeavour. I thank all those who have expressed an interest in working for the ambitious mission of IUCN and look forward to involving them in our ongoing journey.

Inger Andersen will succeed our current Director General, Julia Marton-Lefèvre, and will take up her duties in Gland on January 12, 2015. We will have the opportunity to introduce the new DG at the World Parks Congress in Sydney in November, and to convey our thanks to Julia who will be responsible for the running of and expected success of that Congress. The entire Council joins me in thanking Julia Marton-Lefèvre for having assured a smooth transition to her successor. Her leadership, vision and unflagging dedication these past eight years have been a tremendous asset for IUCN and will help it continue to thrive long into the future.
 I am sure you will join with me in welcoming Inger Andersen to the IUCN family as our incoming Director General.
 With best regards,
 Zhang Xinsheng
IUCN (International Union for Conservation of Nature)
.
————————————————————————-
.
.
Announcement COP21 Side Event December 9th, 2015
"Celine Paramunda" <celine@mmsmission.net>
Date: November 24, 2015
Subject: Re: Announcement COP21 Side Event December 9th
Take note of the starting time of the outside presentation, 1:15.
Begin forwarded message:
Dear Bremley and Pam
Attached is a side event flier for Dec 9th inside and out side the venue,
we MMS are one of the co sponsors. pl spread the news.
Ask for your    Prayers too.
Celine
hi all
A slight change in the timing of the out side presentation in the general
space at 1.15 pm.( not 1.45 as given early).hope to see some of you there!
best,
CelineCeline Paramunda
UN Representative
Medical Mission Sisters
(NGO with the UN ECOSOC,DPI,UNFCCC)
8400 Pine Road, Philadelphia,PA 19111
Tel:215 742 6100 Ext.180
Skype: celine.paramundayil
FB:Medical Mission Sisters at the UN
www.mms-un.org
__________________
Dr. P. J. Puntenney
Environmental & Human Systems Management
1989 West Liberty
 Ann Arbor, MI  48103  USA
Cell:  1-734-352-7429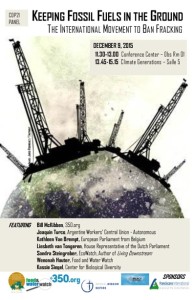 Fracking Panel Flyer_Print Version
.
————————————————————————-
.
.
RIP Maurice Strong father of climate change and sustainable development
My dear friends
With deep sadness i share with you the news about the death of Maurice Strong. As Secretary General of Rio 1992 he shepherded the creation of the UNFCCC and one of the last messages he gave was on what he hoped for the Paris talks to achieve
http://blog.felixdodds.net/2015/11/rip-maurice-strong-father-of.html
With sadness felix
Environmental & Human Systems Management
1989 West Liberty
 Ann Arbor, MI  48103  USA
Cell:  1-734-352-7429
.
———————————————————————————-
.
Announcement: Climate Wise Women Celebrate Six-Year Anniversary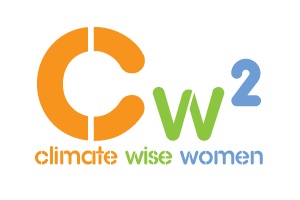 November 17, 2015
Dear Friends:
The Climate Wise Women are commemorating the six-year anniversary of our first meeting at the UN Climate Summit of 2009 in New York by gathering in Paris in a few weeks' time for COP 21.    Originally planned as a joyous reunion, we are now deeply sobered by the tragedy that has occurred, yet firmly resolved to be present in Paris and stand in solidarity with all who work towards a peaceful, safe, equitable and healthy planet.  Climate Wise Women will speak at COP side events with the OECD, UN Foundation, CIEL, Caritas NZ, Bread for the World, and WECAN, among others.  A number of media interviews have already been scheduled.
Our Paris delegation will consist of Carteret Islanders Ursula Rakova who is still today the only community leader in the world who has actively planned, and now supervises, the relocation of her small atoll population to mainland Papua New Guinea.   Her skills in navigating the grief of leaving ancestral lands, the considerable challenges of integrating into a new community, and the management of opportunities that will help the Carteret Islanders thrive in their new homes, are powerful models for world leaders to contemplate as they consider the vast climate migration that is to come.
Constance Okollet, who joined us in 2009 as a self-described 'peasant farmer' from eastern Uganda, has, over the years, shared the podium with Reverend Desmond Tutu, Mary Robinson and other distinguished leaders.  On behalf of the European Climate Foundation, she has persuasively addressed Catholic communities on the moral imperative of climate change.   Constance, the chairperson of the 1200-member Osukuru United Women's Network and the mother of seven, grandmother of two, is currently running for regional office in an election that will be decided in early 2016.
Thilmeeza Hussain, who joined Climate Wise Women in 2013, is the former Special Deputy on Climate Change to the UN from Maldives and the co-founder of Voice of Women, the Maldives only women-focused NGO.  Because of Thil's seniority within former President Nasheed's party, her work on women's empowerment, and the linkages between the democratic process and climate change, has been at considerable personal risk.   Thil provides us with the constant reminder that an open society is essential to effectively confronting the existential threat of climate change.
Our sisters who are not able to join us in Paris are Ulamila Kurai Wragg, a journalist and women's advocate in Cook Islands when we met in 2009, now an effective community leader on her native Fiji.   Sharon Hanshaw, who leads Coastal Women for Change, has  been a tireless advocate for her home town Biloxi, Mississippi. since Katrina, taking on BP for reparations to Biloxi fisherman and speaking out on the continued climate injustice on this year's 10th anniversary of Katrina.  Our youngest Climate Wise Woman, Ngozika Onuzo of Abuja, Nigeria, joined us at the Rio+20 and was part of the Smith College volunteer team who booked the first Climate Wise Women speaking tour in North America in 2010.  Ngozi has a degree in Geology and educates young men and women to the deleterious effects of the fossil fuel industry on climate change in the region.
We are all so gratified by your support, your interest and your kindness as we have made this six-year journey.  At the outset, we believed that women telling their own stories of the impacts of climate change, and their remarkable resilience and resourcefulness in addressing these impacts, would be enough to galvanize the world to support their work.  We have learned from our travels across five continents that talking is not enough; that we must do more to capture consistent attention and meaningful support.
To that end, we are planning a series of site visits, beginning with a delegation slated for mid-2016 to Buka, Papua New Guinea, where we will bring media, entrepreneurs, donors, and artists to tell Ursula's story to a wider audience, to commit resources that will accelerate the Carteret Islanders' relocation, and to increase capacity and opportunity for Bougainville Cocoa as an economic engine for the community.  We hope to create a new model for site visits that rallies tangible commitments around women's leadership on adaptation to climate change.
Thank you for making this journey with us and thank you, and especially our family at the Earth Island Institute, for everything you do towards making it possible for us to continue our work.
We look forward to sharing our Paris experience with you through social media, blogs and email.
Warm wishes,
Tracy
Tracy Mann
Project Director
.
———————————————————————–
.