————————————————————————————————-
.
————————————————————————————————
.
.
—————————————————————————————————–
.
.
———————————————————————————
.
.
.
————————————————————————————————————-
.
.
——————————————————————————————————————–
.
.
—————————————————————————————————-
.
.
.
———————————————————————————————————
.
This email was sent to you because you are registered in the mailing list of the United Nations Sustainable Development Knowledge Platform.
https://www.youtube.com/watch?v=Z490AOajXEA
.
————————————————————————————————–
.
Newspaper coverage drawing on IPCM … How developing countries are paying a high price for the global mineral boom
Hi all,
I wanted to share with you the following UK national press coverage which draws heavily on the conference….

How developing countries are paying a high price for the global mineral boom
Soaring worldwide demand for the minerals used in electronic devices such as smartphones and laptops has left a legacy of social conflict and human rights violations across Asia, Latin America and Africa
John Vidal – http://www.theguardian.com/global-development/2015/aug/15/developing-countries-high-price-global-mineral-boom
15 August 2015
A 200ft deep pit gapes where three years ago stood a mountain. Fields where small farmers planted rice and grew fruit are now an industrial site, and wooden houses in the old village of Didipio have been abandoned – the community moved to make way for a large-scale gold mine owned by a New Zealand company.
The Filipino mine, guarded by high fences and bitterly contested by the indigenous Bugkalot people who fear pollution, spills and ill-health, is just one of scores of major new gold and copper mines opened in the last few years to meet soaring world demand for minerals used in electronic devices such as smartphones and laptops.
While the spot price of gold and other minerals has recently seen its greatest annual decline in more than 30 years, the legacy of the global mineral boom is social conflict, human rights violations and environmental devastation across Asia, Latin America and Africa, says a global investigation into hundreds of the world's mineral mines.
As angry communities in Colorado last week counted the cost of a toxic spill from an old gold mine, a new atlas of 600 international mining and oil companies has identified more than 1,500 ongoing conflicts raging over water, land, spills, pollution, ill-health, relocations, waste, land grabs, floods and falling water levels.
The EU-funded report by academics at 23 universities and environmental justice groups in Africa, India and Latin America has identified 142 disputes involving gold mines, 130 at coal mines, 96 at copper mines and 73 at silver mines, with India, Colombia, Nigeria, Brazil, Ecuador, Peru and the Philippines having the most. They ranged from longstanding legal disputes to armed conflicts.
The companies whose mines have attracted the most accusations of human rights abuses and environmental conflict are some of the largest in the world, mostly listed on the London stock exchange. They include AngloGold Ashanti, Rio Tinto, Barrick Gold, BHP Billiton, Glencore Xstrata and Newmont Mining. Between them they are involved in 75 conflicts in countries ranging from Colombia, Burma and the Democratic Republic of the Congo to the US, Zambia and the Philippines, says the database.
"Across Latin America, Asia and Africa, more and more community lands, rivers and ecosystems are being despoiled and devoured by mining activities," says Philippe Sibaud, author of two reports on the extractive industries for the Gaia Foundation. "The rights of farming and indigenous communities are increasingly ignored in the race to grab land and water. The hunger for these materials is a growing threat to the necessities for life."
In many cases, governments have had to call on the army to defend the mining companies against aggrieved local communities who have taken up arms.
"Much of the Philippines has now been militarised to defend the companies,", says Benedictine nun Sister Stella Matutina, a community worker in Mindanao province who has been targeted by the government for opposing mining companies. In the last year she has been charged with kidnapping, human trafficking and illegal detention for opposing Canadian, Australian and British mining companies and for looking after tribal people displaced by mining.
Mining in the Philippines has exploded from only 17 operations in 1997 to nearly 50 mega-mines today. "We have found that mining divides our people, it kills them, it does not help us. It destroys our values. Mining and militarisation are twins. Where there is big mining there is always militarisation, because the government has to ensure that foreigners can invest in our country. People are resisting, are taking up arms against the entry of these mining companies. We are killing each other over mining," she said.
Following his outspoken encyclical on climate change and human ecology in June, Pope Francis has also stepped into the mining debate, calling for radical change by the industry.
In a message sent last month to leaders of communities affected by mining in Latin America, India, Africa and Asia, he spoke of "the cry for justice … for their lost lands, the violence, threats, corruption, the trampled human rights, the dire working conditions, and sometimes the slavery and human trafficking as well as the pollution of water, air and soil".
The groups, meeting at the Vatican, said that mining companies "regularly invaded and denuded the traditional lands of indigenous peoples and poor farmers, expropriate water used for irrigation and drinking and leave polluted land and water behind.
"There have been grave human rights violations experienced: environmental destruction and contamination, health impacts, community divisions, uprooting from territories, sicknesses, loss of culture, prostitution, alcoholism and drug addiction, loss of their own economy, and the ties to organised crime that are generated by the mining industry."
In his encyclical, the pontiff said: "It is morally unacceptable, politically dangerous, environmentally unsustainable and economically unjustifiable for developing countries to continue to fuel the development of richer countries at the cost of their own present and future."
Conflicts have flared in Latin America, where many countries have opened up new regions to mining. Guatemala has awarded more than 350 new licences since 2007, mostly to Canadian companies. A further 600 are under consideration by the ministry of energy and mines.
New mines in Honduras, Peru and Chile have all provoked opposition. Thousands of troops had to be deployed and anti-mining activists were shot as anger flared around the Canadian-owned Escobal silver mine in Guatemala last year.
Canadian mining companies have some of the worst records for human rights violations, according to a report submitted to the Inter-American Commission on Human Rights in 2013. It found Canadian companies were involved in more than 100 human rights and environmental disputes in Latin America.
Pierre Gratton, director of the Mining Association of Canada, said: "We don't deny that there is conflict everywhere but feel we are leaders in setting standards and are doing a better job than anyone else. There's a much higher level of awareness and sensitivity now, and an ability to raise issues which in the past might have been overlooked. The industry is more active [than it used to be] in Asia, Africa and the Americas and is working in countries with weak governance. These [mines] are multibillion-dollar investments. The money flows to the capitals, and [impacted] communities say 'what about us?'"
In the Colombian Amazon, the floodgates have opened for mining concessions, with licences being given on around 20 million hectares of land, much of it pristine rainforest , says former Colombian environment minister Martin von Hildebrand, who has been working with groups living along the lower Apaporis river.
"Yaigojé Apaporis became Colombia's 55th, and third largest, national protected area in October 2009. And yet, just two days after the official announcement, a company was granted a mining title and began attempting to revoke the 'protected area' status. The same mining company is believed to be linked to a further 20 applications for mining exploration around Yaigojé Apaporis," said Hildebrand.
The high price of gold in recent years has also attracted thousands of small-scale miners into fragile ecosystems. Yanomami Indians in northern Brazil and Venezuela whose populations were devastated in the 1980s by illegal goldmining face new invasions of gold miners, says tribal leader Davi Yanomami. "History is repeating itself," he said on a visit to London last year. "Twenty years ago many thousands of gold miners flooded into Yanomami land and one in five of us died from the diseases and violence they brought. We were in danger of being exterminated then, but people in Europe persuaded the Brazilian government to act and they were removed.
"But now 3,000 more miners and ranchers have come back. More are coming. They are bringing in guns, rafts, machines, and destroying and polluting rivers. People are being killed. They are opening up and expanding old airstrips. They are flooding into Yanomami land." More than 100,000 small-scale gold miners using rudimentary methods to extract gold from hillsides and rivers are thought to be active in Peru. In many cases they are competing with mega-mines which employ far fewer people.
According to PwC, one of the world's top four industry auditors, government intervention and conflicts have mushroomed as commodity prices slump. "The gloves are off for the industry with widespread government intervention, internal industry conflicts and rising shareholder activism," it said in its annual report.
Earlier this month anti-mining activists from 28 countries announced they would work together to seek a binding UN treaty and international tribunal to address the destructive impact of international mining. "It will give rights to people to sue mining corporations and hold them accountable for violations and crimes," said Clemente Bautista of the Kalikasan People's Network for the Environment.
"With an international mechanism we can join forces and file cases in an international tribunal," said Selcuk Kozagacli, chairman of the Progressive Lawyers Association in Turkey. "Now more than ever do we need a united struggle worldwide to defend people."
.
—————————————————————————-
.
Evading post-2015 accountability will eviscerate the agenda's ambition
Evading post-2015 accountability will eviscerate the agenda's ambition
Blog by Kate Donald, Director of CESR's Human Rights in Development program.

Today, diplomats at the UN in New York enter into two weeks of final negotiations on the new global sustainable development agenda for 2015 to 2030. Coming hot on the heels after a grueling few days in Addis Ababa, which culminated in an agreement on Financing for Development that did not live up to the demands and expectations of the G77 (nor those of civil society), it is difficult to tell what the spillover effects might be. The disappointments of Addis may well harden the resolve of the developing countries to stick firm on certain points; certainly they have already made clear that the inclusion of the principle of "common but differentiated responsibilities" in the outcome document of the September UN Summit which will adopt the new agenda will be non-negotiable for them, despite the firm resistance of the UK, US and others.
The UN Secretary General meets civil society activists between sessions at the Addis Ababa conference. Many are unhappy with the disappointing Financing for Development agreement. Photo: UN Photo.
In the days before Addis, the co-facilitators released a new draft of the outcome document (which they labeled, with considerable chutzpah, as 'final'). This will presumably be discussed line-by-line over the next two weeks – a level of detail and rigour lamentably not seen so far in the negotiations, which have mostly been characterized by sweeping and repetitive statements by delegations.
Happily, the revised draft features a number of improvements on the previous 'zero' draft (which we commented on here). In particular, the language in the Declaration has improved considerably with regard to human rights, thanks to feedback and concrete suggestions by Member States, civil society and the UN Office of the High Commissioner for Human Rights (OHCHR). The drafters have added 'international human rights treaties' alongside the Universal Declaration of Human Rights and the Declaration on the Right to Development as instruments on which the agenda is founded; and a reference to access to safe and affordable drinking water as 'a basic and universal human right'. After forceful urging from many actors, they have also included age in the list of prohibited grounds of discrimination, and even more crucially, have made the list an open one by adding 'and other status' at the end, a crucial recognition that discrimination on any basis is impermissible in development.
Of course, these improvements may be vulnerable to challenge over the next two weeks. The US, for example, has always disputed the right to development and so may well seek to remove reference to it in the Declaration, but developing countries will be very unlikely to accept such a move.
For CESR and many of our allies, the major area of outstanding concern is the 'follow-up and review' component of the final agenda, which has been weakened even further from the zero draft into what is now an astonishingly vague and timid vision. Although there are a couple of welcome references to State-citizen accountability as the ultimate goal of this follow-up and review framework, the document offers no clear picture on how progress on the Sustainable Development Goals will be monitored and reviewed, nor what the lines and channels of accountability will be, and includes only very tentative and under-ambitious proposals and guidelines.  For example, language merely suggesting that countries may conduct a review process at least every four years has been removed. It is indeed a sorry sign that this is considered too ambitious. Any less would mean countries only assessing their progress a maximum of two or three times during 2015-30. This is not the responsive, inclusive agenda based on up-to-date data that we were promised. Policies will need to be refined and adapted. Priorities may change. Tactics and strategies will shift, as will challenges. Obstacles to progress for the most marginalized communities may take some time to identify and break down. Monitoring and review processes will play an absolutely indispensable role in defining what is working and what needs to be improved, and in ensuring the experiences and ideas of the most disadvantaged and marginalized people can be reflected and taken on board. How can we 'leave no one behind' if we are not regularly and systematically hearing from those that are furthest behind?
Unfortunately, most Member States are failing to see this crucial link – between effective implementation and robust monitoring and accountability. They see efforts to define and bolster a monitoring and review framework as bureaucratic meddling that will undermine national sovereignty and result in blame games and finger-pointing. Some countries (in particular those with a history of receiving aid from donors that comes with a laundry list of onerous conditionalities) see any monitoring that takes place beyond the national level as something that will expose them to infringements on their policy space and scolding from the rich countries and the UN.
The fact is, we now have a much better set of goals and targets than we did in 2000 – and Member States should be applauded for coming to this agreement. But without effective and holistic monitoring and review, and clearly delineated responsibilities for meeting these goals, we will not change the paradigm. Implementation will suffer, and progress towards the most challenging targets will remain off-track and uneven. In short, the much-needed ambition of the goals will be wasted.
Sadly, although much could change over the coming weeks, it doesn't realistically seem like there are great prospects for significant improvements to this section. The watering-down exercise performed by the drafters was, after all, in response to common complaints from delegates at the last session that the vision for follow-up and review was 'too prescriptive'.
All these States of course confidently assert that while they don't want anyone telling them how to do it, they will put in place thorough and inclusive processes at national level. But why would they object to language laying out baselines and basic principles for these national reviews? Of course, different models will be needed in different contexts. But surely meaningful, free and active participation, transparency, and human rights should be fundamental to all national mechanisms and processes? Particularly for an agenda which includes a goal on building 'effective, accountable and inclusive institutions at all levels'. Periodic, regular reviews involving parliaments, civil society, experts, national human rights institutions and sustainable development councils – and crucially, the people whose situations we are most seeking to improve – should not be too 'prescriptive' for anyone. If States really are intending to be accountable to their citizens at the national level for these commitments, then they have no reason not to explicitly signal their intent and commitment to do so in this outcome document.
As CESR has argued since we published Who Will be Accountable? with OHCHR in 2013, underpinning the new agenda with a web of effective accountability mechanisms will be necessary to ensure the new commitments are credible and honored in practice.  Member States now have an unmissable opportunity to address the accountability gaps that have plagued development policy and practice for decades now. However, it is not an accident that this is the only area of the draft outcome document that has been actively and consistently weakened, rather than improved and strengthened. Despite their rhetoric, the idea of being held accountable by the people for their development and human rights commitments is still unpalatable to many governments.
This reluctance is of course being loudly and actively challenged by civil society and social movements across the world. For many civil society actors, the lack of ambition and commitment on accountability is likely to be the most pronounced area of disappointment in the final post-2015 package adopted in September. Even if we don't win the battle to strengthen the depleted vision in the outcome document, undoubtedly Member States will find themselves being constantly challenged over the next 15 years to transparently monitor and answer to their commitments. CESR, for one, will be working to build on the momentum for human rights accountability that we have helped generate around this agenda. The energy unleashed by the post-2015 process is unmistakable, and the genie is out of the bottle.
To learn more about CESR's work on the Sustainable Development Goals, click here.

---
The Center for Economic and Social Rights (CESR) works to promote social justice through human rights. In a world where poverty and inequality deprive entire communities of dignity, justice and sometimes life, we seek to uphold the universal human rights of every human being to education, health, food, water, housing, work, and other economic, social and cultural rights essential to human dignity.
Center for Economic and Social Rights | 162 Montague Street, 3rd Floor, Brooklyn, NY 11201 | +1 718 237-9145 | info@cesr.org
.
————————————————————————-
.
NEW CARE's ALP PUBLICATION – Adaptation Planning with Communities.
Dear Climate Colleagues,
The Adaptation Learning Programme for Africa (ALP) implemented by CARE International, is excited to announce the first publication in a new series of practitioner briefs, drawing together ALP's experience and lessons learnt of working on community based adaptation (CBA) with 40 communities in four countries in Sub-Saharan Africa over the last five years.

'Adaptation Planning with Communities' provides a practical step-by-step guide to the community adaptation action planning (CAAP) process with examples from ALP's experience in Niger and Ghana, and describes how to progress from climate vulnerability and capacity assessments, such as the CARE's CVCA, to participatory community planning resulting in actionable community adaptation plans. In the case of the communities where ALP is working these plans focused on livelihoods and natural resource management, but the CAAP process described can equally be applied to addressing other climate sensitive sectors for example; health, education, energy, or social safety nets.
The brief is designed for development practitioners, including local government representatives, civil society organisations (CSOs) and other actors working on climate change issues at the local level. It will also be useful for policymakers and donors engaged in planning and allocation of resources for adaptation action.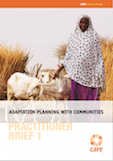 Download this publication in English, or in French
Many thanks,
.
 ————————————————————————
.
 A Low Bar for Business
A Low Bar for Business
Just out from the Business Sector Steering Committee is the "Financing for Development Business Compendium." It highlights 33 efforts aimed at mobilizing the private sector capital, claiming these provide "a strong indication of the broad scope of ongoing initiatives and the potential for scaling up to achieve the demands of the Sustainable Development Goals."
The initiatives will be listed on the UN Financing for Development website as examples of the commitments different stakeholders are making under the Third International Conference on Financing for Development (FfD3). Their stated aim is to mobilise private sector capital, expertise and facilitation around the SDGs but they lack explicit commitment to UN standards.
Loading up on private sector debt

While not weighing in on all 33 initiatives, a quick look at three under the section called "Principles and Performance Tracking," raises concerns as this is key to follow-up on FfD3 and the post-2015 agenda.
Initiative number one involves the Development Finance Institution League Tables, led by the Global Clearinghouse for Development Finance. The stated objective is that "one of the principal measures of the effectiveness of a Development Finance Institution (DFI) is its ability to attract significant amounts of private sector debt." What are the implications for public sector responsibility for private sector debt? The tables, by tracking "progress" in this area, are meant to spur DFIs to mobilize private sector finance for infrastructure. But at what cost? True, trillions are needed for infrastructure. True, infrastructure can be essential for sustainable development. But what gets lost when we talk solely about the quantity of finance, and particularly in a context of extremely mixed results from private sector financing of public projects? Quite possibly, in what might be yet another race to the bottom, human rights and sustainable development standards.
What are the indicators for the impacts of this initiative? Not "how many more people have access to quality health care, education, jobs, etc.," but the number of projects in which a DFI has participated and the amount of financing for which it is responsible. These indicators measure not impact but inputs. Ironically, the UN itself has been pressured away from input measures towards importing so-called "results-based management" from the private sector.
Continuous improvement—in theory
Initiative number two is a business charter from the International Chamber of Commerce. It has the high ambition of helping businesses "of all sectors and geographies" shape their own business sustainability strategies. Business sustainability is a vaguely defined term with a lack of clarity about what it means or how it links to sustainable development.
The ICC Charter is another call for businesses to voluntarily pursue "continuous improvement towards sustainable development," with an emphasis on raising awareness, providing a pathway to business sustainability and highlighting where business can do more. There are expectations for business benefits ranging from cost reductions to increased employee loyalty. It is lacking in how it explicitly relates to sustainable development. Might effective regulation aligned with international standards help this process along, possibly at a faster and more meaningful pace?
Public good or public relations?
Last on the list: the SDG Compass from the UN Global Compact, the Global Reporting Initiative and the World Business Council for Sustainable Development. They are joining forces to produce a guide helping businesses align their business sustainability strategies with the SDGs, 'if they choose to'. With the pick and choose approach, what is the likelihood of achieving sustainable development?
There is also a reference to how "furthering the SDGs can bring about prosperity and opportunity for the private sector." So a win for some businesses, but does it really make sense to appeal to the same profit motives that have already led so many enterprises down the path of unsustainable development? What is the likelihood that the SDG Compass, will become yet another opportunity for businesses to claim they are practicing "corporate social responsibility," with no mechanisms or other forms of accountability to ensure that they do anything more than generate publicity?
Private sector activity is vital to all economies. But many of the forces that drive corporations have been shown to be profoundly strong—like greed and short-term profit motivations—and contradict sustainable development principles. A compelling amount of evidence suggests that these forces won't be curbed by "voluntary" initiatives grounded in similar incentives.
If large businesses, in particular, given their huge resources and impacts, want to claim they are serious about sustainable development, they should be calling for strong, enforceable, consistent legislation that allows all private sector activities to happen on a level playing field, fully respecting all international norms that protect people and the planet. That might contribute to a UN fit for purpose.

.
———————————————————————–
.

Genomineerd voor de EuroNederlander van het Jaar Award
Het Montesquieu Instituut is
genomineerd
voor de EuroNederlander van het Jaar Award. Deze prijs wordt jaarlijks in juni door de Europese Beweging Nederland uitgereikt aan personen of organisaties die op bijzondere wijze hebben bijgedragen aan het Europese debat en beeldvorming over Europa in Nederland.
Het Montesquieu Instituut probeert via
debatten
en de website '
Europa Nu
' mensen zelf een oordeel te laten vormen over hoe de Europese Unie invloed heeft op ons leven en hoe wij meebeslissen in Europa. Het instituut laat zowel de voors als de tegens van Europese initiatieven zien en stimuleert het debat over Europese samenwerking.
De andere kandidaten zijn:
-  Rutger Wolfson en het programmateam van het Internationale Film Festival Rotterdam voor de speciale Europa-editie van het festival in 2014
-  Egbert Fransen en Charlot Schans van Pakhuis De Zwijger in Amsterdam voor hun innovatieve programmering New Europe – Cities in Transition
Stemmen
Tot woensdag 17 juni 2015, 13.00 uur kunt u stemmen op één van de drie genomineerden.
De uitreiking vindt plaats op 18 juni in Internationaal Perscentrum Nieuwspoort te Den Haag.
.
—————————————————————————-
.
Title : TWN FTA Info: The Obscure Legal System That Lets Corporations Sue Countries
Date : 11 June 2015
Title : TWN FTA Info: The Obscure Legal System That Lets Corporations Sue Countries
Date : 11 June 2015
Contents:
Dear friends and colleagues
We are pleased to share with you an in-depth article published in The Guardian, on investor-state dispute settlement (ISDS), which is prevalent in many bilateral investment treaties (BITs) and free-trade agreements. ISDS is controversially also proposed in the Trans-Pacific Partnership Agreement (TPPA) and the Trans-Atlantic Trade and Investment Partnership (TTIP).
The article traces how this legal system was created to protect the rights of foreign investors, but "in practice it has gone completely rogue". Companies have sued governments for billions of dollars, not only for alleged expropriation, but also for a huge range of government measures, including environmental and social regulations, which they say infringe on their rights.  "As the claims made by companies get bigger, it seems increasingly likely that the massive financial risks associated with investor-state arbitration will effectively grant foreign investors a veto over government decisions."
As a result, there is increasing opposition to ISDS, including from some governments and legislators. See http://www.citizen.org/documents/isds-quote-sheet.pdf
With best wishes,
Third World Network
131 Jalan Macalister
10400 Penang
Malaysia
Email: twnet@twnetwork.org
Websites: www.twn.my
To subscribe to other TWN information lists go to: www.twnnews.net
The obscure legal system that lets corporations sue countries
Fifty years ago, an international legal system was created to protect the rights of foreign investors. Today, as companies win billions in damages, insiders say it has got dangerously out of control
Claire Provost and Matt Kennard
Wednesday 10 June 2015
Luis Parada's office is just four blocks from the White House, in the heart of K Street, Washington's lobbying row – a stretch of steel and glass buildings once dubbed the "road to riches", when influence-peddling became an American growth industry. Parada, a soft-spoken 55-year-old from El Salvador, is one of a handful of lawyers in the world who specialise in defending sovereign states against lawsuits lodged by multinational corporations. He is the lawyer for the defence in an obscure but increasingly powerful field of international law – where foreign investors can sue governments in a network of tribunals for billions of dollars.
Fifteen years ago, Parada's work was a minor niche even within the legal business. But since 2000, hundreds of foreign investors have sued more than half of the world's countries, claiming damages for a wide range of government actions that they say have threatened their profits. In 2006, Ecuador cancelled an oil-exploration contract with Houston-based Occidental Petroleum; in 2012, after Occidental filed a suit before an international investment tribunal, Ecuador was ordered to pay a record $1.8bn – roughly equal to the country's health budget for a year. (Ecuador has logged a request for the decision to be annulled.)
Parada's first case was defending Argentina in the late 1990s against the French conglomerate Vivendi, which sued after the Argentine province of Tucuman stepped in to limit the price it charged people for water and wastewater services. Argentina eventually lost, and was ordered to pay the company more than $100m. Now, in his most high-profile case yet, Parada is part of the team defending El Salvador as it tries to fend off a multimillion-dollar suit lodged by a multinational mining company after the tiny Central American country refused to allow it to dig for gold.
The suit was filed in 2009 by a Canadian company, Pacific Rim – later bought by an Australian mining firm, OceanaGold – which said it had been encouraged by the government of El Salvador to spend "tens of millions of dollars to undertake mineral exploration activities". But, the company alleged that when valuable deposits of gold and silver were discovered, the government, for political reasons, withheld the permits it needed to begin digging. The company's claim, which at one point exceeded $300m, has since been reduced to $284m – still more than the total amount of foreign aid El Salvador received last year. El Salvador countered that the company not only lacked environmental permits but also failed to prove it had obtained rights to much of the land covered by its request: many farmers in the northern Caba๑as region, where the company wanted to dig, had refused to sell their land.
Every year on 15 September, thousands of Salvadorans celebrate the date when much of Central America gained independence from Spain. Fireworks are set off and marching bands parade through villages across the country. But, last year, in the town of San Isidro, in Caba๑as, the festivities had a markedly different tone. Hundreds had gathered to protest against the mine. Gold mines often use cyanide to separate gold from ore, and widespread concern over already severe water contamination in El Salvador has helped fuel a powerful movement determined to keep the country's minerals in the ground. In the central square, colourful banners were strung up, calling on OceanaGold to drop its case against the country and leave the area. Many were adorned with the slogan, "No a la mineria, Si a la vida" (No to mining, Yes to life).
On the same day, in Washington DC, Parada gathered his notes and shuffled into a suite of nondescript meeting rooms in the World Bank's J building, across the street from its main headquarters on Pennsylvania Avenue. This is the International Centre for the Settlement of Investment Disputes (ICSID): the primary institution for handling the cases that companies file against sovereign states. (The ICSID is not the sole venue for such cases; there are similar forums in London, Paris, Hong Kong and the Hague, among others.) The date of the hearing was not a coincidence, Parada said. The case has been framed in El Salvador as a test of the country's sovereignty in the 21st century, and he suggested that it should be heard on Independence Day. "The ultimate question in this case," he said, "is whether a foreign investor can force a government to change its laws to please the investor as opposed to the investor complying with the laws they find in the country."
Most international investment treaties and free-trade deals grant foreign investors the right to activate this system, known as investor-state dispute settlement (ISDS), if they want to challenge government decisions affecting their investments. In Europe, this system has become a sticking point in negotiations over the controversial Transatlantic Trade and Investment Partnership (TTIP) deal proposed between the European Union and the US, which would massively extend its scope and power and make it harder to challenge in the future. Both France and Germany have said that they want access to investor-state dispute settlement removed from the TTIP treaty currently under discussion.
Investors have used this system not only to sue for compensation for alleged expropriation of land and factories, but also over a huge range of government measures, including environmental and social regulations, which they say infringe on their rights. Multinationals have sued to recover money they have already invested, but also for alleged lost profits and "expected future profits". The number of suits filed against countries at the ICSID is now around 500 – and that figure is growing at an average rate of one case a week. The sums awarded in damages are so vast that investment funds have taken notice: corporations' claims against states are now seen as assets that can be invested in or used as leverage to secure multimillion-dollar loans. Increasingly, companies are using the threat of a lawsuit at the ICSID to exert pressure on governments not to challenge investors' actions.
"I had absolutely no idea this was coming," Parada said. Sitting in a glass-walled meeting room in his offices, at the law firm Foley Hoag, he paused, searching for the right word to describe what has happened in his field. "Rogue," he decided, finally. "I think the investor-state arbitration system was created with good intentions, but in practice it has gone completely rogue."
* * *
The quiet village of Moorburg in Germany lies just across the river from Hamburg. Past the 16th-century church and meadows rich with wildflowers, two huge chimneys spew a steady stream of thick, grey smoke into the sky. This is Kraftwerk Moorburg, a new coal-fired power plant – the village's controversial next-door neighbour. In 2009, it was the subject of a €1.4bn investor-state case filed by Vattenfall, the Swedish energy giant, against the Federal Republic of Germany. It is a prime example of how this powerful international legal system, built to protect foreign investors in developing countries, is now being used to challenge the actions of European governments as well.
Since the 1980s, German investors have sued dozens of countries, including Ghana, Ukraine and the Philippines, at the World Bank's Centre in Washington DC. But with the Vattenfall case, Germany found itself in the dock for the first time. The irony was not lost on those who considered Germany to be the grandfather of investor-state arbitration: it was a group of German businessmen, in the late 1950s, who first conceived of a way to protect their overseas investments as a wave of developing countries gained independence from European colonial powers. Led by Deutsche Bank chairman Hermann Abs, they called their proposal an "international magna carta" for private investors.
In the 1960s, the idea was taken up by the World Bank, which said that such a system could help the world's poorer countries attract foreign capital. "I am convinced," the World Bank president George Woods said at the time, "that those … who adopt as their national policy a welcome [environment] for international investment – and that means, to mince no words about it, giving foreign investors a fair opportunity to make attractive profits – will achieve their development objectives more rapidly than those who do not."
At the World Bank's 1964 annual meeting in Tokyo, it approved a resolution to set up a mechanism for handling investor-state cases. The first line of the ICSID Convention's preamble sets out its goal as "international cooperation for economic development". There was sharp opposition to this system from its inception, with a bloc of developing countries warning that it would undermine their sovereignty. A group of 21 countries – almost every Latin American country, plus Iraq and the Philippines – voted against the proposal in Tokyo. But the World Bank moved ahead regardless. Andreas Lowenfeld, an American legal academic who was involved in some of these early discussions, later remarked: "I believe this was the first time that a major resolution of the World Bank had been pressed forward with so much opposition."
Global development remains the ICSID's stated goal. "The idea," said the institution's current secretary-general, Meg Kinnear, "is if an investor feels that there is a fair, impartial mechanism should they ever get to a dispute, then they will have that much more confidence and it will help to promote investment … and when you invest in a country you obviously bring jobs, revenue, technology and the like."
But now governments are discovering, too late, the true price of that confidence. The Kraftwerk Moorburg plant was controversial long before the case was filed. For years, local residents and environmental groups objected to its construction, amid growing concern over climate change and the impact the project would have on the Elbe river. In 2008, Vattenfall was granted a water permit for its Moorburg project, but, in response to local pressure, local authorities imposed strict environmental conditions to limit the utility's water usage and its impact on fish.
Vattenfall sued Hamburg in the local courts. But, as a foreign investor, it was also able to file a case at the ICSID. These environmental measures, it said, were so strict that they constituted a violation of its rights as guaranteed by the Energy Charter Treaty, a multilateral investment agreement signed by more than 50 countries, including Sweden and Germany. It claimed that the environmental conditions placed on its permit were so severe that they made the plant uneconomical and constituted acts of indirect expropriation.
"It was a total surprise for us," the local Green party leader Jens Kerstan laughed, in a meeting at his sunny office in Hamburg last year. "As far as I knew, there were some [treaties] to protect German companies in the [developing] world or in dictatorships, but that a European company can sue Germany, that was totally a surprise to me."
Vattenfall v Germany ended in a settlement in 2011, after the company won its case in the local court and received a new water permit for its Moorburg plant – which significantly lowered the environmental standards that had originally been imposed, according to legal experts, allowing the plant to use more water from the river and weakening measures to protect fish. The European Commission has now stepped in, taking Germany to the EU Court of Justice, saying its authorisation of the Moorburg coal plant violated EU environmental law by not doing more to reduce the risk to protected fish species, including salmon, which pass near the plant while migrating from the North Sea.
A year after the Moorburg case closed, Vattenfall filed another claim against Germany, this time over the federal government's decision to phase out nuclear power. This second suit – for which very little information is available in the public domain, despite reports that the company is seeking €4.7bn from German taxpayers – is still ongoing. Roughly one third of all concluded cases filed at the ICSID are recorded as ending in "settlements", which – as the Moorburg dispute shows – can be very profitable for investors, though their terms are rarely fully disclosed.
There are now thousands of international investment agreements and free-trade acts, signed by states, which give foreign companies access to the investor-state dispute system, if they decide to challenge government decisions. Disputes are typically heard by panels of three arbitrators; one selected by each side, and the third agreed upon by both parties. Rulings are made by majority vote, and decisions are final and binding. There is no appeals process – only an annulment option that can be used on very limited grounds. If states do not pay up after the decision, their assets are subject to seizure in almost every country in the world (the company can apply to local courts for an enforcement order). While a tribunal cannot force a country to change its laws, or give a company a permit, the risk of massive damages may in some cases be enough to persuade a government to reconsider its actions. The possibility of arbitration proceedings can be used to encourage states to enter into meaningful settlement negotiations.
In Guatemala, internal government documents obtained through the country's Freedom of Information Act show how the risk of one of these cases weighed heavily on one state's decision not to challenge a controversial gold mine, despite protests from its citizens and a recommendation from the Inter-American Commission on Human Rights that it be closed down. Such an action, the documents warned, could provoke the company, owned by Canadian mining giant Goldcorp, to activate the ICSID or invoke clauses of the Central American Free Trade Agreement (Cafta) to gain "access to international arbitration and subsequent claims of damages to the state". The mine, which had been closed temporarily by the government in 2010, was allowed to reopen.
As the claims made by companies get bigger, it seems increasingly likely that the massive financial risks associated with investor-state arbitration will effectively grant foreign investors a veto over government decisions.
* * *
When companies are unsuccessful in their claims against states, there may be other advantages to be gained. In 2004, South Africa's new, post-apartheid Mineral and Petroleum Resources Development Act (MPRDA) came into force. Along with a new mining charter, the act sought to redress historical inequalities in the mining sector, in part by requiring companies to partner with citizens who had suffered under the apartheid regime. The new system terminated all previously held mining rights, and required companies to reapply for licences to continue their operations. It also instituted a mandatory 26% ownership stake in the country's mining companies for black South Africans. Two years later, a group of Italian investors, who together control most of the South African granite industry, filed a landmark investor-state claim against South Africa. The country's new mining regime, they argued, had unlawfully expropriated their investments and treated them unfairly. They demanded $350m in compensation.
The case was filed by members of the Foresti and Conti families, prominent Tuscan industrialists, and a Luxembourg-based holding company, Finstone. They cited two bilateral investment treaties, both signed in the late 1990s, during Nelson Mandela's presidency. Jason Brickhill, a lawyer at the Johannesburg-based Legal Resources Centre, said the new, post-apartheid government seemed to view these agreements "more as acts of diplomatic goodwill than serious legal commitments with potentially far-reaching economic consequences".
During that time, officials would be invited to meetings in Europe, he said, "and there would be all sorts of discussion about [South Africa's] economic and trade direction, and part of that was an expectation that they would conclude an investment treaty – but they had no real understanding of what they were committing to in law". Peter Draper, a former official in the South African Department of Trade and Industry, put it more starkly: "We were essentially giving away the store without asking any critical questions, or protecting crucial policy space."
The companies' case against South Africa dragged on for four years, before ending abruptly when the Italian group dropped its claims and the tribunal ordered them to contribute €400,000 (ฃ290,000) towards South Africa's costs. At the time, a government press release celebrated it as "successful conclusion" – despite the fact that South Africa was still left with €5m in unreimbursed legal fees. But the investors claimed a more significant victory: the pressure of the case, they said, allowed them to strike an unprecedented deal with the South African government that allowed their companies to transfer only 5% of their ownership to black South Africans – rather than the 26% mandated by the state mining authority. "No other mining company in South Africa has been treated so generously since the advent of the [new mining regime]," one of the investors' lawyers, Peter Leon, boasted at the time.
The government seems to have agreed to this deal, which goes against the spirit of post-apartheid reparations in South Africa, to prevent a flood of other claims against it. "If the merits of the case were decided against the government, they thought, 'That's it, we are going to go down.' And I think that's why they were happy to agree to that settlement," Jonathan Veeran, another of the company's lawyers said, in an interview at his office in Johannesburg. His clients, he said, "were most pleased with the result".
* * *
A small number of countries are now attempting to extricate themselves from the bonds of the investor-state dispute system. One of these is Bolivia, where thousands of people took to the streets of the country's third-largest city, Cochabamba, in 2000, to protest against a dramatic hike in water rates by a private company owned by Bechtel, the US civil engineering firm. During the demonstrations, the Bolivian government stepped in and terminated the company's concession. The company then filed a $50m suit against Bolivia at the ICSID. In 2006, following a campaign calling for the case to be thrown out, the company agreed to accept a token payment of less than $1.
After this expensive case, Bolivia cancelled the international agreements it had signed with other states giving their investors access to these tribunals. But getting out of this system is not easily done. Most of these international agreements have sunset clauses, under which their provisions remain in force for a further 10 or even 20 years, even if the treaties themselves are cancelled.
In 2010, Bolivia's president, Evo Morales, nationalised the country's largest energy provider, Empresa El้ctrica Guaracachi. The UK power investor Rurelec, which indirectly held a 50.001% stake in the company, took Bolivia to the permanent court of arbitration in the Hague demanding $100m in compensation. Last year, Bolivia was ordered to pay Rurelec $35m; after months of further negotiations, the two sides settled on a payment of just over $31m in May 2014. Rurelec, which declined to comment for this article, celebrated the receipt of this award with a series of press releases on its website. "My only sadness is that it has taken so long to reach a settlement," said the fund's CEO in a statement. "All we wanted was a friendly negotiation and a handshake from President Morales."
Even states that first objected to the introduction of the investor-state dispute system at the 1964 World Bank meeting have since signed dozens of agreements expanding its reach. With the rapid growth in these treaties – today there are more than 3,000 in force – a specialist industry has developed in advising companies how best to exploit treaties that give investors access to the dispute resolution system, and how to structure their businesses to benefit from the different protections on offer. It is a lucrative sector: legal fees alone average $8m per case, but they have exceeded $30m in some disputes; arbitrators' fees at start at $3,000 per day, plus expenses. While there is no equivalent of legal aid for states trying to defend themselves against these suits, corporations have access to a growing group of third-party financiers who are willing to fund their cases against states, usually in exchange for a cut of any eventual award.
Increasingly, these suits are becoming valuable even before claims are settled. After Rurelec filed suit against Bolivia, it took its case to the market and secured a multimillion-dollar corporate loan, using its dispute with Bolivia as collateral, so that it could expand its business. Over the last 10 years, and particularly since the global financial crisis, a growing number of specialised investment funds have moved to raise money through these cases, treating companies' multimillion-dollar claims against states as a new "asset class".
One of the largest of these funds to specialise in backing corporations' suits against governments, Burford Capital, is based just a few blocks from East Croydon train station, on the fifth floor of a nondescript brown brick building. Companies rarely disclose when their cases are being financed by one of these third-party investors, but in the Rurelec suit against Bolivia, Burford issued a triumphant press release celebrating its "groundbreaking" involvement. Typically, funders like this will agree to back companies' claims against states in exchange for a cut of any eventual award. In this case Burford gave Rurelec a $15m loan, using the claim against Bolivia as security.
"Rurelec did not need capital to pay its lawyers. Rather, it needed capital to continue to grow its business," Burford said in a statement. "This is a good demonstration that the benefits of litigation finance go far beyond that of simply helping to pay legal fees," the CEO added, "and in many cases can provide an effective alternative method of financing to help companies achieve their strategic goals." It was highly rewarding for Burford as well: it announced a net profit of $11m from the dispute.
A spokesman for Burford explained further: "Burford did not fund Rurelec's arbitration claim, which had been under way for two years before our involvement with the company. Rather, we provided a corporate debt facility to enable Rurelec to expand its South American operations, but we looked to the arbitration claim (a contingent asset) to assist in the repayment of the loan."
From the beginning, part of the justification for the international investor-state dispute system has been to create a "neutral forum" for conflicts to be resolved, with investors giving up the right to seek diplomatic support from their home countries when they file cases like this. But documents obtained in response to a Freedom of Information request reveal that Rurelec was also able to rely on the British government, which actively intervened to support its case.
The 44-page disclosure includes dozens of emails and internal briefing notes from May 2010 to June 2014, several of which explicitly reference British lobbying on behalf of the company. One email, to the UK ambassador to Bolivia, Ross Denny, whose sender has been redacted, includes the line "Lobby on Rurelec, yes." Another, from Denny, said: "Our regular high-level lobbying on behalf of Rurelec has helped to demonstrate the seriousness with which we take protection of our companies' interests." Yet another said simply: "Rurelec needs our help."
It seems the British embassy was aware that the arbitration system is supposed to be impartial. One email, which appears to be about how to respond to an enquiry from a member of the public, said: "All things being equal, our line would be that HMG does not get involved in legal proceeding as brought under the investment treaties we have signed." The message, whose sender and receivers are both redacted, continues: "If FCO [the Foreign and Commonwealth Office] has had an ongoing dialogue with the company on this topic, it would probably be more appropriate for you to respond with some general lines from us on the benefits of investment treaties."
* * *
El Salvador has already spent more than $12m defending itself against Pacific Rim, but even if it succeeds in beating the company's $284m claim, it may never recover these costs. For years Salvadoran protest groups have been calling on the World Bank to initiate an open and public review of ICSID. To date, no such study has been carried out. In recent years, a number of ideas have been mooted to reform the international investor-state dispute system – to adopt a "loser pays" approach to costs, for example, or to increase transparency. The solution may lie in creating an appeals system, so that controversial judgments can be revisited.
Last year, David Morales, El Salvador's human rights ombudsman (a state post created as part of the peace process after the country's civil war, fought between 1979 and 1992) took out a full-page ad in the national newspaper La Prensa Grแfica calling on the government to review all of the international investment treaties it has signed, with a view to renegotiating or cancelling them. Luis Parada, representing El Salvador in its dispute with Pacific Rim, agrees that this would be a wise move: "I personally don't think countries get as much from these treaties than the risks that they incur in international arbitration."
Other countries have already decided to cut their losses, and tried to get out of these trade treaties. Shortly after settling the lawsuit with foreign mining companies over its new post-apartheid mining rules, South Africa began to terminate many of its own investment agreements.
"What was concerning for us was that you could have an international arbitration – three individuals, making a decision – on what was in effect a legislative programme in South Africa that had been arrived at democratically, and that somehow this arbitration panel could potentially call this into question," said Xavier Carim, a former deputy director-general in South Africa's Department of Trade and Industry. "It was very, very clear that these treaties are open to such wide interpretations by panels, or by investors looking to challenge any government measure, with the possibility of a significant payout at the end of the day," said Carim, who is now South Africa's representative to the World Trade Organisation in Geneva. "The simple fact is that these treaties give you very little benefit and they just pose risk."
Before moving to terminate its agreements, the South African government commissioned an internal study to help determine whether such treaties actually did help boost foreign investment. "There was no pattern between signing treaties and getting investment," Carim explained. "We've had huge investments from the US and Japan and India and a number of other countries where we don't have investment treaties. Companies don't come and invest in a country or not because it does or doesn't have a bilateral investment treaty. They invest if there is a return to be made."
Brazil has never signed up to this system – it has not entered into a single treaty with these investor-state dispute provisions – and yet it has had no trouble attracting foreign investment.
Parada said it would take "a broad consensus of determined states" in order to truly rein in this system. "The states that created the system are the only ones that can fix it," he said. "I have not seen a critical mass of states with the political will [to do this] … much less a broad consensus. But I still hope it happens."
• Claire Provost and Matt Kennard are Bertha fellows at the Centre for Investigative Journalism. This article was reported with support from The Investigative Fund at The Nation Institute. Matt Kennard's book The Racket is published by Zed Books
Copyright Third World Network – www.twnnews.net All Rights Reserved
To unsubscribe, please CLICK HERE!
.
———————————————————————–
.
Wisely spent, foreign aid saves lives
.
—————————————————————–
.
 World Oceans Day 2015 – Blue Ocean Film Festival
Oceans – Trailer #2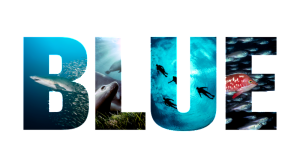 https://www.youtube.com/watch?v=uXLbQrK6cXw
.
——————————————————————-
.
(Science & You) For our French Speaking Colleagues, please share — Les inscriptions en ligne seront ouvertes jusqu'au 26 mai / Online registration to be open until May 26th

Newsletter #12 – Mai / May 2015
http://www.science-and-you.com/
Media
Zoom
News
En partenariat avec Elsevier et CEA Tech, deux ateliers à destination des doctorants sont organisés au Centre Prouvé, pendant Science & You. Ils traiteront de l'optimisation de la qualité et de la visibilité de la recherche (Elsevier) et de la commercialisation de l'innovation (CEA Tech). En savoir +
Stephane Berghmans, Vice Président d'Elsevier, a répondu à nos questions sur les enjeux futurs de la culture scientifique et technique au niveau européen, et sur le rôle que joue Science & You dans un tel débat. En savoir +
.
————————————————————————————–
.

http://apwld.org/i-could-have-been-mary-jane-veloso-erwiana/
I could have been Mary Jane Veloso—Erwiana
BY APWLDADMIN · MAY 11, 2015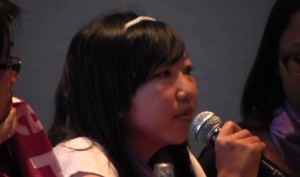 Mary Jane Veloso was spared from death at the last minute. She still faces execution.
Mary Jane is a migrant domestic worker just like me. Like me, Mary Jane was forced to become a migrant domestic worker because of poverty, because of a commitment to support her family, because she had no other choice. Like me she suffered abuse. Like me she almost died.
When working as a domestic worker in Dubai Mary Jane was attacked and hospitalized. After a month in hospital and a rape trial of the perpetrator she went home. But she couldn't earn money at home to support her children and had no choice but to sell her few possessions and become indebted to an informal agent who professed to be her friend and migrate again. She was told she would be given work in Malaysia, like so many Indonesian domestic workers.  But the work didn't eventuate. She was given new clothes and a new suitcase and told to go to Indonesia until other work would be sorted for her.
Like me, Mary Jane was in no position to question the agents that made her migration possible. Like me she was in debt. Like me she trusted people that promised to help. Like me she couldn't speak the local language. Like me she needed to navigate a legal system that wasn't in her language and that she didn't understand.
But unlike me Mary Jane was a defendant. And unlike me Mary Jane had no support.
Mary Jane was charged with drug trafficking. But in fact it was Mary Jane who was trafficked. Like hundreds of thousands of women around the world Mary Jane was controlled and made to travel as human cargo for the profit of others.
Indonesia's own National Commission on Violence against Women, Komnas Perempuan has said that Mary Jane should have been dealt with as a victim of trafficking, not a criminal. Wrongly charged she then had to sit through a trial that she didn't understand. She was appointed a lawyer that she saw only during the trial. She was given an interpreter, a student who was studying English. But Mary Jane didn't speak English, she spoke Tagalog. When asked whether she regretted what had happened she said 'No' thinking they were asking if she had committed a crime.
Mary Jane is just like me. She is just like the 3 million Indonesian women who have migrated for work. We migrate because we have to. We don't have power and money and we are put into the most vulnerable positions, physically, legally and economically. There are 278 Indonesians on death row around the world. Many of them are just like Mary Jane and me. Desperate people in desperate circumstances.
Our President said he is here to govern for us, for the least powerful. He said he no longer wants to force Indonesian women to migrate into vulnerability. But if he really wants to support us he should give Mary Jane a fair trial because she is just like us. If he eventually executes her he will be harming us all. We will no longer be able to call for justice for Indonesian migrant workers. Today I want to ask our President – will you kill a woman just like me? Or will you prove to us that you are listening to the people and give her a fair trial.
Saving Mary Jane could help save the 278 Indonesians on death row. But it can do even more. Her case should force our government to rethink the justice systems that fail migrant workers. The Philippines government intervened so late it was almost fatal. Our government must provide full legal assistance to migrant workers and prosecute the real traffickers, some of whom work as migration agents. We know that could save lives and reunite families.
But our government needs to do more. Our government should commit to real action to stop people like me and Mary Jane from having to migrate in the first place. If our government ensured Decent Work at home, stopped land-grabbing and guaranteed Development Justice we would not need to migrate, we would not face exploitation, become victims of trafficking and we would not risk death sentences – from legal systems or at the hands of employers.
With the support of people's movements I have obtained justice. My employer, who attacked and tortured me is behind bars, not me.
Mary Jane is just like me. Except I live. I am free. And I will not rest until Mary Jane and all women are free.
Signed,
Erwiana Sulistyaningsih
.
.
————————————————————————————
.
.
ACT 2015 Unveils Legal Suggestions for Paris Agreement
May 12, 2015

Dear Colleague,

The 2015 climate agreement represents a critical opportunity to send an unambiguous signal that the transition to a low-carbon climate resilient future is underway and will be accelerated.

The Agreement on Climate Transformation 2015 (ACT 2015) has just released comprehensive legal suggestions for climate negotiators to secure a successful outcome in Paris. Getting Specific on the 2015 Climate Change Agreement: Suggestions for the Legal Text with an Explanatory Memorandum offers a set of ideas for what the international agreement could look like in legal terms and therefore serves as a reference tool for decision-makers on the road to Paris.  The document is a result of hundreds of in-depth consultations with representatives from governments, NGOs, business, labor and other stakeholders over the last two years.

Download the paper, Getting Specific on the 2015 Climate Change Agreement: Suggestions for the Legal Text with an Explanatory Memorandum,and read my blog on the four key ingredients to securing an ambitious and fair agreement in Paris.

The suggested legal text recognizes the intimate connections between mitigation, adaptation and support. It reinforces the links among the three issues, and moves away from an approach centered only on mitigation. In order to provide clear signals to government, the private sector, and the public that a transition to a low-carbon climate resilient economy is going to accelerate, the suggested legal text calls for three overarching frames:

A long-term goal to reach net zero GHG emissions as early as possible in the second half of this century, noting different timeframes for developed and developing countries
A long-term goal to reduce the vulnerability and build the resilience of communities facing climate impacts that would guide both national and international efforts
Five-year cycles for strengthening countries' actions to reduce emissions, adapt to climate change and support low-carbon and climate-resilient development in a manner that is fair to all countries. These three actions should be equal in their importance and universal to all countries but with differing approaches depending on each country's circumstances.  Transparency and accountability provisions would be strengthened for each.

The ACT 2015 consortium is the broadest effort to date to engage countries, stakeholders and governments toward reaching a 2015 global agreement at theUnited Nations Framework Convention on Climate Change (UNFCCC) in Paris this December. The consortium is made up of a group of leading research institutions and universities from around the world that have come together to catalyze discussion and build momentum ahead of Paris. WRI serves as the secretariat of the consortium.

Learn more about ACT 2015 and access the publication Getting Specific on the 2015 Climate Change Agreement.

Warm regards,

Jennifer Morgan
Global Director, Climate Program
World Resources Institute

---
10 G Street NE Suite 800
Washington, DC 20002, USA
.
——————————————————–
.
IFP Newsletter Nº 7 – May 2015
IFP International Forum of National NGO Platforms Newslletter. Nº 7 – May 2015. Visit our website http://www.ifp-fip.org/
Email not displaying correctly?    View it in your browse
.
——————————————————————–
.
UN Women COP Newsletter April 2015 – English – Versión en español más abajo – Version française ci-dessous
————————————————————————————-
.
South Bulletin: Substantive Negotiations to Begin in June for New Climate Agreement
View this email in your browser
.——————————————————
.

 2015 SADC REEP EE
I will also be available for any further queries you may have.  Please contact me on any of the details provided in my signature below.
Looking forward to working with you on the Enviro Eds course.
Best Wishes
Students in this free online course explore the people, places, and practices that link restoring nature with revitalizing neighbourhoods. Civic ecology practices – such as community gardening, restoring streams, planting trees, and removing invasive species to restore native habitat — are a means for communities to rebuild and express resilience in places impacted by war, natural disaster, poverty, crime, and environmental degradation. Civic ecology is the study of the individual, community, and environmental outcomes of these practices, and their roles in governance and ecosystems. Participants in this interdisciplinary course learn about contemporary thinking in social-ecological systems, resilience, and nature and human and community well-being. They also contribute to a local civic ecology practice through the course service learning project.
For more information read the attached: Reclaiming _Broken_ Places_ Civic_ Ecology _MOOC document.
For more information regarding the conference please read the attached document.
For any information regarding EEASA please contact the Honorary Secretary Ms Mumsie Gumede on email address:mumzo.g@gmail.com Cc Admin Secretary on email address: eeasa@eeasa.co.za
You can also get more information on EEASA Conferences from the EEASA Conferences Portfolio Manager Mr Caleb Mandikonza on email address: calebmandikonza@gmail.com
International Conference on Innovation
 Energy Efficiency (University of Pretoria),
 Business and Biodiversity (University of Pretoria) and
Global Change and Sustainability Research (University of Witwatersrand)
Together with the South African Government's Department of Environmental Affairs.
———————————————————–
.
Europe… The Switch: a newsletter on sustainability
http://www.eeb.org/index.cfm/contacts/global-policies-and-sustainability-team/
EDITORIAL: Finance for SUSTAINABLE Development
EJOLT: conference report
SUPPLY CHA!NGE: invitation to join our workshop 
The European Environment. State and Outlook 2015
An Advocacy Toolkit
SCP Indicators for the future SDGs Discussion Paper
Civil Society in Transition
Forced depopulation in Brazil?
PROMISING PRACTICE: Community Land Trust for Organic Agriculture
EDITORIAL: Finance for SUSTAINABLE Development
Leida Rijnhout
In July 2015 the 3rd Finance for Development (FfD) Summit will take place in Addis Ababa. This will be an important Summit for all the Sustainability and Environment organisations, because governments will discuss in which way to support the SDG/Post2015 agenda. Now that the "development" agenda is ready to change into a sustainable development agenda, the approach for the MoI will also be different this time. This will be a huge challenge for the traditional "Aid" agenda. At a preparatory meeting in New York last month, many voices made it clear that this Summit will not have a charity agenda, and that the idea behind "development aid" has to change. There is a lot of talk about a paradigm shift, which is good news indeed.
If you consider that the material and financial flows are still going from the Global South to the Global North, and that the latter are a factor 100 bigger than ODA, it will be clear that development aid will never be effective enough. A fundamental transition of our economy, where Northern lifestyles will not depend anymore on overexploitation of resources and humans in the Global South is therefore needed. This is rather a political and thus policy issue, much more than a solely financial issue. Non-financial Means of Implementation are maybe more important than the financial ones, although the latter is in many cases still necessary. In the draft paper of the FfD Summit a lot of emphasis is made on the non-financial means of implementation. In the communication of the EC the Commission does this as well, although concrete proposals are lacking. The EEB position paper, as reaction on the EC communication is here.
SUPPLY CHA!NGE: invitation to join our workshop
The 
EEB
 is one of the partners in the new 3 year long EU project "Supply Cha!nge – Make supermarkets fair". Within this project we offer campaigners engaged in ethical consumption or fair trade two half day trainings on how to make 
the supply chain of EU supermarkets fair. Workshop 1 will focus on content, goals and skills.
Why have food chains become unsustainable?
How did we get there? What is the role of supermarkets?
Which alternatives are capable at addressing the issues at stake?
What are the policy and legal pathways. What can/should authorities do?
Campaign skills: how to do advocacy on these issues?
In Workshop 2 (autumn) we'll look more into collaboration on specific campaigns. We are looking for campaigners or communicators based in Belgium who are curious to learn about the Supply Cha!nge project and who might be willing to cooperate with us in the years to come. Both half day courses are in 
English, 
given by the fair trade 
expert Christophe Alliot
 from 
BASIC
 at the EEB offices in 
Brussels
. The first half day training will take place on 
April 28 – from 9:00 to 13:00
, followed by lunch (offered by us). The training is for 10 to maximum 15 people. Participation is free. 
Register through 
this link
REPORT: The European Environment State and Outlook 2015
The European Environment Agency has released its 'State of the Environment' report which calls for a recalibration of policies to make the EU's transition to a green economy successful.
Commenting on the report, Jeremy Wates, our Secretary General, said: "This should be President Juncker's wake up call. The report provides compelling reasons for him to add environmental protection to his political priorities and demonstrate that he has not embarked on an ideological crusade to cut environmental regulation. A failure to seize this opportunity will cost Europe dearly."
The report sheds light on progress made by EU Member States in conserving Europe's most valuable nature, the Natura 2000 network, which is together with the waste regulation another policy currently threatened by the Commission's drive to cut environmental regulation. It shows that, despite good progress, ecosystems where there is competition between conservation and other uses are continuing to suffer.  Examples include wetlands and grasslands which are being ploughed up to produce energy crops in response to a failed EU biofuels policy.
According to us, these preliminary findings show how important it is to conclude the ongoing reform of the EU's biofuels policy and to embark on a root and branch reform of Europe's Common Agricultural Policy.
The report should trigger a complete rethink of President Juncker's political priorities, which virtually ignore the environment apart from climate change, and should make the full and effective implementation of the EU's 7th Environmental Action Programme a priority under a revised Europe 2020 Strategy.
The report is available here: http://www.eea.europa.eu/soer
An Advocacy Toolkit
The 
"ENV.net advocacy toolkit 2015– how to influence environmental policy through effective advocacy"
, was prepared by the EEB and 
ENV.net
: a network of six no-profit organisations based in the EU, the Western Balkans and Turkey. The toolkit is designed for civil society organisations and people interested in contributing to the protection of the environment. It provides best practice methodology for creating an advocacy strategy. This booklet is divided into two sections. One is "Methodology for effective advocacy, with step-by-step guidance" and another one "Advocacy tools, a glossary and model examples of position papers". What is advocacy and what are different steps for strategic advocacy planning  – these are issues which you will find in this new publication. The booklet ends with a few practical examples how position papers look like.
SCP Indicators for the future SDGs Discussion Paper
Achieving sustainable consumption and production (SCP) is an integral component of the SDGs. SCP is reflected as a crosscutting enabler (in the form of both targets and means of implementation) as well as in a stand-alone goal 12 on "ensuring sustainable consumption and production patterns". The question is now: how to measure progress in this area? UNEP DTIE, the secretariat for the 10 Year Framework of Programmes on SCP, published a document on possible indicators on SCP. The Executive Summary is available in 
English
, 
French
, and 
Spanish
.
Civil Society in Transition
To this day not many civil society organisations (CSOs) are promoting the much-needed transition to a new economic system based on the principles of ecological limits, solidarity, human wellbeing and intergenerational justice. Neither are many organisations embracing the  complexity of systemic change in their strategies, campaigns and projects.
This document offers some seeds of a new civil society to a broader audience with the aim to inspire others to become ambassador of systemic change. It explains the context for why these new stories have become necessary (broken stories) and how the Smart CSOs Lab is providing a space for activists and change agents to jointly learn how to make change in the way civil society thinks, acts and operates to work effectively towards systemic change. For civil society to become a decisive actor towards a transition to a new economic system, many more activists and change agents are needed for this journey. Furthermore, the game has to be raised to grow and spread the seeds of new civil society presented in this document.
Forced depopulation in Brazil?
Something special is happening in metropolis of Sao Paulo, Brazil's biggest city with over 11 million inhabitants. Rationing has started and there are talks about forced depopulation in the very near future. There's just not enough water. There are plenty of reasons for that: from leaking pipes as part of overall bad management to overpopulation and … climate change. South-Eastern Brazil is seeing the driest period in a century and predictions are that it's only the start of a megadrought.
Most alarmingly, this acute battle for the survival of a city and region is not mentioned at all in a recent Wall Street report on investor risks. A recent report cites worries about inflation, government cutbacks and low consumer confidence but not a word on the drought. This brought Amy Larkin to write this excellent article in The Guardian: Why Brazil's megadrought is a Wall Street failure.
Brazil keeps cutting rainforest to make space for biofuels. It keeps going into ever deeper ocean to drill for oil and it doesn't exactly have a progressive climate change policy. How long will it take before they open their eyes to science and reality? The science says that 80% of all fossil fuels should stay in the ground – starting with the ones that take too much energy to drill. The reality says that the climate catastrophe is just starting to hit home. What better time do Brazilians need to use this crisis and turn it into an opportunity to make a paradigm shift to a truly ecological economy?
PROMISING PRACTICE: Community Land Trust for Organic Agriculture
All human life depends on it. It's an issue of bigger importance than growing antibiotic resistance, the obesity crisis, terrorism or war and still almost nobody talks about it. It's about the soil we're using to grow food. In 
Ploughing on Regardless
, George Monbiot recently put the finger in the wound: if we maintain our current way of farming, the world has around 60 harvests left before the soil turns dead.
The good news is that equally outside the view of the mainstream media, farmers and communities are paving the way for an alternative model. According to Naomi Klein's website "Beautiful Solutions" The first US based community land trust was established in 1969 in Georgia to secure land for black farmers. A community land trust is a form of collective land ownership that prioritizes community uses of the land, promoting for example sustainable agriculture. The trust owns and stewards the land in perpetuity and leases the land to farmers who must comply with terms set by the community land trust, which sells shares to the general public. It's good for the community – who get access to healthy soils – and good for the farmers: they don't need to buy land.
One example is De Landgenoten: a community land trust with the specific aim to preserve as much biological farmland as possible, in perpetuity. For 250 euro, any individual can become shareholder. The dividend you get is the guarantee that a certain amount of well preserved soil is tilled in a respectful manner by an organic farmer. De Landgenoten works with Community Supported Agriculture farmers, who till organically and sell directly to community members that buy a share of the harvest. In Belgium, CSA farming started 9 years ago with 50 people on 1 farm but today there are 25 such farms with 1000s of customers. To make it even easier for new farmers to start and to make this trend sustainable, De Landgenoten allow people to become not just shareholders of the harvest, but also shareholders of the soil – to make sure than when a farmer stops or dies, the land is not 'lost' again to an unsustainable farmer. The goal is not to sell your share with a profit, but to preserve it for the next generation – so they can also profit from food made from a healthy soil. This could become a rarity if we don't manage to change our food system on a fundamental level.
Copyright © 2014 EEB, All rights reserved.
The views expressed here are those of the authors and not necessarily those of the EEB
.
————————————–
SouthNews: Joseph Stiglitz on IPRs, medicines, and India's policies
View this email in your browser
—————————
DESA News April 2015: Population changes, Financing for development, Public administration
.
———————————-
.

APC hails peasants' victory in their struggle: Panama, people, to get back their lands
February 15, 2015
PRESS RELEASE
APC hails peasants' victory in their struggle
Panama people, to get back their lands
The Asian Peasant Coalition (APC) hails the victory of the farmers & fishers belonging to the Organization for the Protection of Paanam Paththuwa (OPPP) in winning their lands back through unified peoples' struggle.
"On February 11, the Cabinet of Ministers decided to release the lands, taken under the control of Sri Lanka Army and the Sri Lanka Air Force as High Security Zones of Palay in the Northern Province and the lands under the control of the Air Force in the Panama area in the Eastern Province, to its original owners. This is a positive move by the new government and a great victory for the struggles of the people in Walikamam and Panama and for other civil society players in Sri Lanka," stated Chintaka Rajapakshe, moderator of the Movement for National Land and Agricultural Reform (MONLAR), saying that P. Somasiri, the convener of OPPP, called their office to thank everyone who supported their struggle to win back their lands. 
"It can be recalled that MONLAR and APC conducted an International Fact Finding Mission (IFFM) in Defense of Land and Livelihood in Panama, South-east Sri Lanka, from 24th February to 01st March, 2013. The IFFM team of twenty two (22) local and international participants from Pakistan, India, Nepal, Philippines, Bangladesh, Indonesia and Sri Lanka, found out that the World Bank and the Sri Lankan government, under President Mahinda Rajapakshe, were behind the Arugam Bay Special Tourism Promotion Zone project that displaced 350 families from the villages of Ulpassa, Egodayaya, Horewkanda, Ragamwela and Shastrawela. The IFFM team demanded for the implementation of the order of the Local Magistrate's Court to allow the people of Panama to cultivate their land once again," remarked Zenaida Soriano, APC Southeast Asia Coordinator and national chairperson of AMIHAN (National Federation of Peasant Women), who joined the IFFM team.
"The Cabinet decision is a great victory!  Our struggle was supported by so many people, groups, and organizations, both here and abroad, and we are very grateful to all of them who helped us and strengthened our fight to get back our lands. It is a collective effort. Amid threats and harassments we all had the courage and commitment in the struggle. Truly, it is a peoples' struggle," P. Somasiri said, adding that, "It is not over yet. We know that there has been a Cabinet decision, the relevant authorities are yet to convey us an official message of what, when, how the proceedings are going to be on the ground in implementing the decision. So, we are here, vigilant!" ended P. Somasiri.
"We call on the new Sri Lankan government for the speedy implementation of the aforesaid decision in accordance with the peoples' demands and in compliance with the court rulings in this regard, with the full participation of the communities affected," Chinthaka added.  
"We demand for the implementation of genuine agrarian and aquatic reform in Sri Lanka so that all landless farmers and fishers would have access and control over their land, water and its resources for them to have decent livelihood and dignified life," ended Soriano.
MONLAR and OPPP are members of the Asian Peasant Coalition (APC). #
For reference:
Chintaka Rajapakshe, MONLAR (Sri Lanka)
Phone number: +94112886747
P. Somasiri, OPPP (Sri Lanka)
Mobile number: +94770761313
Zenaida Soriano, APC (Philippines)
Mobile number: +639214571904
APC Secretariat
2nd Floor, 217-B Alley 1, Road 7
Project 6, Quezon City, Philippines 1100
Phone: +632-3793083
E-mail: apcsecretariat@asianpeasant.org
Skype: apc.secretariat
Web: www.asianpeasant.org
————————————————————-
WSSCC News – February 2015
WEEC 
Reclaiming_Broken_Places_Civic_Ecology_MOOC
 Balancing the dimensions in the SDGs FINAL (1)
EEASA 2015 first call abridged version
ASIA-PACIFIC NETWORK FOR GLOBAL CHANGE RESEARCH, Sunday, 15 February 2015
Dear H. H., Oord   Worldview MissionThanks for your interest in the APN. We hope you find this new issue of APN Update useful to you.
Should you have any comment or feedback regarding this newsletter, or if you would like to share your announcement with us, please contact info@apn-gcr.org.
Best regards, The APN Secretariat team
What's New
Call for Poster Presentation Abstracts in Global Change Research
On the occasion of its 20th Inter-Governmental Meeting (IGM) and Scientific Planning Group (SPG) Meeting to be hosted by the Ministry of Science, Technology and Environment, Government of Nepal at the Soaltee Crowne Plaza Kathmandu, Tahachal, Kathmandu from 25 to 27 March, 2015, the Asia-Pacific Network for Global Change Research (APN) will convene an interactive session on "Youth Engagement in the APN" as part of our 20th Anniversary celebration. http://www.apn-gcr.org/?p=8397
Global Climate Change: Reducing Risk and Increasing Resilience — South Asia Science-Policy Dialogue Held in Bhutan
19-21 January 2015, Thimpu, Bhutan — In collaboration with partner institutions, The APN successfully held a science-policy dialogue: "Global Environmental Change: Reducing Risk and Increasing Resilience" from 19-21 January 2015 in Thimpu, Bhutan. http://www.apn-gcr.org/?p=8365
Third International Workshop on Future Earth in Asia held at Kyoto, Japan
21–22 January 2015 — Hosted by the Research Institute for Humanity and Nature (RIHN), the third International Workshop on Future Earth in Asia was held in Kyoto, Japan, and joined in by 50 participants representing the global change community. http://www.apn-gcr.org/?p=8373
Global Change Announcements
Joint Conference: AsiaFlux Workshop 2015 and ISPRS TC WG WIII/3 Meeting
A joint conference comprising the AsiaFlux Workshop 2015 and the meeting of the International Society for Photogrammetry and Remote Sensing (ISPRS) TC WG VIII/3: Weather, Atmosphere and Climate Studies, titled "Challenges and Significance of Ecosystem Research in Asia to Better Understand Climate Change" will be held on 22–29 November 2015 at the Indian Institute of Tropical Meteorology (IITM), Pune, India. http://www.apn-gcr.org/?p=8403
Apply before 28 February 2015: WCRP Summer School on Climate Model Development: Atmospheric Moist Processes
The World Climate Researcg Programme WCRP, Max-Plank-Institute fur Meteorologie MPI-M and Hans Ertel Centre for Weather Research announce the 1st Summer School on Climate Model Development hosted by the MPI-M, Hamburg, Germany. http://www.apn-gcr.org/?p=8386
Call for Abstracts, Special Sessions and Workshops: 9th Symposium of the International Society for Digital Earth (ISDE)
Scientists, engineers, technologists, environmental managers and other stakeholders in Digital Earth are invited to participate in the Digital Earth 2015 Symposium. http://www.apn-gcr.org/?p=8353
New Publications
Holistic Assessment of Land-use Change and Impacts on Ecosystem Services of Wetlands (ARCP2012-05CMY-Zhen) http://www.apn-gcr.org/resources/items/show/1596
Promoting Algaculture in Trapped Waters as Sustainable Aquafarming and Adaptive Climate Mitigation in Inundated Coastal Areas (CBA2013-14NSY-Maity) http://www.apn-gcr.org/resources/items/show/1909
Impacts of Global Change on the Dynamics of Snow, Glaciers and Runoff over the Himalayan Mountains and Their Consequences for Highland and Downstream Regions (ARCP2009-04CMY) http://www.apn-gcr.org/resources/items/show/1555
GEOSS/Asian Water Cycle Initiative/Water Cycle Integrator (GEOSS/AWCI/WCI) (ARCP2013-11CMY-Yabe) http://www.apn-gcr.org/resources/items/show/1755
To keep updated on our latest publications, you may subscribe to the project output RSS feed: http://www.apn-gcr.org/resources/items?output=atom&sort_field=modified&sort_dir=d
Upcoming Events
[UNISDR] 3rd World Conference on Disaster Risk Reduction When: Sat Mar 14, 2015 to Wed Mar 18, 2015  Where: Sendai, Miyagi, Japan Event Description: Website: http://www.wcdrr.org/
[IGM] APN 20th Inter-Governmental Meeting/Scientific Planning Group Meeting When: Mon Mar 23, 2015 to Fri Mar 27, 2015  Where: Kathmandu 44600, Nepal
[3RI2015] The 2nd 3R International Scientific Conference When: Thu May 21, 2015 to Sat May 23, 2015  Where: Daejeon, KOREA Event Description: http://www.3ri2015.org/
[OCF] Our Common Future Under Climate Change – International Scientific Conference When: Tue Jul 7, 2015 to Fri Jul 10, 2015  Where: UNESCO, 7 Fontenoy Square, 75007 Paris, France
We welcome your comments and suggestions! Please send them to info@apn-gcr.orgYou receive this email because you are subscribed to the our mailing list, or have involved in past APN activities. To update your personal details or preferences, please visit this link. To stop receiving emails from APN Updates, please visit Unsubscribe .
The "Global Change Announcement" and "Upcoming Events" sections feature global change activities not limited to those funded/organised by the APN. While we strive to ensure the information provided is accurate and up-to-date, dissmination of such information does not imply any endorsement by the APN or its donors.
—————————————————————————-
More Than Half of Africa's Arable Land 'Too Damaged' for Food Production
http://www.ipsnews.net/newsletters/sent/ipsnews-gn-1501151237.html
———————————————————————————————————-
Nieuwsbrie​f Stichting Pamoja Kenia
——————————-