.
——————————————————————————
.
Call for Proposals – 2016 CILC Best Practices Symposium
2016 CILC Best Practices Symposium: Connecting Student Learning to Student Life
Friday, April 15, 2016
Hosted by Harry S Truman College, Chicago, IL
CALL FOR PROPOSALS
In an era of significant Higher Education reform and scrutiny, Learning Community (LC) programs are adapting in highly innovative, cost-effective, and pedagogically-robust ways. The Spring 2016 LC Best Practices Symposium, entitled "Connecting Student Learning to Student Life," aims to highlight this diversity at two- and four-year colleges/universities by calling for proposals that explore how LC programs are variously connecting integrated curriculum to significant issues and student programming beyond the walls of the classroom.
How are LC administrators and faculty reworking LC programs and courses to sync with the co-requisite movement in developmental education or co-curricular efforts on a given campus;
How are LCs expanding undergraduate research opportunities or building on service-learning/project-based learning efforts;
How are LCs promoting enrollment and assessing student learning and experience?
Sessions should contain some interactive elements between session presenters and audience members and should be no longer than 45 minutes.
Presentation proposal categories include, but are not limited to:
LC research and scholarship
Faculty development
Integrated curriculum design
Program recruitment & assessment
To submit a proposal, please complete the attached form below; proposals are due by February 12, 2015.
For more information, contact:
James Allen, Executive Director
Phone: 630-942-3421 / E-Mail: allenj@cod.edu
2016 Symposium Presentation Proposal Form
.
—————————————————————————
.
UNCTAD Proposal for Post-2015 Development Agenda Review
This document might be of interest to you and your constituency as well.
Best regards, 
  Chantal Line
  by Chantal line Carpentier/NY/UNO on 08/07/2015 01:52 PM —–
From:        Jiaming Miao/NY/UNO
To:        Jiaming Miao/NY/UNO@UNHQ
Date:        08/07/2015 11:51 AM
Subject:        UNCTAD Proposal for Post-2015 Development Agenda Review
UNCTAD is proposing a framework that will help countries to deliver the post-2015 development agenda.  To support the ongoing preparation for the Third International Conference on Financing for Development in Addis and the United Nations Summit to adopt the post-2015 development agenda in September in New York, UNCTAD published a policy brief that highlights the objectives, guiding principles and an organizational framework for Sustainable Development Policy Review for the post-2015 development agenda within the UN System (attached). 
This preliminary proposal is based on UNCTAD's experience with both national policy reviews (in the areas of trade policy, services, trade and gender, technology and innovation, debt management, etc.) and peer reviews (investment policy, competition policy).  Also, it builds on UNCTAD's direct involvement in the monitoring exercise of the Millennium Development Goals (MDGs), as well as in the assessment by the MDGs Gap Task Force.
This brief is the fourth in UNCTAD's Post-2015 Policy Briefs series. It identifies five basic guiding principles for the review process:
- Be  a cooperative framework among Member States and the UN system, being conducted in a manner that is objective, transparent, non-selective, constructive, non-confrontational and non-politicized; 
- Be a voluntary performance review by peers, based on mutual accountability; 
- Be transparent and participatory, and involve all relevant stakeholders, including NGOs; 
- Respect the principle of subsidiarity and not replace, undermine or overload existing specialized and mandatory review mechanisms; and
- Be realistic and not cause proliferation of new UN bodies, nor absorb a "disproportionate" amount of time or human and financial resources. 
It further offers suggestions on an organizational framework for the process with a country led national level, peer reviewing at regional level, and thematic and global partnership at the global level.
In addition, UNCTAD argues that the review process should aim to review four sub-components: progress made in the achievement of the SDGs; the means of implementation (MOI) available to a particular country; the challenges faced by Member States; and the functioning of partnerships in sustaining the national efforts. 
Further details are spelled out as follows: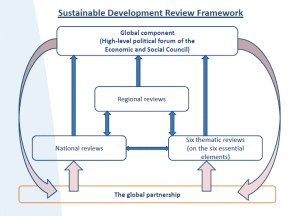 .
.
——————————————————————–
.
.
Date: 6 December 2014 at 19:04 Subject: [ClimateSummit] action/2015 Call for Proposals To: "climatesummit@googlegroups.com" <climatesummit@googlegroups.com>
Mensaje en español abajo          Message en français ci-dessous
Dear colleagues,
Action/2015 is pleased to make available grants in the amounts of US$5,000-US$15,000 to provide financial support to organizations and networks that aim to build momentum for the campaign during the campaign launch on January 15 and other crucial actions activities to get the campaign started in early 2015.
The funds will be given to organizations/networks/coalitions based in the Global South. The bidding organization must be a registered member of the action/2015 campaign, or an active national coalition. The network or coalition can be informal, but a member organization needs to function as the legal holder of the project. The preference will be given to those with limited resources, who build alliances and collaboration among organizations, networks and coalitions across sectors and constituencies, and with proven ability to deliver strong in-person, media and/or digital campaigns.  Relevant due diligence will be undertaken on all applicant organizations. In order to ensure the impact of our program funds, other factors that shall be considered include: regional balance, size, diversity and density of population of the organization/network's constituencies including gender balance; whether the organizations/networks plans activities in partnerships with local/national organizations; overall organization/network management support, etc.
The grants will be given to eligible and qualified organizations and networks demonstrating a strong commitment, clear action plan and budget, as well as a strong monitoring plan to assess the impact and reach of the activities. See attached application form for more details and visit the action/2015 website at www.action2015.org for more information about action/2015.
To apply for action/2015 campaign launch funds, please complete the attached application form and submit it to action2015proposals@gmail.com  by 14 December 2014, 24:00 (GMT).
The grant selection committee will review the grant applications and notify the selected applicants by 22 December 2014. Funds will be released in 2 tranches (75% upon signing of the contract and 25% upon submission of the grant report) for project implementation between 22 December 2014 – 31 March 2015.
If you have any questions or comments regarding this grant process, please contact the grant selection committee at action2015proposals@gmail.com.
Best regards,
Marie  L'Hostis
Global Hub Coordinator, on behalf of the Funding Action Team and action/2015 team. 
ESPAÑOL
Estimados colegas,
Acción/2015 tiene el agrado de hacer de su conocimiento que dará subvenciones de US$5,000 a US$15,000 para brindar apoyo financiero a las organizaciones y redes que quieran participar en el lanzamiento de la campaña acción/2015 el próximo 15 de enero y en las sucesivas actividades que permitan dar un gran impulso a la campaña a principios de 2015.
Los fondos se entregarán a organizaciones, coaliciones y redes de los países del Sur. Las organizaciones que presenten propuestas tendrán que ser miembros registrados de la campaña acción/2015 o de una coalición nacional activa. La red o la coalición puede ser informal, pero un miembro de la organización tendrá que tomar el papel de responsable jurídico del proyecto. Se dará preferencia a las organizaciones con recursos limitados, que construyan alianzas y promuevan la colaboración entre organizaciones, redes y coaliciones de diversos sectores y circunscripciones, y que tengan una capacidad comprobada para realizar campañas en persona, en los medios y/o de forma digital. Todas las solicitudes serán evaluadas diligentemente. Para asegurar el impacto de los fondos del programa, se tendrán en cuenta también factores como: el equilibro regional, el tamaño, la diversidad y la densidad de la población de la circunscripción de la organización/red, incluido el equilibrio de género; si la organización/red planea organizar actividades en conjunción con organizaciones locales/nacionales; apoyo general a la gestión, etc.
Las subvenciones serán entregadas a organizaciones elegibles y calificadas y redes que demuestren un compromiso firme, un plan de acción claro y un presupuesto detallado para sus actividades, así como un plan de monitoreo sólido que permita evaluar el alcance y el impacto de las actividades. Ver el formulario de solicitud adjunto para más detalles y visite la página web www.action2015.org para más información acerca de acción/2015.
Para solicitar las subvenciones del lanzamiento de la campaña acción/2015, por favor, rellene y envíe el formulario de solicitud a action2015proposals@gmail.com antes del 14 de diciembre 2014, 24:00 (GMT).
El comité de selección de subvención revisará las solicitudes de subvención y notificará a los solicitantes seleccionados antes del 22 de diciembre de 2014. Las subvenciones serán entregadas en 2 tramos (75% después de firmar el contrato y 25% tras presentación del informe de subvención). La ejecución de los proyectos se realizará del 22 de diciembre 2014 al 31 marzo de 2015.
Si tiene preguntas o comentarios acerca de este proceso de subvenciones, por favor pónganse en contacto con el comité de selección de donaciones en action2015proposals@gmail.com.
Saludos cordiales
Marie  L'Hostis
Coordinadora del Global Hub, a nombre del Equipo de Fondos y del equipo de acción/2015 
français
Chers collègues,
Action/2015 a le plaisir de vous faire savoir que Des subventions de 5,000 USD à 15,000 USD seront mises à disponibilité pour fournir un soutien financier au niveau national et local aux organisations et réseaux participant au lancement de la campagne d'action/2015,  le 15 janvier et pour les activités suivant le lancement de janvier jusqu'à la fin du mois de mars.
Les fonds seront donnés aux organisations/réseaux/coalitions basées dans les pays du Sud. Les organisations qui soumettent des propositions doivent être des membres inscrits de la campagne d'action/2015, ou une coalition nationale active. Le réseau ou la coalition qui postule peut être informel, mais une organisation membre doit fonctionner comme le détenteur légal du projet. La préférence sera donnée aux organisations avec des ressources limitées, qui construisent des alliances et poursuivent une collaboration entre les organisations, réseaux et coalitions à travers les secteurs et les circonscriptions, et avec une capacité prouvée de livrer des campagnes fortes en personnes, à travers les médias et/ou par le biais numérique. Toutes les propositions seront évaluées avec diligence. Afin d'assurer l'impact des fonds sur le programme, d'autres facteurs seront considérés,  tels que : l'équilibre régional, la taille, la diversité et la densité de la population des circonscriptions de l'organisation/réseau, y compris la mixité entre les sexes ; si les organisations/réseaux prévoient des activités en partenariat avec des organisations locales/nationales ; organisation générale/support à la gestion du réseau, etc.
Les subventions seront remises aux organisations et réseaux admissibles et qualifiés qui démontrent un ferme engagement, un plan d'action clair et un budget pour les activités, ainsi qu'un plan de suivi pour évaluer l'impact et la portée des activités.Voir le formulaire de demande ci-dessous pour plus d'informations et veuillez visiter le site Internet de la campagne à www.action2015.org pour plus d'informations sur action/2015.
Pour demander des subventions de lancement de la campagne d'action/2015, s'il vous plaît veuillez remplir le formulaire ci-joint et le soumettre à action2015proposals@gmail.com au plus tard le 14 décembre 2014 à 24:00 (GMT).
Le comité de sélection des subventions passera en revue les demandes de subvention et avisera les candidats sélectionnés le 22 décembre 2014. Les fonds seront débloqués en deux tranches (75% à la signature du contrat et 25% sur présentation du rapport de subvention) pour une mise en ouvre des activités du 22 décembre 2014 au 31 mars 2015.
Si vous avez des questions ou des commentaires, s'il vous plaît, veuillez contacter le comité de sélection à action2015proposals@gmail.com.
Cordialement,
Marie  L'Hostis
Coordinatrice du Global Hub, au nom de l'Equipe de Financement et de l'équipe d'action/2015 
To post to this group, send email to climatesummit@googlegroups.com. Visit this group at http://groups.google.com/group/climatesummit. For more options, visit https://groups.google.com/d/optout.  –
Ibrahim Ceesay Executive Coordinator- African Youth Initiative on Climate Change (AYICC) Email: ceesaydigital@gmail.com Website: www.ayicc.net Head of Programmes- African Youth Panel (AYP) Chair: African Youth Alliance on Post2015 Email: ibrahim.ceesay@africanyouthpanel.org Website: www.africanyouthpanel.org
4 Kanifing Industrial Estate, Julbrew Road P.O BOX 2545 Serre Kunda KMC-The Gambia  Tel: +220 9932685 or 7675977 Skype:ceesaydelight

——————————————-