.
.
———————————————————–
.
new online Mountain EBA Programme page on UNDP-ALM platform and 2 new Photo Essays
Dear colleagues,
I am very pleased to bring to your attention a couple of new exciting developments within our global Ecosystems-Based Adaptation in Mountains Programme.
The first update concerns our new Mountain EbA Programme page on the UNDP-ALM (Adaptation Learning Mechanism) platform. We are very pleased to provide a new central place online, where you can access the information and learning that we are generating from our ecosystem-based adaptation efforts in Uganda, Nepal and Peru. You can access our new Programme page here:
I am also very pleased to share with you two new Photo Essays from the global Mountain EBA Programme. These essays provide a snapshot of some of the EBA measures supported by our country pilot in Nepal, in response to the combined challenges of a changing climate and other human-induced drivers of vulnerability. 
The first essay - Challenging gender roles and crossing castes - highlights how broom grass cultivation not only helps generate adaptation benefits, but also provides an opportunity to enhance the livelihoods of participants from the Panchase Women's Network. An additional co-benefit has been that the programme-supported efforts have been integral in creating a stronger social bond between these women across traditional caste barriers.
This Essay can be accessed here:
The second Essay - Restoring the flow of life in a changing climate - focuses on the multiple environmental, economic and social benefits generated from restoring traditional water sources in the face of a changing climate and human-induced threats to both the larger Panchase ecosystem and its local communities, whose livelihoods and wellbeing depend on the continued provision of ecosystem services.
You can access this Essay here:
These two Essays are the first two out of a series of four Photo Essays being developed on the Nepal country pilot. We will upload these new Essays onto our new UNDP-ALM Mountain EBA Programme page on the Nepal Country page.
I would also like to bring to your attention that you can now access all our Peru Photo Essays via the following new weblink to the UNDP-ALM Mountain EBA Peru Country page here:
Feel free to share these new Photo Essays with your networks.
With best wishes,
Tine
BMUB-UNDP-UNEP-IUCN Global Ecosystems-Based Adaptation in Mountain Ecosystems Program
Working from Vancouver, Canada
.
————————————————————————–
.
REMINDER – Conference Town Hall Meeting – 6 November 2014

.
WRI & UNDP release guidance document for countries to prepare climate commitments (INDCs)
Dear Colleague,
The World Resources Institute (WRI) and the United Nations Development Programme (UNDP) have just released "Designing and Preparing Intended Nationally Determined Contributions (INDCs)."
The new publication serves as a guide for countries to prepare and design climate commitments, also known as Intended Nationally Determined Contributions (INDCs). The guide walks practitioners through the choices in preparing and designing their INDCs in five general steps:
1. Identifying the benefits of an INDC
2. Organizing the national process to prepare a contribution
3. Identifying data and analysis to inform the INDC
4. Choosing options for designing the INDC
5. Communicating the INDC
The guide's section on adaptation outlines options if countries choose to include an adaptation component in their INDC.
Download the guidance document here: http://www.wri.org/publication/designing-and-preparing-indcs
As the impacts of climate change mount, the urgency for collective action has never been greater.  Over the coming months, countries have the opportunity to put the world on a sustainable path by putting forth strong INDC commitments and demonstrating their support for an ambitious global climate agreement at COP21.
We hope that country representatives will find "Designing and Preparing Intended Nationally Determined Contributions" helpful as they make important decisions about what to include in their commitments.
All the best,
Kelly Levin
Senior Associate  |  Climate Program
World Resources Institute
10 G Street, NE, Suite 800
Washington, DC 20002 USA
WRI.org
klevin@wri.org  |  +1 202-729-7910 | Skype: kellylevin
WRI is a global research organization that turns big ideas into action at the nexus of environment, economic opportunity and human well-being.
Brazil | China | Europe | India | Indonesia | United States
.
————————————————————————————–
.
http://outreach.un.org/ngorelations/files/2014/11/Save-The-Date-Speakers.pdf
Dear NGO Colleagues,
Please be reminded that this Thursday, 6 November 2014, NGO Relations will have a Conference Town Hall meeting where we will show our appreciation to our volunteers, discuss the implementation of the Conference Outcome Document and will have a look ahead to next year's conference.  We invite your participate and RSVP at the below link.
Yours Sincerely, NGO Relations and Advocacy Department of Public Information United Nations Headquarters in New York http://outreach.un.org/ngorelations
–
Jeffery Huffines NGO Major Group Organizing Partner CIVICUS UN Representative (NY) Cell:
+1 646-707-1060
Email: 
jeffery.huffines@civicus.org
Skype: jefferyvhuffines
CIVICUS: World Alliance for Citizen Participation
PO BOX 933, Southdale 2135, JHB, South Africa
www.civicus.org
Follow threats and take action to protect civil society – join Civil Society Watch at 
www.cswatch.org
———————————————————————————————————-
8th World Environmen​tal Education Congress (WEEC) — "Call for Abstracts" Deadline November 15th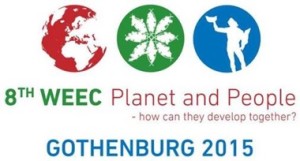 8th International
World Environmental Education Congress
Gothenburg, Sweden, June 29-July 2, 2015
Call for Abstract Submissions
About the WEEC 2015 Congress
The 8th World Environmental Education Congress (WEEC22015) is an international congress addressing education for environment and sustainable development. The congress is directed towards everyone working on environmental and sustainability education in different contexts. The congress will take place in Gothenburg, Sweden between the 29th of June and 2nd of July 2015. The Centre for Environment and Sustainability will be hosting the conference together with the WEEC Permanent Secretariat. We are expecting participants from a wide range of countries. 
WEEC2015 is an opportunity to learn more about the latest in environmental and sustainability education, to discuss with people from all over the world, to share your own work and to learn from others.
Invitation for Abstract Submissions
The congress will discuss 11 themes, of which you can read more on the website: http://weec2015.org/congress-themes/
Abstracts written in English, Spanish or French, should be no longer than 3000 characters. The authors of the selected abstracts are invited to present their work through one of the following presentation formats:
·         Oral
·         Poster
·         Workshop
·         Roundtable
For further instructions, please consult the WEEC 2015 website http://weec2015.org/
The abstract submission will be open between September 15 and November 15, 2014. The abstract will be reviewed by the National Scientific Committee and the International Scientific Committee. The authors will get information of the acceptance status of their abstract(s) on February 15, 2015.
Accepted abstracts will be published in the Congress Abstract Book or/and made available on the website. To submit an abstract, please go to the congress website.
We look forward to seeing you in Gothenburg at WEEC 2015!
Sincerely,
Professor Ingrid Pramling Samuelsson National Program Chair, WEEC 2015
Professor Arjen Wals  International Program Chair, WEEC 2015
Should there be any questions, please do not hesitate to contact us:
Centre for Environment and Sustainability (for content):
Rebecka Hallén, rebecka.hallen@gu.se 
Conference Secretariat (for practicalities):
MCI Scandinavia, info@weec2015.org, +46(0)8-54651500
———————————————————————————————————–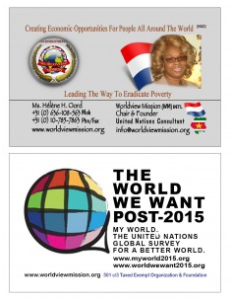 Worldview Mission, Headquarter, "Kindom of the Netherlands"
Contact Ms. Hélène H. Oord
Address: Beemsterhoek 14,  2905 XA, Capelle A/D IJssel,
Rotterdam T: +31(0)636108563
(Netherlands-EU) , Registered: RSIN, ANBI 851082403 B01
CHAMBER OF COMMERCE  K.v.K. 53.94.11.36
SEPA: Bank Account nr.:  NL08 ABNA 0506 0822 02
https://www.geef.nl/externalMod.php?gd=5052&taal=nl_NL
Mapping:  http://worldviewmission.geef.nl/kaart
http://www.un.org/millenniumgoals/
http://www.youtube.com/channel/UCG73AhrHfyq9KkqQtmSEsnw
http://www.youtube.com/channel/UCYGi5G1WSObsWLzx_kbp6Pg
*Worldview Mission  is Standing Up ,* Taking Action* , **Making Noise for the United Nations MDGL's !!!**