.
Update Africa Renewal – Catching up with Divine Ntiokam — Creating Public Engagement
Dear Friends and Colleagues,

We have an update from UN SD Education Caucus member, Divine Ntiokam [Cameroon] on his work on creating public engagement regarding  UN SD [MDGs and SDGs] in his home country.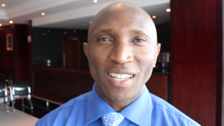 Ntiokam,Divine
Global Youth Digital Advocate
Post-2015 and MY World 2015
Tel:
+23773359810
Skype ID:ntiokam.divine
http://blog.myworld2015.org
http://csayouthnetwork.wordpress.com/
Pam Puntenney and Bremley Lyngdoh
UN SD Education Caucus Co-Chairs
__________________
Dr. P. J. Puntenney
Environmental & Human Systems Management
1989 West Liberty
 Ann Arbor, MI  48103  USA
Cell: +1-(734) 352•7429
Landline: +1-(734) 994•3612
.
—————————————————————-
.
Upcoming highlights at the Global Landscapes Forum
Dear 2015 GLF participants,
Here is some of what awaits you on Day 1 of the 2015 Global Landscapes Forum.
1.       Freiburg Scientific Theater will perform "Soil, society and soul", for a creative, dramatic start to the Forum – after collecting your badge, head up to the mezzanine level at 11:30 on Saturday.
2.       Baroness Ariane de Rothschild, Danone CEO Emmanuel Faber, Peter Holmgren and Ngozi-Okonjo Iweala will kick off the high-level talks, discussing global goals and local investments.
3.       Visit the Launchpad for brand-new research findings and commitments to sustainable landscapes by 6 Ministers from Asia-Pacific and Latin America (Africa will join in on Day 2).
4.       The cool, climate-friendly beats of Eco-Hip-Hop – that's just one of the flavours at the Pecha Kucha Style Night on Saturday, starting at 19.30.
Visit www.landscapes.org/glf-2015 for more highlights, the venue map and the latest agenda.
We look forward to seeing you soon!
GLF Committee
.
—————————————————————————
.
Save the Dates! Curriculum For The Bioregions, An Initiative of the Washington Centre

Curriculum for the Bioregion, an Initiative of the Washington Center
Save the Dates for these Upcoming Events in 2015-16
Teaching with Cases to Foster Critical Thinking about Diversity and Sustainability
Saturday, November 14 at University of Puget Sound
Teaching cases offer a promising way to engage complex, real-world issues and stimulate students' thinking and perspective-taking.  They also offer important springboards to research, writing, public speaking, and problem solving.  In this workshop, we will work through a set of cases that address issues of environmental quality, sustainability, diversity and justice, and community health and wellbeing.  We will also share ways to facilitate case-analysis and small-group discussion.  
Leaders: 
Barbara Leigh Smith and Jean MacGregor, The Evergreen State College.  
More information here.
Inquiring into an Ethic of Place                           Saturday, January 30, 2015 – Site TBA
How are our students considering and connecting to "place" in our classes?  Is an "ethic of place" necessary to teaching about sustainability?  Does affinity with one's bioregion or "home place" foster awareness of and ethical response to the environmental and social issues facing humanity in the 21st century?  This workshop will explore these questions, and provide an opportunity for us to share what we're doing—or considering doing—with our students.  Leaders: Jane Compson, University of Washington Tacoma, Mike Gillespie, Emeritus U. of Nebraska, and Kevin O'Brien, Pacific Lutheran University.  Registration will open in November.
Washington Center's Annual Curriculum Planning Retreat
Thursday and Friday, April 28-29, 2016 at Dumas Bay Centre in Federal Way
In 1986, the Washington Center for Undergraduate Education began holding two-day curriculum planning retreats for faculty developing integrative learning experiences in the context of learning communities and Freshman Experience programs.  Since then, campus teams have come to the retreats to plan integrative curriculum for a variety of contexts, including living-learning communities, I-Best programs, and redesigned educational pathways.  Leadership for the retreat has shifted to the Washington Learning Communities Consortium, in partnership with Washington Center.  In 2016, we want to also welcome faculty teams working on the integration of sustainability-across-the-curriculum.  The two-day retreat will provide workshops, support from resource faculty, and team planning-time in an attractive retreat setting.  Registration will open in January, 2016.
These events are appropriate for faculty teaching at any level in any discipline.
.
—————————————–
.

Updates on Netherlands / 02 Sep 2015
Syria   Syria: Conflict Without Borders – Number and Locations of Refugees and IDPs (27 Aug 2015)
http://reliefweb.int/country/nld
Netherlands Source: US Department of State – Humanitarian Information Unit
In recent weeks, the upsurge of Syrians seeking asylum in European countries has overwhelmed existing capacity. According to UNHCR, as of July 2015 almost 350,000 Syrians have applied for asylum in Europe since the conflict in Syria began, nearly half applying in Germany and Sweden and one third in… Read more
.
——————————————————————————-
.
Update 012-2015
Dear CPG4SD,
A lot of activities will be happening this month.
This coming May 18-22, 2015 – Mr. Pedro Perez Guzman of PCFS will be representing us in the May Post-2015 Intergovernmental Negotiation Session as one of the speakers for Multi-stakeholder Interactive Dialogue.  Special thanks also Mr. Sharad Joshi of CECOEDECON for being one of the members of the Steering Committee for this month.  And for everyone, thank you again for your continued support and undivided effort.
Draft program for the upcoming Nego Session can now be downloaded in this link:
https://sustainabledevelopment.un.org/content/documents/7109maypost2015agenda.pdf
On May 26-27, a Post-2015 UN General Assembly hearings will be held in NYC wherein Mr. Alejandro Barrios is serving as one of the Steering Committee members.
For the June Intergovernmental Negotiation Session, no date is yet announced for nominations.  But please do send in your nominations to the Secretariat so we can start processing your nominations, both for the SC and Speaker.  Needed data for each of the nomination will be stated at the end of the email.
I would like to encourage everyone to please send me your nominations for June and July.  I am attaching below the matrix we started circulating early this year for the official processes.  I do hope you can send me you nominations.
JUNE
15 – 19
FfD Drafting Session
Georgina Munoz (RENICC)
22 – 25
P2015 Intergovernmental negotiations on outcome document
 Marjorie Pamintuan (APRN)
 Tetet LAuron (CJ)
29
PGA High-level event on climate change
 Tetet LAuron (CJ)
Fabiola Rios (Fundacion Cordillera)JULY13-16FfD Conference in Addis (with preceding NGO Forum)Georgina Munoz (RENICC) Vitalice Meja (RoA-Africa)20-24P2015 Intergovernmental negotiations on the outcome document Ramon Bultron (APMM)27-31P2015 Intergovernmental negotiations on the outcome document  September   15-2870th Session of UNGAJean Carlos Jimenez Fuentes
For more information about the P2015 development agenda, please visit: http://sustainabledevelopment.un.org/post2015.
In service,
April
for the Secretariat
http://peoplesgoals.org/
https://www.facebook.com/ThePeoplesGoals?ref=bookmarks
————————————————————————-
For Steering Committee, below are the needed data for nomination:
Complete Name:
Email address:
Organization:
Website of your organization:
Nationality:
Country of residence:
Gender:
Age:
Proficient in which language/s:
Telephone number:
Skype ID:
Mission Statement of your organization:
Why do you want to be a member of the Selection Committee:
For nominating for Speakers, the following data are needed together with a copy of your CV and links to your video's delivering a speech (please send them to the Secretariat):

Complete Name:
Email address:
Organization:
Website of your organization:
Nationality:
Country of residence:
Gender:
Age:
Proficient in which language/s:
Telephone number:
Skype ID:
.
————————————————————
.

Update 009-2015
Dear CPG4SD,
Nomination for Steering Committee for the UNGA hearigs on poat-2015 agenda to he held on May 26-27 is not open.  Please see beloe the links for nominations:
UN-NGLS invites stakeholders to apply for the Steering Committee here:   http://bit.ly/p2015-hearings-SC-apply
Deadline: Wednesday, 8 April
I am also happy yo announce that Jiten Yumnam of CRAM as well as Yahyah Msangi of TOGO Welfare were both selected to be part of the 18 member steering committee for the April Intergovernmental negotiation.
With regards to the above mentioned nomination, please do send your nominations before the deadline.  If you wish to be nominated by the Secretariat, please do send your CV as well your organizations mission, your previous engagement on the P2015 process, as well as the reason why you wanted to be part of the steering committee.
For more information about the post-2015 development agenda, please visit:  http://sustainabledevelopment.un.org/post2015
Best,
April For the Secretariat
————————————————————————————
.
News Update: Forests & the future; roads risk wildlife; no-deforestation pledges
.
———————————————————————————-
Upcoming events
As the end of the year approaches and SANEC we like to inform you about the upcoming events of November and December. We would like to draw your attention to our new Cape Town Office which opened in April 2014. After a successful Networking event in September, the office is co-hosting the Volvo Ocean Race event in November 2014. Read more below. 
Upcoming Events: October
Is this email not displaying correctly?
View it in your browser.