.
Happy World Water Day
Dear Friends,
Happy World Water Day and remember water is life so use it carefully and protect your springs and catchment areas wherever you live!
Watch this stunning video:
Co-Coordinator Climate Change
Dr. P. J. Puntenney
Environmental & Human Systems Management
1989 West Liberty
 Ann Arbor, MI  48103  USA
Cell:  
1-734-352-7429
 .
Water, the Source of Life – English
https://www.youtube.com/watch?v=m4WBbSv_N7U
.
—————————————————————–
.
The Water Network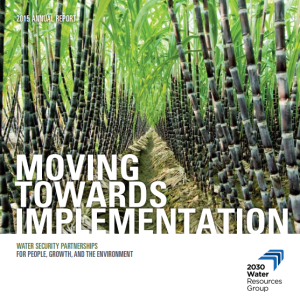 2015 Annual Report: Moving Towards Implementation
In 2015, the ​2030 WRG ​continued to ​work with water-​stressed ​countries, at ​their ​invitation, to ​coordinate a ​response to the ​immense ​challenge of ​water security. ​
We help the ​public sector ​work with the ​private sector ​and civil ​society to find ​solutions to ​the water ​crisis and ​responsibly ​manage this ​precious ​resource for ​the future. ​
Read the Annual Report  to find out ​key highlights ​of our work in ​ten country ​engagements. ​Learn about our ​work in ​Karnataka with ​the government ​and private ​sector to ​invest in ​irrigation ​solutions, or ​find out more ​about ​prioritizing ​water projects ​in Peru and ​incentivizing ​improved water ​usage in South ​Africa. Read ​more about our ​new country ​engagements and ​plans to expand ​to other ​countries. ​
For those members who are involved in water issues, this newsletter may be of interest.
Dear Pamela J.,
25 February 2016

2016 seems to be the year that major water organizations and initiatives are focusing on collaborative implementation. It is encouraging to see impact studies emerging, as reported in the 

2030 Water Resources Annual Report for 2015

.

The Water Network is no exception. Our main impact focus in 2016 is to support existing project teams to make them up to 60% more efficient by providing them a digital workspace.

The broader benefit to all of us is to share learnings from each and to provide broader access to expertise when needed from the over 135,000 water professionals in our network.

Vishakha Rajput
COO, The Water Network

Trending Technology
.
.
—————————————————————————-
.
Protest meet for Mapithel Dam stop & urgent water release at Riha 16 July 15
Dear Friends,
Glad to update a protest meet against Mapithel dam at Riha village, Ukhrul District, Manipur on 16 July 15, organized by Mapithel Dam Affected Villagers Organization, CRAM and CPGSD reaffirmed affected communities call to immediately stop Mapithel dam construction and to commence water release to end inundation of village, agriculture, forest land along Mapithel Valley & Hill range. The blocking of Thoubal River from January 2015 onwards to fill Mapithel dam reservoirs had led to widespread submergence, besides causing acute water shortage in downstream areas. The dam violated India's Forest laws, besides others.  Pls find news reports & protest, outlined and attached.
Best regards,
Jiten Yumnam
Secy, Centre for Research and Advocacy, Manipur
Sega Road, Hodam Leirak Imphal Manipur NE India 795001
Mapithel Dam floods paddy fields
Source: The Sangai Express, 17 July 2015
Imphal, July 16 2015 : Large tracts of paddy fields have been inundated on account of Mapithel Dam (Thoubal Multipurpose Project) . Taking serious note of the adverse impacts of Mapithel Dam on the nearby villages and forest areas, a public meeting was held today at Khuman Chihui, Riha village.
The meeting was attended by villagers of Ramrei, Riha and Thoyee where MDAVO secretary Dominic Kashung, COHR chairperson Phulindro Konsam, Jiten Yumnam of CRA and social worker Wonmi Mungrei were also present.
Dominic Kashung said that villagers of Riha are fearing the worst as many new areas have been flooded in addition to large tracts of paddy fields already inundated. Most of the paddy fields of Riha, Churches and playgrounds would be submerged in the next three weeks. While their paddy fields have been inundated, Riha villagers have been struggling hard searching of alternative livelihoods, Dominic said.
Paddy fields under flood water
He accused the State Government of not giving any prior information about possible flooding in the upstream of the dam because of holding back river water. He decried the silence of MLA Victor Keishing when Chief Minister O Ibobi stated on the floor of the House recently that compensation for 95 per cent of Chadong villagers had been paid. He said that a written complaint would be lodged with the National Green Tribunal on Mapithel Dam.
The State Government using its machinery went ahead with Mapithel Dam construction without carrying out the mandatory assessment, Dominic alleged. Wonmi demanded that Victor Keishing should come up with a clarification regarding loss of paddy fields in Riha village and surrounding areas.
Because of holding back river water by the dam, a number of grazing fields have also been flooded, said Jiten while condemning the Government"s apathy towards the affected people. The way Mapithel Dam was constructed challenged many international laws as well as the Indian Constitution.
He demanded immediate release of water held up by the dam. One villager said that 90 per cent of the paddy fields of Ramrei and 30 per cent of the paddy fields belonging to Riha villagers have been already inundated.
And now more and more areas are being flooded. He also demanded immediate opening of the dam"s gates.
Monsoon brings more hardships to Mapithel Dam affected villages
The Imphal Free Press, The 17 July 2015
IMPHAL, 16 July: The onset of monsoon has only augmented to the dangers of the villages in the vicinity of the Mapithel Dam constructed on Thoubal River. Regular rains in the past few days have drastically increased the water level of the dam thereby increasing the danger of submerging the villages. While, people living upstream fear of being submerged under water, those in the downstream areas complain of losing their livelihoods which depend on the river.
The dam gate was closed down in January this year and since then there has been numerous agitations and resentment from people of both upstream and downstream demanding stopping the dam construction but to no avail.
A public meeting was held today organised by the Mapithel Dam Affected Villages Organisation,Centre of Research Advocacy Manipur, Campaign for Peoples' Goals for Sustainable Development and IPMDL at the point where the expanding water body due to the closing of the dam gate meet the paddy fields of Riha Village.
MDAVO president Dominic said the people of Riha, Khuman Chihui are dependent on the river for their irrigation and the government compensation for affected families are provided only to families whose house would be submerged.
Now their paddy fields have been submerged which amounts to taking away their livelihood, he claimed.
Elaborating on the negative social impact of the dam, he said the disheartened villagers could turn to becoming thieves, drug addiction and even to the extent of becoming prostitutes.  local social worker from Thawai Village M Wonmi said the construction of the dam is even worse than the CrPC 144 and robbed the people of all basic human amenities.
Construction of the Mapithel Dam was approved in 1980 without forest clearance approval under the Forest Conservation Act, 1980 and it was acquired more than 30 years later only in December 2013 owing to much public outcry, however, a case is still pending with the Green Tribunal, Kolkatta, he said. He said on July 6, during a case hearing, the Green Tribunal had initiated the sanctioning of a chief engineer level official to investigate and look into the grievances of both the upstream and downstream inhabitants. He continued that the dams in the State have all failed to serve their purposes like generating power and provide irrigation for the farmers, in fact more villagers are displaced by the dams so far.
CORH chairman Phulendro Konsam said there is a need for a united voice to be raised for the government to hear.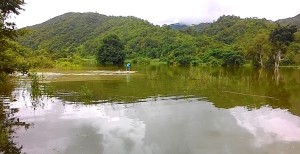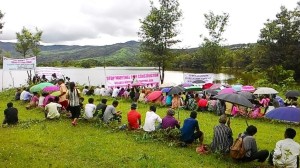 .
.
——————————————————-
.
UN-Water Reports on Stakeholde​r Dialogue on Water-Ener​gy-Food Nexus, Post-2015 Agenda.
Dear All, 

October 2014: UN-Water released a summary report from its fifth annual UN-Water Stakeholder Dialogue, which convened under the theme 'Water, Energy and Food Nexus and the Post-2015 Development Agenda.
' The report describes the dialogue's sessions on UN-Water activities on water and energy, the water, energy and food nexus and the post-2015 agenda, and a high-level panel discussion on the integration of the water, energy and food security nexus in the post-2015 agenda.
The session on UN-Water's activities recognized UN-Water's focus on the water-energy nexus, with particular attention to inequalities related to access to water, sanitation and food and energy services, according to the report. The report also highlights UN-Water's attention to water and energy in a number of its 2014 activities, including the International Zaragoza Conference, the 2014 World Water Day and the 2014 World Water Development Report.
Participants highlighted challenges related to monitoring water targets and indicators, ways to reach water, energy and food security goals and the role of sharing country experiences within regions during the discussion on the water, energy and food security nexus on the post-2015 development agenda. Joakim Harlin, Coordinator of the UN-Water Sustainable Development Goal (SDG) Working Group, described technical advice provided by UN-Water on proposed water targets and UN-Water's future work on the post-2015 agenda, including work on indicators and data collection. Nina Weitz, Stockholm Environment Institute (SEI), recommended addressing overlaps among targets.
High-level panel participants highlighted links between the water and energy sectors, trade-offs and synergies between the sectors, financing and implementation. On financing, speakers recognized the importance of official development assistance (ODA) as well as domestic resource mobilization and private sector financing, and recommended appropriate pricing of water and energy services.
The dialogue also identified examples of how to implement the nexus, such as through public-private partnerships, interdisciplinary platforms, efficient technology and shifts to sustainable consumption and production (SCP) patterns.
The report further discusses UN-Water's contribution to a seminar on 'World Water Day 2014: Water and Sustainable Development' and the UN-Water booth and UN-Water Pavilion at World Water Week, which took place on 31 August-5 September 2014.
The dialogue took place at World Water Week in Stockholm, Sweden, on 3 September 2014. [UN-Water Press Release]
[Publication: UNW-DPC Summary Report]