.
.
http://worldviewmission.nl/?page_id=14822
.
.
Take Action on 18 April for Global Citizen 2015 Earth Day
View this email in your browser
.
.



.
.
———————————————————————————-
.
Post-2015: Documentation now available
TO UN DESA NGO MAJOR GROUP & OTHER STAKEHOLDERS  
Lotta Tahtinen
 <
tahtinen@un.org
>
Date: Fri, Aug 28, 2015
Subject: Post-2015: Documentation now available
To: Lotta Tahtinen <
lhtahtinen@gmail.com
>
Dear Colleagues,
Please be advised that the draft outcome document "Transforming our world: the 2030 agenda for sustainable development" is now available in the six official languages of the UN at:https://sustainabledevelopment.un.org/post2015/transformingourworld
The General Assembly will convene a meeting on 1 September at 10 a.m. in the General Assembly Hall to take action and transmit the draft outcome for consideration at the 25-27 September Summit to adopt the post-2015 development agenda.
Also, please note that six issues briefs which will serve as background for the Interactive Dialogues to be held as part of the September Summit have been posted on our website at: 
https://sustainabledevelopment.un.org/post2015/summit 
Kind regards, Lotta
.
——————————————————————————-
.
Post-2015: Logistical information for Thursday, 30 July
TO UN DESA NGO MAJOR GROUP & OTHER STAKEHOLDERS

Per the attached flier, IUCN is hosting a side event tomorrow at the UN during the lunch hour.

 Lotta Tahtinen <tahtinen@un.org>
Date: Wed, Jul 29, 2015
Subject: Post-2015: Logistical information for Thursday, 30 July
Dear All,
We would like to share some logistical information about tomorrow, Thursday, 30 July. 
The post-2015 co-facilitators will circulate a revised draft outcome document at around noon tomorrow, Thursday. The IGN will resume at 3 p.m. in conference room 1. ECOSOC Chamber will be used as an overflow room. All meetings will also be webcast at http://webtv.un.org/.

Coordination meetings
There will be a coordination meeting for major groups and other stakeholders to confer tomorrow at 1:30 p.m. in room S-2723 (located on the 27th floor of the main Secretariat building).  

Additional meeting rooms
A smaller conference room is also available for your use daily from 8 a.m. to 8 p.m. and can be reserved using the following form: https://docs.google.com/forms/d/1lOyaJSV0_LxKZqyRKha8dUZr9YfcXCEl_G5I-PyNUr4/edit#. Please note that it is not the same room every day – please refer to the schedule that is indicated on the reservation form.
Kind regards,
​NGO Major Group Organizing Partner​
355 Lexington Avenue, New York, New York 10017, USA
.
———————————————————————————-
.
Working Together for Change! Updates on May Mobilizations, Financing for Development, and a historic message from Pope Francis.
Ending Poverty, Inequalities and Climate Change
May/June Update
View this email in your browser
Look Ahead: Mobilizing for Change!
11 July: Global Day of Action: Finance Our Future: Join the action/2015 movement in putting pressure on leaders to ambitiously finance the new sustainable development agenda and climate agreements. A strong financial framework will help us achieve our aspirations for a better world in 2030.
12 August: International Youth Day: As you know, International Youth Day is the global day of action for young people within the action/2015 campaign, where youth around the world will raise their voices for ambitious goals in 2015. We're excited to announce that the International YouthDay page of the action/2015 website is now live! If you already have plans for this day, please ensure that you have input them on the action/2015 International Youth Day Action Tracker. Once you've submitted your action it will be added to the interactive map on the website! For more information on International Youth Day, or to join the Youth Action Team, please email Anna Roguski at annar@restlessdevelopment.org. And make sure you keep updated with all action/2015 youth activity around the globe by following us on Facebook and Twitter!
Copyright © 2015, action/2015, All rights reserved.Photos: 1st line: Climate (UN Photo Library); Africa Day of Action (GCAP Burundi and Burundi Child Rights Coalition).Photos: 2nd line: May Mobilization (GCAP Japan); May Mobilization (World Vision International).Our mailing address is: info@action2015.org

action/2015

1425 K Street NW Suite 350

Washington, DC 20005
.
——————————————————————————–
.
URGENT: Deadlines for nominations for  April Post-2015 steering committee and speaker roles fast approaching!
Dear CPG4SD,
As earlier stated in the email with subject "Update 007-2015″ sent    last week, the deadline for nominations for the 4th Post-2015    Intergovernmental Negotiations is fast approaching.
This to remind    everyone to please process their nominations.  Please below for the    relevant links and information
20-24          April negotiating session for the Post-2015 Development         
Agenda:
          Apply for stakeholder steering committee and speaking roles
The UN DESA Division for Sustainable Development (DESA-DSD)        Major Groups        Programme and UN-NGLS are facilitating stakeholder Steering        Committees        to ensure broad and inclusive participation of stakeholders in        the negotiating        sessions on the post-2015 development agenda at UN Headquarters        in New        York.
DESA-DSD and UN-NGLS are also conducting open and        transparent nomination        processes for these Committees to select speakers for the        post-2015 negotiating        sessions, in accordance with the modalities that are defined for        the negotiations.
Submit Steering Committee applications and speaker nominations  now for   the 20-24 April post-2015 negotiating session.         
This session will focus on Means of Implementation and Global        Partnership        for Sustainable Development.
  Deadline: 25 March,         2015           
Deadline: 29 March, 2015
        For more information about the post-2015 development agenda,       
Best,
April       for the Secretariat
.
————————————————————————————
.
.
.
action/2015 Launches Today to End Poverty, Inequalities and Climate Change!
Ending Poverty, Inequalities and Climate Change
action/2015 Launch on 15.01.15
View this email in your browser
.
——————————————————————————-
.
.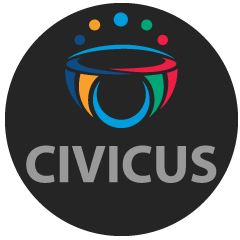 355 Lexington Ave
New York
NY 10017
.
.
UNITED KINGDOM
 Unit 60
Eurolink Business Centre
49 Effra road
SW2 1BZ, London
Tel: +44 (0)20 7733 9696
———————————————————————————
.


Creating A Future – 2015 Most Important Year for UN Negotiations
Dear Friends and Colleagues,
Speaking of protecting our planet, here is a real time HD video stream from the space station traveling towards Africa over the Gulf of Guinea:
Meanwhile, back on earth, 2015 is an exciting year for the UN as the negotiations on the Sustainable Development Goals (SDGs) and on the "Climate Agreement" in the lead-up to COP 21 in Paris will be finalized.  We are in the middle of a major global transition with good work to be done at all levels of government and approaches to community engagement.
A draft briefing of "Stocktaking" will be sent for your input.  We welcome your specific edits, comments, and/or key links to supporting documents/best practices.  Mentioned below under "Preparations SDGs" is a link to a copy of the Sustainable Development Goals from the Open Working Group with targets attached.
Preparations SDGs:
Please add to or suggest changes to the input as the document is one of the most important in terms of an overview of all that has been achieved since 1945, suggesting a way forward between 2015 to 2030.  A reference document providing guidelines that will be central to the work of the UN and the SD Education Caucus.
Framing Your Input:
Many of you have already and continue to contribute insights, materials, and other key documentation.  As you frame your contribution here, you will want to  reformulate what you write using these guidelines:
1.  For UN documents: a very broad, universal policy statement with a brief rationale.
[For example]
Recognize environmental education as the fundamental medium for climate change  adaptation in all sectors as well as the primary vehicle for building social, environmental  and economic capacity building
Rationale
[Why, 1 to two lines, avoid use of expert jargon]
2.  Regarding "Best Practices":  no details that are country or nation specific.  
Links can be added that give specific pieces of information.
[For example]
Enhance sharing of best practice from sector-based and community-based 
adaptation, including adaptive water management techniques, through the 
Nairobi Work Programme and through increasing the role and enhancing capacity
of regional information centres
Rationale
[why, 1 to two lines, avoid use of expert jargon]
Send your comments:
To:
 Ms. Amina Mohammed <
Lee46@un.org
> regarding the SG's Synthesis Document.
Subject
: Input to the SG's Draft  Synthesis Document
From: (your name alone and possibly an organization you might officially represent)
Schedule:
Provisional indicative roadmap:
Please make a note of the dates in case you wish to attend.
(a) 19-21 January 2015 [3 days] – Stocktaking
(b). Jan 27-27 Financing for Development Drafting session of the Financing for Development Outcome Document..
(c) 17-20 February 2015 [4 days] – Declaration
(d) 23-27 March 2015 [5 days]
Sustainable Development Goals and targets

(e)13-17 April Financing Negotiations on the document to be issued during the July meeting in Addis Ababa.
(f) 20-24 April 2015 [5 days] –Means of Implementation and Global Partnership for Sustainable Development. HLPF
(g) 18-22 May 2015 [5 days] –
Follow up and review HLPF
(h) 15-19 June Financing for Development Negotiations
(i) 22-25 June 2015 [4 days] – Intergovernmental negotiations on the HLPF outcome document

(j) 26 June-8 July 2015 Financing for Development Negotiations
(k) 20-24 July 2015 and 27-31 July 2015 [10 days] –
Intergovernmental negotiations on the HLPF outcome document.
If you have any questions or need further information or review a draft, don't hesitate to contact us.
All the best,
Pam Puntenney and Bremley Lyngdoh
UN SD Education Caucus Co-Chairs
——————————————————————————————————-
Subject: [ClimateSummit] action/2015 Call for Proposals    climatesummit@googlegroups.com>
Mensaje en español abajo          Message en français ci-dessous 
Dear colleagues, 
Action/2015 is pleased to make available grants in the amounts of US$5,000-US$15,000 to provide financial support to organizations and networks that aim to build momentum for the campaign during the campaign launch on January 15 and other crucial actions activities to get the campaign started in early 2015. 
The funds will be given to organizations/networks/coalitions based in the Global South. The bidding organization must be a registered member of the action/2015 campaign, or an active national coalition. The network or coalition can be informal, but a member organization needs to function as the legal holder of the project. The preference will be given to those with limited resources, who build alliances and collaboration among organizations, networks and coalitions across sectors and constituencies, and with proven ability to deliver strong in-person, media and/or digital campaigns.  Relevant due diligence will be undertaken on all applicant organizations. In order to ensure the impact of our program funds, other factors that shall be considered include: regional balance, size, diversity and density of population of the organization/network's constituencies including gender balance; whether the organizations/networks plans activities in partnerships with local/national organizations; overall organization/network management support, etc. 
The grants will be given to eligible and qualified organizations and networks demonstrating a strong commitment, clear action plan and budget, as well as a strong monitoring plan to assess the impact and reach of the activities. See attached application form for more details and visit the action/2015 website at www.action2015.org for more information about action/2015. 
To apply for action/2015 campaign launch funds, please complete the attached application form and submit it to action2015proposals@gmail.com  by 14 December 2014, 24:00 (GMT).  
The grant selection committee will review the grant applications and notify the selected applicants by 22 December 2014. Funds will be released in 2 tranches (75% upon signing of the contract and 25% upon submission of the grant report) for project implementation between 22 December 2014 – 31 March 2015. 
If you have any questions or comments regarding this grant process, please contact the grant selection committee at action2015proposals@gmail.com. 
Best regards, 
Marie  L'Hostis
Global Hub Coordinator, on behalf of the Funding Action Team and action/2015 team. 
ESPAÑOL 
Estimados colegas, 
Acción/2015 tiene el agrado de hacer de su conocimiento que dará subvenciones de US$5,000 a US$15,000 para brindar apoyo financiero a las organizaciones y redes que quieran participar en el lanzamiento de la campaña acción/2015 el próximo 15 de enero y en las sucesivas actividades que permitan dar un gran impulso a la campaña a principios de 2015. 
Los fondos se entregarán a organizaciones, coaliciones y redes de los países del Sur. Las organizaciones que presenten propuestas tendrán que ser miembros registrados de la campaña acción/2015 o de una coalición nacional activa. La red o la coalición puede ser informal, pero un miembro de la organización tendrá que tomar el papel de responsable jurídico del proyecto. Se dará preferencia a las organizaciones con recursos limitados, que construyan alianzas y promuevan la colaboración entre organizaciones, redes y coaliciones de diversos sectores y circunscripciones, y que tengan una capacidad comprobada para realizar campañas en persona, en los medios y/o de forma digital. Todas las solicitudes serán evaluadas diligentemente. Para asegurar el impacto de los fondos del programa, se tendrán en cuenta también factores como: el equilibro regional, el tamaño, la diversidad y la densidad de la población de la circunscripción de la organización/red, incluido el equilibrio de género; si la organización/red planea organizar actividades en conjunción con organizaciones locales/nacionales; apoyo general a la gestión, etc. 
 Las subvenciones serán entregadas a organizaciones elegibles y calificadas y redes que demuestren un compromiso firme, un plan de acción claro y un presupuesto detallado para sus actividades, así como un plan de monitoreo sólido que permita evaluar el alcance y el impacto de las actividades. Ver el formulario de solicitud adjunto para más detalles y visite la página web www.action2015.org para más información acerca de acción/2015. 
Para solicitar las subvenciones del lanzamiento de la campaña acción/2015, por favor, rellene y envíe el formulario de solicitud a action2015proposals@gmail.com antes del 14 de diciembre 2014, 24:00 (GMT). 
El comité de selección de subvención revisará las solicitudes de subvención y notificará a los solicitantes seleccionados antes del 22 de diciembre de 2014. Las subvenciones serán entregadas en 2 tramos (75% después de firmar el contrato y 25% tras presentación del informe de subvención). La ejecución de los proyectos se realizará del 22 de diciembre 2014 al 31 marzo de 2015. 
Si tiene preguntas o comentarios acerca de este proceso de subvenciones, por favor pónganse en contacto con el comité de selección de donaciones en action2015proposals@gmail.com. 
Saludos cordiales
Marie  L'Hostis
Coordinadora del Global Hub, a nombre del Equipo de Fondos y del equipo de acción/2015 
 français 
Chers collègues, 
Action/2015 a le plaisir de vous faire savoir que Des subventions de 5,000 USD à 15,000 USD seront mises à disponibilité pour fournir un soutien financier au niveau national et local aux organisations et réseaux participant au lancement de la campagne d'action/2015,  le 15 janvier et pour les activités suivant le lancement de janvier jusqu'à la fin du mois de mars. 
Les fonds seront donnés aux organisations/réseaux/coalitions basées dans les pays du Sud. Les organisations qui soumettent des propositions doivent être des membres inscrits de la campagne d'action/2015, ou une coalition nationale active. Le réseau ou la coalition qui postule peut être informel, mais une organisation membre doit fonctionner comme le détenteur légal du projet. La préférence sera donnée aux organisations avec des ressources limitées, qui construisent des alliances et poursuivent une collaboration entre les organisations, réseaux et coalitions à travers les secteurs et les circonscriptions, et avec une capacité prouvée de livrer des campagnes fortes en personnes, à travers les médias et/ou par le biais numérique. Toutes les propositions seront évaluées avec diligence. Afin d'assurer l'impact des fonds sur le programme, d'autres facteurs seront considérés,  tels que : l'équilibre régional, la taille, la diversité et la densité de la population des circonscriptions de l'organisation/réseau, y compris la mixité entre les sexes ; si les organisations/réseaux prévoient des activités en partenariat avec des organisations locales/nationales ; organisation générale/support à la gestion du réseau, etc. 
Les subventions seront remises aux organisations et réseaux admissibles et qualifiés qui démontrent un ferme engagement, un plan d'action clair et un budget pour les activités, ainsi qu'un plan de suivi pour évaluer l'impact et la portée des activités.Voir le formulaire de demande ci-dessous pour plus d'informations et veuillez visiter le site Internet de la campagne à www.action2015.org pour plus d'informations sur action/2015. 
Pour demander des subventions de lancement de la campagne d'action/2015, s'il vous plaît veuillez remplir le formulaire ci-joint et le soumettre à action2015proposals@gmail.com au plus tard le 14 décembre 2014 à 24:00 (GMT).  
Le comité de sélection des subventions passera en revue les demandes de subvention et avisera les candidats sélectionnés le 22 décembre 2014. Les fonds seront débloqués en deux tranches (75% à la signature du contrat et 25% sur présentation du rapport de subvention) pour une mise en ouvre des activités du 22 décembre 2014 au 31 mars 2015. 
Si vous avez des questions ou des commentaires, s'il vous plaît, veuillez contacter le comité de sélection à action2015proposals@gmail.com. 
Cordialement, 
Marie  L'Hostis
Coordinatrice du Global Hub, au nom de l'Equipe de Financement et de l'équipe d'action/2015 
Ibrahim Ceesay Executive Coordinator- African Youth Initiative on Climate Change (AYICC) Email: ceesaydigital@gmail.com
Website: www.ayicc.net
Head of Programmes- African Youth Panel (AYP) Chair: African Youth Alliance on Post2015 Email: ibrahim.ceesay@africanyouthpanel.org
Website: www.africanyouthpanel.org

4 Kanifing Industrial Estate, Julbrew Road P.O BOX 2545 Serre Kunda KMC-The Gambia  Tel: +220 9932685 or 7675977 Skype:ceesaydelight

——————————————————————————————————-
WORLDVIEW MISSION INTRODUCTION WITH OXFAM NOVIB
Nederlandse Global Campaign for Education:
http://www.globalcampaignforeducation.nl/
Veel informatie in het Nederlands
Teken ook de petitie voor Onderwijs! (deze week gelanceerd)
Global Campaign for Education (GCE):
http://campaignforeducation.org/en/members – geeft overzicht van de landen waar de campaign leden heeft.
Tip dat Worldview Mission leden aansluiting zoeken bij de nationale tak van de GCE. Veelal staat het contactadres op de site.
Beyond 2015:
Alles over betrokkenheid maatschappelijke organisaties bij het proces Post 2015
World we want (UN)
http://www.worldwewant2015.org/topics/160278
Thematic discussion on inequality within the website of World we want
Inequality debate
http://www.thebrokeronline.eu/Blogs/Inequality-debate/Inequality-a-political-problem-requiring-a-political-solution
Blog Oxfam Novib on The Broker online
Mrs. Nicole Metz
Oxfam Novib
Mrs. Nicole Metz
Oxfam Novib
http://www.oxfamnovib.nl/en-home.html?language=engels
http://www.oxfamnovib.nl/en-home.html?language=engels
http://www.thebrokeronline.eu/
http://www.unesco.org/new/en/education/themes/leading-the-international-agenda/education-for-all/
——————————————————————————————————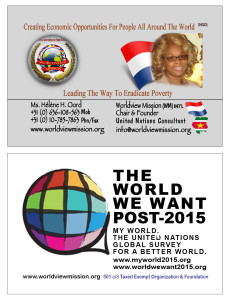 Worldview Mission, Headquarter, "Kingdom of the Netherlands"
Contact Ms. Hélène H. Oord
Chair Fouder of  Worldview Mission to the United Nations  http://worldviewmission.nl/
PR-Media, Int'l  Relations Liaison to the United Nations
Liaison- Ambassador to Project One Inc. to the United Nations with UN/ECOSOC Status 
Address: Beemsterhoek 14,  2905 XA, Capelle A/D IJssel,
Rotterdam T: +31(0)636108563
(Netherlands-EU) , Registered: RSIN, ANBI 851082403 B01
CHAMBER OF COMMERCE  K.v.K. 53.94.11.36
SEPA: Bank Account nr.:  NL08 ABNA 0506 0822 02
https://www.geef.nl/externalMod.php?gd=5052&taal=nl_NL
Mapping:  http://worldviewmission.geef.nl/kaart
http://www.un.org/millenniumgoals/
http://www.youtube.com/channel/UCG73AhrHfyq9KkqQtmSEsnw
http://www.youtube.com/channel/UCYGi5G1WSObsWLzx_kbp6Pg
http://www.un.org/millenniumgoals/specialevent-programme.shtml
*Worldview Mission  is Standing Up ,* Taking Action* , **Making Noise for the United Nations MDGL's !!!**
–