.
.
.
—————————————————————————
.
 Live Webcasts: President Clinton, Chelsea, & Donna Shalala at the 2016 Health Matters Summit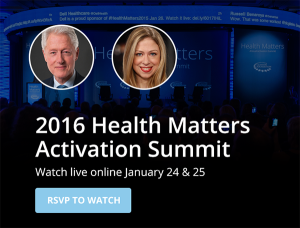 Dear Helene h.,
This Sunday, Chelsea Clinton will help us kick off our fifth Health Matters Annual Activation Summit – and I'd love to have you join us. You can watch live online starting at 7 p.m. PST / 10 p.m. EST.
The Health Matters Summit will convene more than 500 prominent national and community leaders to discuss our country's overall health and wellness as well as how health care transformation and systemic approaches to change can create healthier communities across the United States.
Please see the invite below for more information.
See you on Sunday!
Rain Henderson
Chief Executive Officer | Clinton Health Matters Initiative
From: Clinton Foundation
Date: Tues, Jan 19, 2016
Subject: Live Webcasts: President Clinton, Chelsea, & Donna Shalala at the 2016 Health Matters Summit

Sunday, January 24
7 p.m. PST  /  10 p.m. EST
Town Hall: Addressing Health Disparities Through Technology and Innovation
Monday, January 25
9 a.m. PST  /  12 p.m. EST
Opening Plenary: The Quest for Longevity and Our Rising Death Rates

10:15 a.m. PST  /  1:15 p.m. EST
Feature Conversation with Abby Wambach: How the Inclusion of Women and Girls in Sports Improves Their Health

3:45 p.m.  /  6:45 p.m. EST
Closing Plenary: Communities as Centers of Health Innovation
We hope you'll tune in!
Please add news@action.clintonfoundation.org to your address book.
Clinton Foundation | 1200 President Clinton Ave | Little Rock, AR 72201
.
.
———————————————————————-
.
.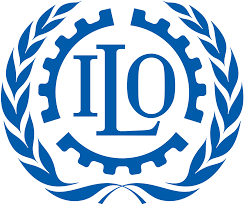 [recovery_human_face] New ILO data on rural deficits in health coverage for 174 countries
 SALUDOS.. FOR YOUR INFO AND SHARING.. IMPORTANT INFO RE RURAL DEFICITS IN HEALTH DATA.. BEST..MARTA
Xenia Scheil-Adlung <scheil@ilo.org>
Date: Sun, May 3, 2015
Subject: [recovery_human_face] New ILO data on rural deficits in health coverage for 174 countries
To: recoveryhumanface@socpro.list.ilo.org
Dear colleagues,
While universal health coverage (UHC) and equity are high on the international agendas, until now policy makers had no evidence about coverage gaps and inequities experienced by rural as compared to urban populations. Against this background, ILO has developed for the first time the needed data and published in:
Global evidence on inequities in rural health protection – New data on rural deficits in health coverage for 174 countries
http://www.social-protection.org/gimi/gess/ShowRessource.action?ressource.ressourceId=51297
The results are shocking. We find extreme inequities at global, regional and national levels: 56 per cent of the global rural population lacks health coverage as compared to 22 per cent of the urban population. The situation is aggravated by extreme health workforce shortages in rural areas impacting on the delivery of quality services: in rural areas a global shortfall of about seven million missing health workers to deliver services is observed, compared to a lack of three million skilled staff in urban areas. Further, underfunding – deficits in per capita health expenditure – are twice as large in rural areas than in urban areas. The deficits observed result in unnecessary suffering and deaths, as reflected in rural maternal mortality rates that are 2.5 times higher than urban rates.
Globally, the highest levels in rural maternal mortality are found in Africa. Also in Africa we find the rural population that is globally most deprived of health coverage: As much as 83 percent of the rural population in Africa are lacking health coverage.
The sad conclusion of the new ILO study is that the place of living determines whether someone lives or dies! It is time for governments to act now and provide meaningful universal health protection that is not just a slogan to favor a few and leaving the rural population behind with charities rather than rights! Successful UHC requires a comprehensive social protection approach – it is challenging but feasible in the context of national social protection floor policies.
Kind regards,
Xenia Scheil-Adlung
Health Policy Coordinator
Social Protection Department
International Labour Organization
 .
———————————————————————–
.
.
Join the discussion on HIV, Health and Development
.

Join a Global Discussion on HIV, Health and Development
UNDP's HIV, Health and Development group is developing a strategy that will guide the organization's work on HIV and health for the coming six years. The proposed Strategy focuses on the social, structural and economic determinants of HIV and health in as much as they influence HIV and health outcomes and sustainable development.
From 26 October – 10 November 2015 you can join an online discussion convened by UNDP on the following three areas:
| | |
| --- | --- |
| 1 | Reducing inequalities and social exclusion that affect HIV and health status |
| 2 | Promoting effective and inclusive governance for HIV and health |
| 3 | Building resilient and sustainable systems for health |
Join the e-discussion and find supporting documentation at: www.undp.org/hivhealth2021
We value your expertise and opinions and would like to provide an opportunity for you to influence the work that we will be doing in the coming six years. Your comments, suggestions and opinions will provide valuable input and will inform the final strategy.
We look forward to your contributions!
Subscribe
to the UNDP HIV, Health and Development email list
.
———————————————————————–
.
 What hope for SDG3: Health and Trade
Dear All
I have been following your work over the last fews weeks closely and with admiration. With a few members, I am setting up a coalition of academics and NGOs to work on health and trade issues and we will be certainly be framing the impact of trade agreements in particular relation to SDG 3. I am attaching an article I wrote this week, inspired by your campaigns but also reflecting the concerns of our own members. The second document is an outline of the Health and Trade Network, who we are and how to reach us if you would like to collaborate/join.
Looking forward to hearing from you.
Kindest Regards
Emma Woodford
Health and Trade Network Founder/Director
@HealthandTrade
info@healthandtradenetwork.org
'If you think you are too small to make a difference, try sleeping with a mosquito in the room'
Health and Trade What hope for SDG3
.
Health and Trade Network State of Play 011015
.
———————————————————————
.
Leading By Example – Canada's David Suzuki Foundation Blue Dot Initiative – Canadians Protect Our Right To A Healthy Environment

Environmental Education – Progress, Inspiration and Hope:
.
———————————————————
.

DESA News December 2014: Disability rights, Ebola response, Sustainable transportation
Date: Mon, 1 Dec 2014
—————————————————————————————————–
Global Health Problem:  World toilet Day – Clean Water, Sanitation​, and Hygiene — Porcelain art aims to spark conversati​ons
Dear Community of Educators,
World Toilet Day is a UN initiative to raise awareness about the number of people around the world without access  to toilets.  The UN estimates 2.5 billion people do not have access nor proper access to sanitation facilities.  And from Economic Alliance and Ecomyths…  http://www.ecomythsalliance.org/2013/11/a-day-for-crap/
In a world where more people have mobile phones than toilets, children are among the most vulnerable to contamination from human waste and dirty water.
At least 10 million children under age 5 have died since 2000 because they had no access to a basic toilet, according to a new report from the international development organization WaterAid.
To highlight sanitation as a developmental priority, the United Nations designated Wednesday as World Toilet Day, http://my.chicagotribune.com/#section/-1/article/p2p-82022048/
Here is a cleaver way to start that conversation, Engineers Without Borders and WaterAid are working to help construct sanitary systems, to learn more
Pam Puntenney and Bremley Lyngdoh
Environmental & Human Systems Management
1989 West Liberty
 Ann Arbor, MI  48103  USA
Cell:  (734) 352 7429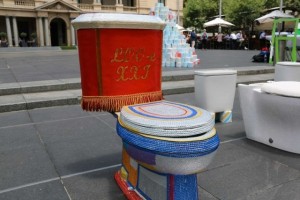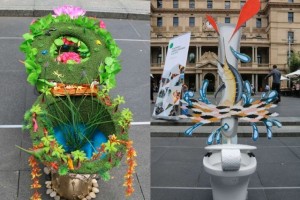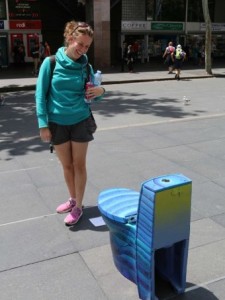 ——————————————————————————————————–
"Call For Additional Solutions" 4 Examples of Innovative Solutions to Deliver on Education Amid Ebola Crisis West Africa
Please share with your colleagues and networks.
Dear Friends and Colleagues,
Are you working for or know an organization with experience delivering non-contact education, or have other innovative ideas for educating children in Ebola-affected West Africa? Send an email to news@devex.com or comment on the web page at the end of the article, to learn more
https://www.devex.com/news/4-innovative-solutions-to-deliver-on-education-amid-ebola-crisis-84620 
All the best,
Pam Puntenney and Bremley Lyngdoh
UN SD Education Caucus Co-Chairs
Co-Coordinators Climate Change
————————————————————————————————–

 :
Asia: So Close and Yet So Far From Polio Eradicatio​n
Click here for the online version of this IPS newsletter
————————————————————————————————–
Hours for our climate
In hours Europe could agree a plan to curb catastrophic climate change, but unless EU leaders hear from us louder than the blockers, they won't negotiate the plan our planet needs.
Send them an urgent message before they meet in Brussels:
Dear friends across Europe,
2014 is on track to be the warmest year on record, but in hours Europe could agree on a plan to stop disastrous climate change.
Most EU leaders know we need to cut carbon pollution quickly, or superstorms and sea level rises will destroy the species and landscapes we all love.
But they are letting the coal lobby in Poland play politics with our future. Europe has long led the world on climate, but unless our leaders hear from us louder than they hear from the blockers, they may fold.
If Europe leads the world on pollution cuts this week, it'll build momentum for next year's climate summit and get other governments to follow our lead. Last month, more than 100,000 of us marched across Europe with a call for strong climate action — now let's bring our voices directly to our leaders before they meet in Brussels.
Click to send a quick message:
https://secure.avaaz.org/en/eu_2030_climate_sam/?bSPCVgb&v=47725
The science is clear: we need to start to reduce overall carbon emissions and move fast to clean energy sources.
The first step to get there is a European climate plan to cut carbon pollution by at least 40% from 1990 levels in the next 15 years. But, with 28 governments needing to reach consensus, there's a big danger that leaders will settle for any deal rather than the right deal.

Poland and a few other countries with strong coal industries are trying everything to limit the agreement and even to get billions of euros to subsidise their dirty coal plants. 13 key European countries, including Denmark, Italy, and the Netherlands, have formed a green alliance, and if they play their cards right, they can persuade Poland to accept the carbon goals, alongside money for clean technology and energy efficiency, not coal. It's all a matter of political will.

Over two million of us have already signed a petition urging a bold shift to clean energy, so let's now urge European leaders to take a stand this week to save everything we love. Send a message now:
https://secure.avaaz.org/en/eu_2030_climate_sam/?bSPCVgb&v=47725
Last month, our massive march was on front pages around the world, and now we have a chance to bring our dream of a cleaner, greener future one step closer.
Let's inspire our leaders to become climate champions.
With hope, Pascal, Jo, Alex, Christoph, Daniel, Juliane, Laila, Risalat and the Avaaz team MORE INFORMATION:  EU 2030 compromise could weaken climate action (RTCC)
http://www.rtcc.org/2014/10/09/eu-2030-compromise-could-weaken-climate-action/

57 Companies Including 3M, Philips, Novozymes Demand EU Council Adopt Robust 2030 Climate Goals (Sustainable Brands)
http://www.sustainablebrands.com/news_and_views/collaboration/sustainable_brands/57_companies_includ…
Poland says will cooperate on climate change – for a fee (EurActiv)
http://www.euractiv.com/sections/energy/poland-says-will-cooperate-climate-change-fee-309082

UK hailed as 'leader' in 2030 climate talks (The Guardian)
http://www.theguardian.com/environment/2014/oct/07/uk-hailed-as-leader-in-2030-climate-talks

Earth headed for warmest year on record: US meteorologist (Deutsche Welle)
http://www.dw.de/earth-headed-for-warmest-year-on-record-us-meteorologists/a-18009086
Avaaz.org is a 38-million-person global campaign network that works to ensure that the views and values of the world's people shape global decision-making. ("Avaaz" means "voice" or "song" in many languages.)
Avaaz members live in every nation of the world; our team is spread across 18 countries on 6 continents and operates in 17 languages.
Learn about some of Avaaz's biggest campaigns here, or follow us on Facebook or Twitter.
Ebola: before the window closes
Join in to equip the Ebola frontline heroes by clicking below:
€2    €4    €8    €16    €32
Pledge another amount
Dear friends,
In the last two weeks, thousands of courageous members of our movement have volunteered to fly to West Africa and help contain the deadly Ebola virus. It's an act of heroism and a testament to the interdependence we all feel as part of this global community.

But not all of us could travel or have the right skills to help, so Avaaz asked one of the leading frontline organisations what else the 39 million of us could do to support these health workers to save lives and stem the spread. Their response was so simple, tangible and tragic it nearly made me cry: sanitation materials – gloves, soap, chlorine; personal protective equipment (PPE) kits; ambulances; and beds, equipment and supplies for the Ebola Treatment Centres.

It's practically criminal the international community still hasn't managed to get enough of these basics in. But we can help! PPE kits cost $280 USD — and as elements of the kits are thrown away after each use, health staff will go through over 15,000 PPE kits in just a month! $50,000 USD could buy, deliver and equip an ambulance.

So basically, if just 50,000 of us give just $20 USD right now, we could buy 10 ambulances and 2,000 hazard suits. And the frontline organisations can likely get the gear out fast enough for local and international doctors and nurses, and the amazing volunteers from our community, to have a chance to get ahead of the Ebola virus before the window to stem the outbreak closes.
Click below to pledge a donation to stop Ebola — pledges won't be processed until there's enough to make a difference:
YES, I'LL PLEDGE €2
YES, I'LL PLEDGE €4
YES, I'LL PLEDGE €8
YES, I'LL PLEDGE €16
YES, I'LL PLEDGE €32

To pledge an amount other than the ones listed above, click here.
This is the scene: entire health systems are collapsing under the strain. Local health workers have died trying to treat patients without the right gear. And the international response has been inadequate — a few of the richest nations in the world have committed fewer medics than the number of Avaaz members who have offered to volunteer. Right now the UN expects 10,000 new cases of Ebola a week, and there are only 4,300 beds pledged to treat them!
Governments are slowly starting to move, thanks to the intense public attention on the crisis, but most are not delivering fast enough. The scary truth is the UN says we only have weeks to contain this or millions may be under threat. That's why us pledging now is so important — if we all chip in fast, Avaaz could provide the funds we raise to the frontline organisations within hours of reaching our goal. Here's what we could help purchase:
$2 USD could purchase soap to prevent an infection.
$29 USD could provide training for a teacher on Ebola prevention so that children learn how to keep safe from the disease.
$280 USD could pay for a full personal protective equipment kit to allow frontline health workers to more safely care for people with Ebola.
$50,000 USD could buy, deliver and equip an ambulance.
$120,500 USD could provide the equipment and supplies needed to help set up a 50-bed treatment centre.
Avaaz is working with several humanitarian organisations in the field, and consulting with the governments of Liberia and Sierra Leone. Together, we can support those in the thick of the battle against Ebola. Join in by clicking below. Our pledges will only be collected if we raise enough to make a difference:        

To pledge an amount other than the ones listed above, click here
Our response to this deadly disease now not only could save lives, it defines who we are — a global community that believes in and acts on the threads that tie us together as one people.
The Avaaz volunteer heroes have shown that each of our lives is worth risking everything for. Let's support their beautiful humanity wherever we are by pitching in, before this dangerous window closes.
With appreciation for all we have built together,
Alice, Mia, Ricken, Emma, Patricia, Ari, Emily and the whole Avaaz team 

MORE INFORMATION:

Up to 1.4m people could be infected with Ebola by January, CDC warns (The Guardian)
http://www.theguardian.com/society/2014/sep/23/ebola-cdc-millions-infected-quarantine-africa-epidemic 

New Ebola Cases May Soon Reach 10,000 a Week, Officials Predict (New York Times)
http://www.nytimes.com/2014/10/15/world/africa/ebola-epidemic-who-west-africa.html

Despite New Pledges, Aid to Fight Ebola Lagging (Inter Press Service)
http://www.ipsnews.net/2014/09/despite-new-pledges-aid-to-fight-ebola-lagging/

Known Cases and Outbreaks of Ebola Virus Disease, in Chronological Order (Centers for Disease Control and Prevention) http://www.cdc.gov/vhf/ebola/outbreaks/history/chronology.html

Spread of Ebola in West Africa outpaces resources (CBS News)
http://www.cbsnews.com/news/ebola-epidemic-much-more-needs-to-be-done/

Ebola death rates 70% – WHO study (BBC) http://www.bbc.com/news/world-africa-29327741

Unprecedented number of medical staff infected with Ebola (WHO)
http://www.who.int/mediacentre/news/ebola/25-august-2014/en/
—————————————————————————————————
Conference Highlights
 http://www.youtube.com/watch?v=osV2bktvrbk
http://www.un-ngls.org/spip.php?page=article_s&id_article=2818
 62nd Annual DPI/NGO Conference : For Peace and Development: Disarm Now!  
http://www.youtube.com/watch?v=sDqecr1yZ_o
United Nations University for Peace (UPEACE) http://www.youtube.com/watch?v=X2vXR2gzOtc
—————————————————————————————————-
IIM-SAM SYSTEM GENERATED EMAIL: THANK YOU FOR TAKING THE TIME TO READ THE IIMSAM E-NEWS-COM​MUNITY ONLINE-CIR​CULAR # 00066-DATE RELEASED:.​.NOVEMBER-​2014 (NY-USA-Ea​stern-Stan​dard-Time)
: e-news-circular@iimsam.uno
Subject: SYSTEM GENERATED EMAIL: THANK YOU FOR TAKING THE TIME TO READ THE IIMSAM E-NEWS-COMMUNITY ONLINE-CIRCULAR # 00066-DATE RELEASED:..NOVEMBER-2014 (NY-USA-Eastern-Standard-Time) To:
NO-REPLY-SYSTEM GENERATED EMAIL: THANK YOU FOR TAKING THE TIME TO READ THE IIMSAM E-NEWS-COMMUNITY ONLINE-CIRCULAR # 00066-DATE RELEASED:..NOVEMBER-2014 (NY-USA-Eastern-Standard-Time)
FROM THE: IIMSAM-INTER-GOVERNMENTAL-ORGANISATION-AN-OBSERVER TO THE UNITED NATIONS ECONOMIC AND SOCIAL COUNCIL AT UN-HEADQUARTERS IN NY-USA:
IIMSAM-PUBLIC RELATIONS ONLINE COMMUNITY: IN SUPPORT OF THE IIMSAM MANDATE-THE UNITED NATIONS MDGs AND THE 2015 POST DEVELOPMENT AGENDA SET FORTH.
IIMSAM is an Autonomous Inter-Governmental Observer to the United Nations Economic and Social Council in accordance with resolution 2003/212 dated 5th of March 2003.Designated by the United Nations Economic & Social Council (ECOSOC) Under Rule 79 of the Rules & Procedure for Continuing Participation in the deliberations of the council on questions within the Scope of their Activities.
OFFICIAL MAILING ADDRESS-ÁDRESSE POSTAL-DIRECCION POSTAL: 884-Dag Hammarskjöld Centre-United Nations Plaza – P.O. Box- 20075 New York, N.Y. 10017 U.S.A.
For further info on IIMSAM,Inquiry or to unsubscribe just drop us a note through our official website(s) contact: www.iimsam.uno www.iimsam.international www.iimsamun.org www.iimsam.org
— Disclaimer: The content of this email and any of its attachments is confidential and intended solely for the use of its addressee(s). If you have received this email by mistake, please notify the sender immediately and delete it from your system. Disclosing, copying, distributing or taking any action in reliance on the contents of this information by anyone other than the intended recipient(s) is strictly prohibited.
Advertencia: el contenido de este correo y archivos adjuntos es confidencial y para el uso exclusivo de su(s) destinatario(s). Si usted ha recibido este correo por error, por favor notifíquelo al remitente y bórrelo de su sistema. Está prohibido el uso, distribución, copia o divulgación por cualquier medio de la información contenida en el mismo por persona distinta al destinatario de este mensaje.
 25-26 NOV-IIMSAM-E-NEWS-CIRCULAR_00066
—————————————————————————————————–
https://www.youtube.com/watch?v=DuXB1a3NBCw
Worldview Mission, Headquarter, "Kingdom of the Netherlands"
Contact Ms. Hélène H. Oord
Chair Fouder of  Worldview Mission to the United Nations  http://worldviewmission.nl/
PR-Media, Int'l  Relations Liaison to the United Nations
Liaison- Ambassador to Project One Inc. to the United Nations with UN/ECOSOC Status 
Address: Beemsterhoek 14,  2905 XA, Capelle A/D IJssel,
Rotterdam T: +31(0)636108563
(Netherlands-EU) , Registered: RSIN, ANBI 851082403 B01
CHAMBER OF COMMERCE  K.v.K. 53.94.11.36
SEPA: Bank Account nr.:  NL08 ABNA 0506 0822 02
https://www.geef.nl/externalMod.php?gd=5052&taal=nl_NL
Mapping:  http://worldviewmission.geef.nl/kaart
http://www.un.org/millenniumgoals/
http://www.youtube.com/channel/UCG73AhrHfyq9KkqQtmSEsnw
http://www.youtube.com/channel/UCYGi5G1WSObsWLzx_kbp6Pg
*Worldview Mission  is Standing Up ,* Taking Action* , **Making Noise for the United Nations MDGL's !!!**