http://worldviewmission.nl/?page_id=17332
.
.
—————————————————————————————————————
.
Dear colleagues,
Regards,
—————————————————————————————————————-
—————————————————————————————————————-
—————————————————————————————————————–
——————————————————————————————————————-
—————————————————————————————————————-
————————————————————————————————————-
—————————————————————————————————————-
————————————————————————————————————–
UN SD Education Caucus and COP 20
Dear UN SD Education Caucus Delegation,
We have a strong contingent of UN SD EC members and partners who will be present in Lima championing environmental education as a key component of the new "Climate Agreement", and those who are supporting us from a distance.  There are many meetings, activities, a first time ever in Peru, a climate change march, a Peoples's Summit, exhibits, strategy meetings/morning briefings on multiple topics and of course the government meetings continue to prepare for the lead-up to COP 21 in Paris and the Global Climate Change Treaty in 2020.  Environmental Education is a cross-cutting issue found throughout the work in front of us over the next two weeks.  Members are networking covering many topics, from trainings to interventions to multi-stakeholder engagements, and more.
From UN SD Education Caucus member Dick Ballhorn [Canada] who understands the policy venue well, this analysis on Climate Change events and the ADP.
The fact that the USA and China have already indicated what they are prepared to agree to in Paris helps to put pressure on other key countries to take the whole exercise seriously and come up with their own "commitments".  The USA and Chinese announcement certainly puts pressure on the current Canadian government which has long argued that Canada can't act without the USA also acting and that Canada would follow US actions.
Each UN SD Education Caucus delegate on this list plays an integral role in building upon the framework for advancing, monitoring and evaluating,  environmental education and global climate change policies and actions at the international, regional, national and local/community levels, from the President to ordinary people to high level stakeholders.
Mark Your Calendar and hold a spot  to attend.  Barbara will join us during Week 2.  During Week 1 she will be working on our art and culture side event – off-site but near the COP 20 venue.  More on this soon.

Local and subnationa​l government​s road to UNFCCC COP 20
Dear ICLEI Members in Africa, Colleagues, Partners and Interested Parties,
If you are interested in local and subnational governments and what they are pioneering on, lobbying and advocating for at the upcoming UNFCCC in Lima, please see the updates below as well as in the attached itinerary of relevant events and side-events at COP20. As focal point and coordinator of the Local Government Climate Roadmap, ICLEI and a number of member cities will be representing local governments at the UNFCCC COP20.
In the meantime ICLEI is counting down to the 
#COP20
 in Lima with a new blog post every day! First up, Yunus Arikan – ICLEI's Head of Global Policy and Advocacy – writes why the COP20 is our great opportunity to move from vision to action. Let's connect the dots and make local climate action happen! Read his blog 
here
! The blog will be updated with new blogs each day for the next 10 days in the lead up to the event to stimulate our collective response and global movement of sustainable cities and sub-national governments.
Please also find below the most recent updates from ICLEI's advocacy work:
Agendas
: We have confirmed endorsement of Peru-COP20 Presidency and Poland COP19 Presidency. Updates will be available 
here
Key events
: 8 December Monday at City Hall including launch of GPC, 9 December ICLEI Side event, 11 December Presidency Ministerial Dialogue with Non-State Actors. See the rest of the events 
here
.
ADP Negotiations
: all updates are available at 
here
. The latest 
text of Co-Chairs
 contain the most important paragraph for local and subnational governments in para 37a. and 37b which states that:
37. [COP] Agrees that effective implementation of enhanced action requires the engagement and contribution of the broadest range of actors and therefore invites:
(a) Parties to further incentivize, in accordance with their national circumstances, climate actions by subnational authorities, including cities, by establishing effective regulatory frameworks and financing mechanisms needed to address barriers and leverage investment;
(b) Subnational authorities, including cities, to scale up and replicate the existing ambitious policies, measures and action highlighted during the technical examination process;
If this is adopted as a COP Decision in Lima, it confirms recognition, engagement and empowerment of local and subnational governments in the global climate regime. This will help us to collectively work together across tiers of government to drive rapid mobilisation and upscaling of actions at the local level in order to achieve global targets, and preparedness.
For questions or comments please do get in touch with the ICLEI Africa Secretariat staff. Be sure to follow us on twitter (
https://twitter.com/ICLEIAfrica
) for updates.
CityTalk | 10 days to Lima: Why Lima's COP20 is our chance to move from talkofthecities.iclei.org
10 days to Lima: Why Lima's COP20 is our chance to move from vision to action 21 Nov 2014 Yunus Arikan…
———————————————————————————————–
Dear Friends and Colleagues,
All the best,
Pam Puntenney and Bremley Lyngdoh
UN SD Education Caucus Co-Chairs
CoCoordinators Climate Change with
Tiahoga Ruge, Jim Taylor, Tich Pesanayi, Kavita Myles, Suzana Padua
Youth Co-Coodinator: Katherine Browne
COP 20 Co-Chair, Barbara Benish [ArtDialogue]
   Subject: INVITATION FOR ARTICLES: Outreach magazine at COP 20, Lima
——————————————————————————————————-
Join us for the biggest land-use event this year / Participe en el mayor evento de este año sobre uso del suelo 
[COP20-Lima] ¡Cambiemos el sistema, no el clima! | Let's change the System, not the Climate! | Changeons le système, pas le climat! 

http://foros.cumbrepuebloscop20.org/sympa/subscribe/info
Castellano   |   English   |   Français   |   Português
¡Cambiemos el sistema,
No el clima!
10 de noviembre: preparando el (10D) día preparatorio de acción mundial
Este 10 de noviembre, a solo 30 días de la "Marcha Global de los Pueblos en defensa de la Madre Tierra" con el hashtag #YoMarcho10D, estamos llamando a la acción rumbo a la Cumbre de los pueblos. Todos y todas las personas que deseen hacer una acción, sacar una foto con frases como #YoMarcho10D para Cambiar el Sistema y no el Clima o alusivas a los procesos de luchas que vienen, son bienvenidos.
Eventos auto-gestionados
Las inscripciones para eventos autogestionados se encuentran abiertas hasta el 31 de octubre. Para inscribir tu evento autogestionado,  por favorllena este formulario.
Prensa y medios 
Los medios de comunicación se pueden registrar mediante este formulario.
Siete ejes temáticos
Un séptimo eje "Mujeres y sostenibilidad de la Vida"
Siete ejes temáticos
Un séptimo eje "Mujeres y sostenibilidad de la Vida" ha sido incorporado a la cumbre.
Les recordamos el conjunto de ejes temáticos:
1. Cambio Civilizatorio y Modelo de Desarrollo.  2. Calentamiento Global y Cambio Climático.  3. Energía. 4.Seguridad y soberanía alimentaria
5. Gestión sustentable del territorio
6. Financiamiento, transferencia de tecnología e inter-aprendizajes.
7. Mujeres y sostenibilidad de la Vida.
Movilización y marcha #YoMarcho10D
Este 10 de diciembre 2014 tendrá lugar en el centro de Lima la gran Marcha Global de los Pueblos en defensa de la Madre Tierra "Cambiemos el Sistema, no el Clima" (el mismo día que la Jornada internacional de los Derechos Humanos). No dudes en sumarte a la acción del 10N y la amplia movilización del 10D desde tu comunidad y tu país y seguir las movilizaciones desdenuestro enlace de monitoreo en vivo de las redes sociales.
PEOPLE'S SUMMIT ON CLIMATE CHANGE COP20, LIMA 
Let's change the System, not the Climate!
10th of November: preparing a preliminary day of global action
This November 10th, with only 30 days until the "Global People's March in defense of Mother Earth", we are using the hashtag #YoMarcho10D #IMarch10D as a call to action on the road to the People's Summit. We invite everyone who wants to take action to take a photo with phrases like "#YoMarcho10D #IMarch10D to change the system not the climate," or otherwise allude to the process of struggle that is coming.
Self-organised activities and media registration
Registration for self-organized activities is open until 31 October. To register your self-managed activity, please fill out this form.Media can also register using this form. 
应 对气候变化的人民高峰会
See also the Call fo the Summit in Chinese
Seven Central Themes
A seventh theme "Women and the Sustainability of Life" has been incorporated into the Summit. To remind you of all of the themes:
1. Civilization Change and Development Models  2. Global Warming and Climate Change
3. Energy   4. Food Sovereignty and Security  5. Sustainable Land Management   6. Finance, Technology Transfer, and Knowledge Exchange    7. Women and the Sustainability of Life Mobilization and the March #IMarch10D
This December 10th, International Human Rights Day, the city of Lima will see a huge Global People's March in defense of Mother Earth "Let's change the system, not the climate".
Do not hesitate in joining the preparatory action of November 10th and the big event on December 10th from your own community and follow the mobilizations on our live social hub
SOMMET DES PEUPLES FACE AU CHANGEMENT CLIMATIQUE COP20
Changeons le système, pas le climat!
Préparons la journée le (10D) Journée de préparation à l'action globale/internationale 
Le 10 novembre prochain, à 30 jours seulement de la « Marche Mondiale des Peuples pour la Défense de la Terre Mère » avec le hashtag #JeMarche10D, nous appelons à l'action en vue du Sommet des Peuples. Toutes celles et ceux qui veulent participer à cette mobilisation, avec une action ou la publication d'une photo avec la phrase #JeMarche10D pour Changer le système et pas le Climat ou tout slogan faisant allusion aux luttes en cours, sont les bienvenus.
Activités auto-organisées
Les inscriptions d'activités auto-organisées sont ouvertes jusqu'au 31 octobre prochain. Pour inscrire une activité, merci de remplir ce formulaire.
Presse et médias
Les médias sont invités à s'enregistrer depuis cette page. 
Sept axes thématiques
Un 7ème axe thématique "Femmes et soutenabilité de la Vie" a été intégré au Sommet. Nous vous rappelons l'ensemble des 7 axes:
1. Crise de Civilisation et du Modèle de Développement  2. Réchauffement planétaire et changement climatique
3. Énergie   4. Sécurité et souveraineté alimentaire  5. Gestion durable du territoire  6. Financement, transfert de technologie et partage des connaissances   7. Femmes et soutenabilité de la Vie
Mobilisation et marche #JeMarche10D
Le 10 décembre 2014 aura lieu dans le centre de Lima la grande Marche Globale de los Pueblos pour la défense de la Terre Mère "Changeons le système, pas le climat" (à la même date que la Journée internationale des Droits de l'homme). N'hésitez pas à participer à l'action du #10N puis à la mobilisation du #10D depuis votre communauté et votre pays et suivre les mobilisations depuis ce lien de suivi direct des réseaux sociaux.
CÚPULA DOS POVOS FRENTE AS MUDANÇAS CLIMÁTICAS COP20Mudemos   o sistema, não o clima!
10 de novembro: preparando o (10D) Dia preparatório de ação mundial 
No dia 10 de novembro, a apenas 30 dias da"Marcha Global dos Povos em defesa da Mãe Terra" com o hashtag #YoMarcho10D, estamos convidando para a ação de preparação rumo a Cúpula dos Povos. Todas as pessoas que desejem fazer uma ação, tirar uma foto com frases como #YoMarcho10D para mudar o Sistema e não o Clima ou relativas aos processos de lutas são bem-vindas.
Atividades auto-gestionadas
As inscrições para as atividades autogestionadas se encontram abertas até o dia 31 de outubro. Por favorpreencha este formuláriopara inscrever sua atividade.
Imprensa e mídia  Os meios de comunicação se podem registrar comeste formulario. 
Sete eixos temáticos
Um sétimo eixo temático "Mulheres e sustentabilidade da Vida" foi incorporado a Cúpula. Lembramos aqui o conjunto de eixos temáticos:
1. Mudanças Civilizatória e Modelos de Desenvolvimento. 2. Aquecimento Global e Mudança Climática 3.Energia  4. Segurança e Soberania Alimentar  5. Gestão Sustentável do Território 6. Financiamento, Transferência de tecnologia e interaprendizagens. 7. Mulheres e sustentabilidade da Vida
Marcha e mobilização  #YoMarcho10D
O 10 de dezembro 2014 terá lugar no centro de Lima uma amplia Marcha Global dos Povos em defesa da Mãe Terra "Mudemos o sistema, não o clima" (o mesmo dia que a Jornada internacional dos Direitos humanos). Não duvidem em participar na ação do 10N e a vasta mobilização do 10D desde a sua comunidade o seu país, e seguir as mobilizações desde a nossomonitoreo em vivo de redes sociais.
————————————————————————————————–
ENB on the Side – Lima Climate Change Conference – December 2014 – Issue #2
ENB On The Side – Climate Change Conference Lima COP 20
ENB:  Lima Highlights
ENB:  COP 20 Lima Highlights
—————————————————————————————————–
  COP 20 Side Event: Children/Y​outh and Climate Change
 Dear Education Caucus participants of COP20 in LIma,
We would like to cordially invite you to participate in our COP20 event:
This interactive panel discussion will focus on universal agreement that considers local and global actions toward adaptation and mitigation which can lead to a global path of climate resilience. The event will highlight the need for all countries to raise awareness, educate and encourage participation of citizens from early age.
Distinguished panelists of all ages and from all parts of the world will address questions considering how policymakers drafting 2015 climate change agreement should engage with youth-led networks to find innovative solutions and how National Strategies for Article 6 of the Convention can stimulate interaction and action with and among children.
Hope to see you at the event!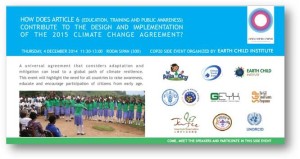 ——————————————————————————————————
Conference Highlights
 http://www.youtube.com/watch?v=osV2bktvrbk
http://www.un-ngls.org/spip.php?page=article_s&id_article=2818
62nd Annual DPI/NGO Conference :: For Peace and Development: Disarm Now!  http://www.youtube.com/watch?v=sDqecr1yZ_o
United Nations University for Peace (UPEACE) http://www.youtube.com/watch?v=X2vXR2gzOtc
—————————————————————————————————
Worldview Mission, Headquarter, "Kingdom of the Netherlands"
Contact Ms. Hélène H. Oord
Chair Fouder of  Worldview Mission to the United Nations  http://worldviewmission.nl/
PR-Media, Int'l  Relations Liaison to the United Nations
Liaison- Ambassador to Project One Inc. to the United Nations with UN/ECOSOC Status 
Address: Beemsterhoek 14,  2905 XA, Capelle A/D IJssel,
Rotterdam T: +31(0)636108563
(Netherlands-EU) , Registered: RSIN, ANBI 851082403 B01
CHAMBER OF COMMERCE  K.v.K. 53.94.11.36
SEPA: Bank Account nr.:  NL08 ABNA 0506 0822 02
https://www.geef.nl/externalMod.php?gd=5052&taal=nl_NL
Mapping:  http://worldviewmission.geef.nl/kaart
http://www.un.org/millenniumgoals/
http://www.youtube.com/channel/UCG73AhrHfyq9KkqQtmSEsnw
http://www.youtube.com/channel/UCYGi5G1WSObsWLzx_kbp6Pg
*Worldview Mission  is Standing Up ,* Taking Action* , **Making Noise for the United Nations MDGL's !!!**